If you go crazy for pastel, floursack kitchen towels, and Le Creuset stoneware, I'm guessing you'll love these retro kitchen accessories and appliances.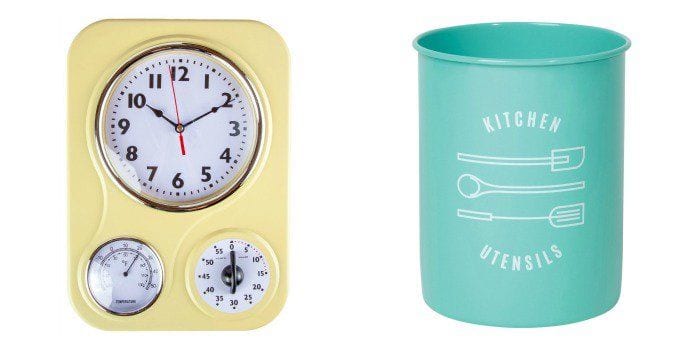 The following 17 fabulous finds are a blast from the past, but with a bit of a modern touch. You can choose to do an entire retro makeover or to just add a few vintage touches here and there. One thing is for sure, the following products will add some color and personality to your kitchen.
17 Fabulous Finds for the Ultimate Retro Kitchen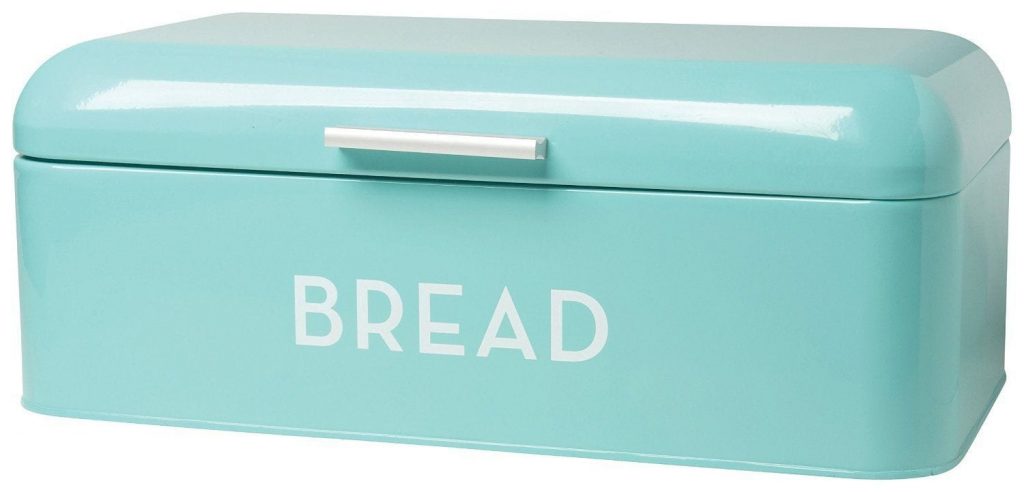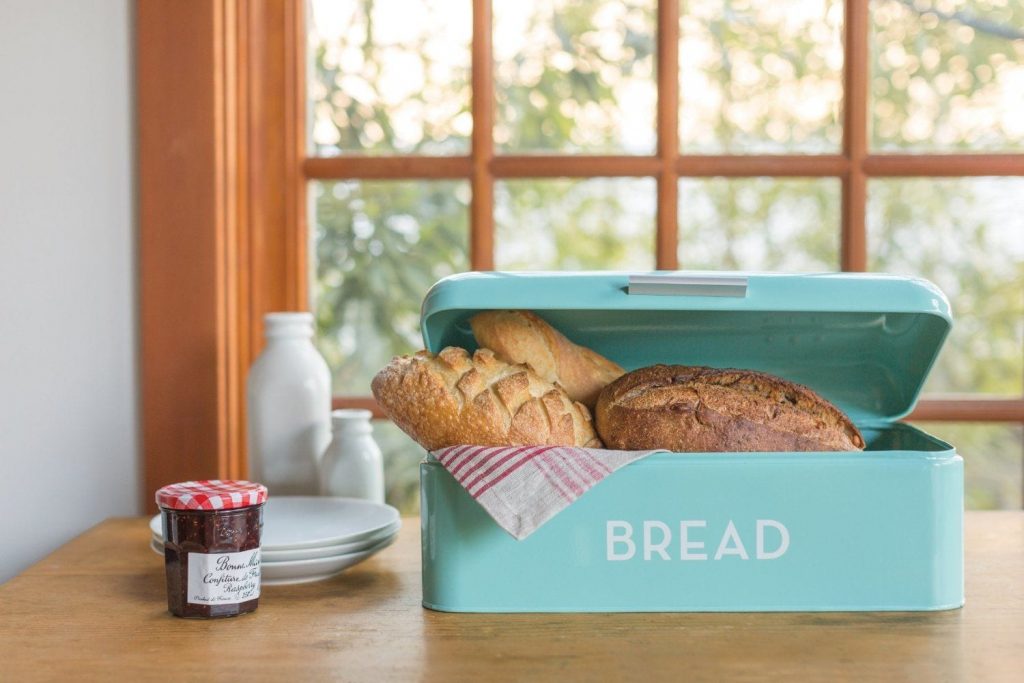 Turquoise Blue Bread Bin — How great is this sleek Bread Bin? It's the perfect storage solution for bread, buns, baguettes and bagels alike! The lid swings up easily and there are two holes in the back to allow the air to circulate. It measures 16 inches long, 9 inches wide and 6.5 inches tall and is made from hearty powder coated steel.
Bamboo Kitchen Utensils, Set of 5 — This set includes: spatula, slotted spatula, spoon, slotted spoon and angled spatula. They feature dipped colored (food-safe) handles and measure 12 inches in length. Bamboo is durable and hard working and makes a great addition to your kitchen.
Le Creuset Stoneware 15-Ounce Honey Pot — This stoneware pot holds up to 16 ounces of honey and comes in a gorgeous dijon color. The silicone honey dipper makes it easy to keep a drizzle of natural sweetness close by, whether that's to sweeten a cup of tea or add a touch of honey to a recipe. It's dishwasher safe and is one fun retro kitchen accessory!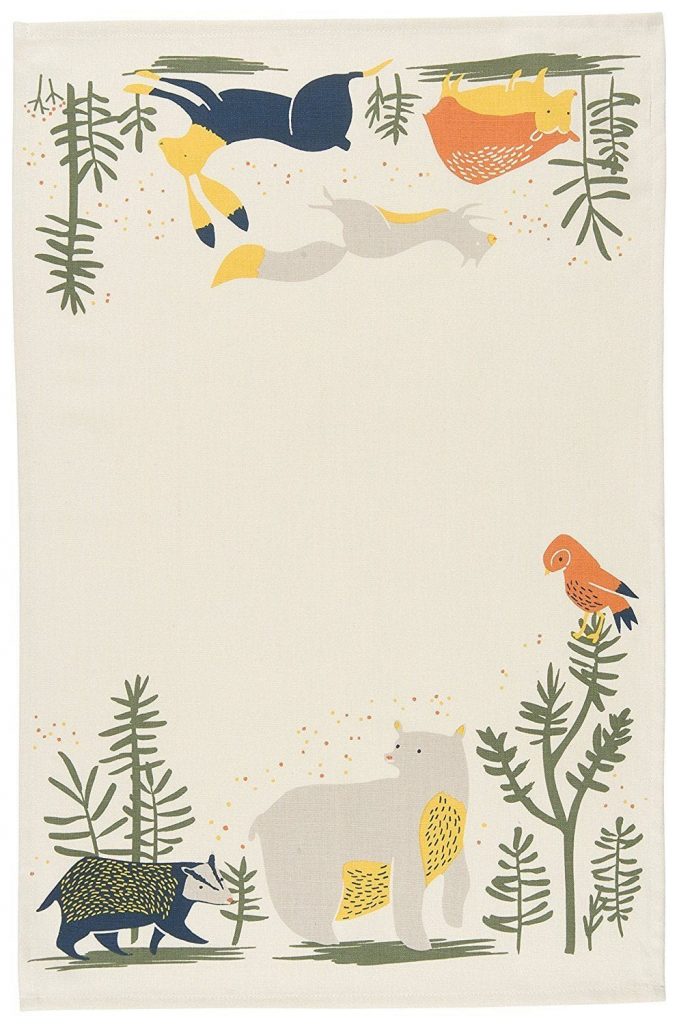 Printed Kitchen Towel, Windy Hollow — This kitchen towel features a bear, rabbit and more amongst subtle foliage on a neutral background. It measures 28 inches long and 18 inches wide + they feature over 30 different designs. Not only is this one of the many fabulous retro kitchen accessories I found, but it would also make a great addition to a hostess gift. Wrap a bottle of wine or gift with one of these towels for a unique look.
Turquoise Utensil Crock — The perfect container for your retro kitchen to keep your favorite cooking utensils on hand. It's made from food safe materials and measures 7 inches tall and 5 inches in diameter.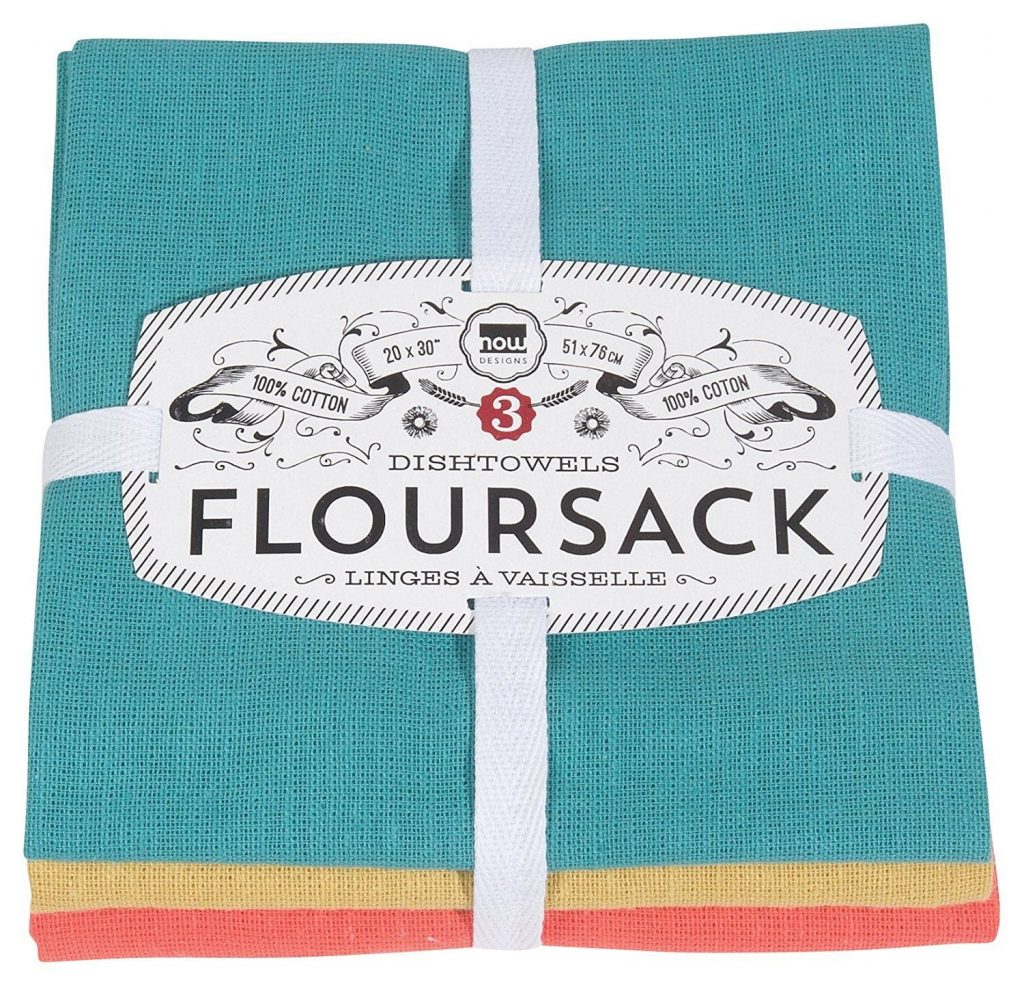 Floursack Kitchen Towels — This set of 3 towels is made from 100% cotton and measure 20 inches wide and 30 inches long. These are perfect as general all- purpose working towels/cloths for the kitchen and throughout the home and can also add a splash of color to your kitchen. They have 28 different color combinations and patterns.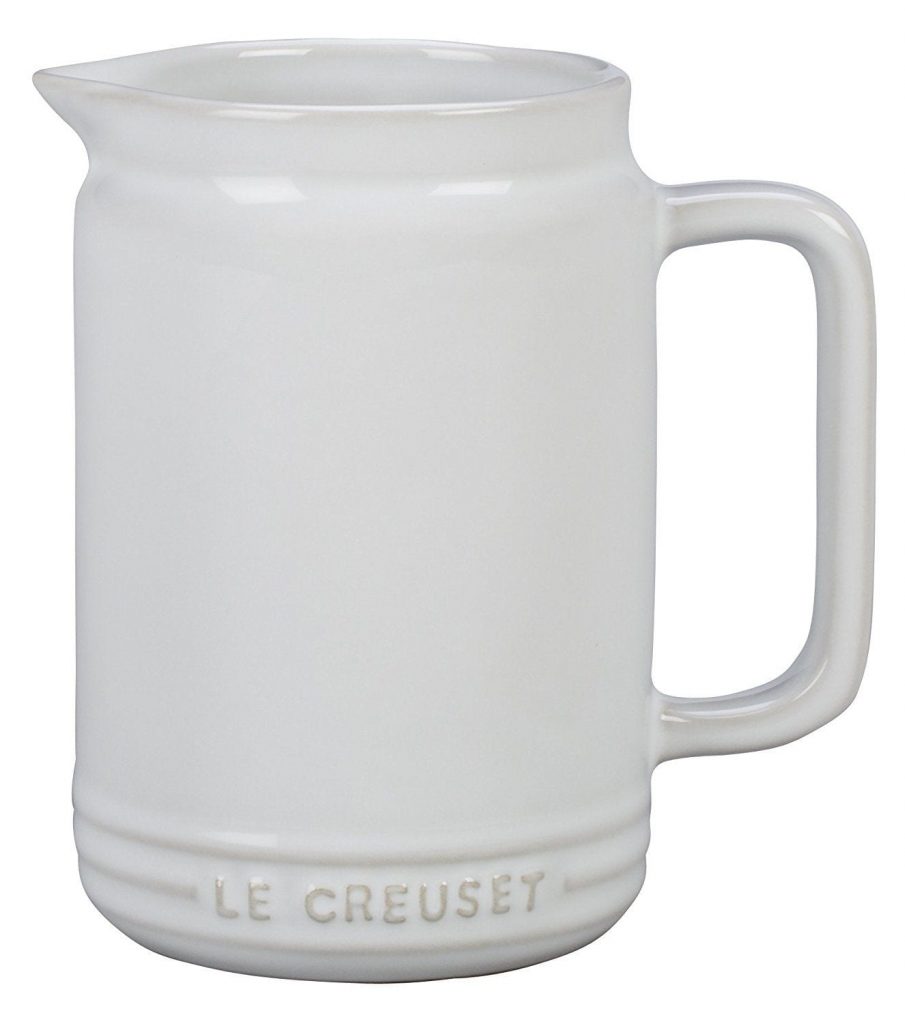 Le Creuset of America Stoneware Sauce Jar — The Sauce Jar keeps sauces warm, and its easy-to-pour design makes it a bright, yet practical, addition to the table. It features a nearly-nonstick glazed interior that helps food not to stick for easy cleanup. Check out the other 7 colors they offer.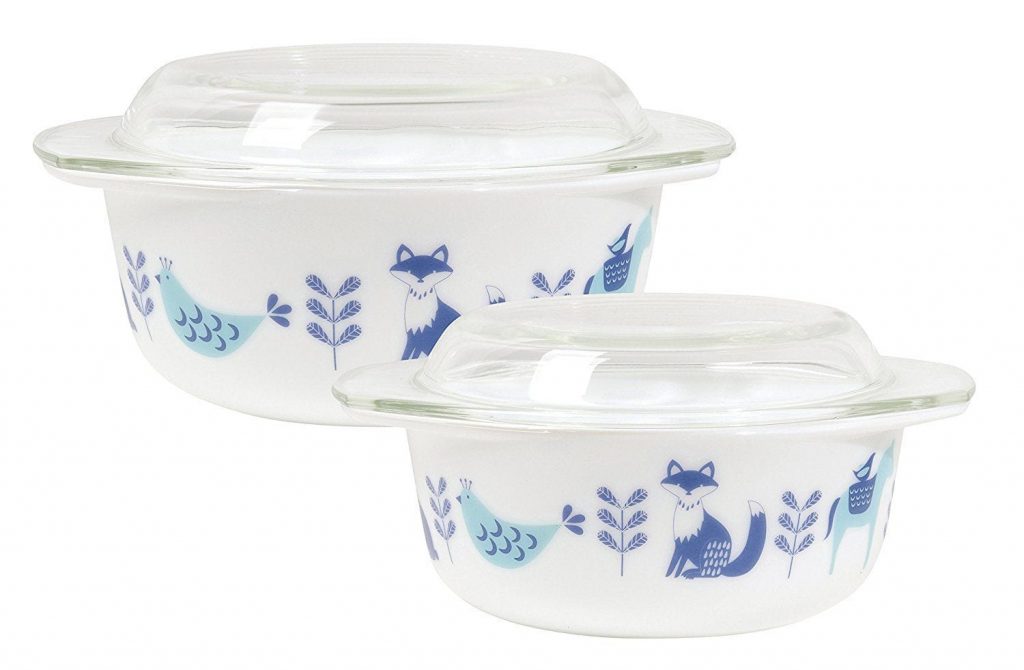 Retro Glass Bakeware — This set includes two matching white glass dishes with clear glass lids and is oven safe up to 400 degrees F. They are freezer, fridge and microwave safe making these perfect for storing leftovers. The simple design features meadowland creatures in blue and teal.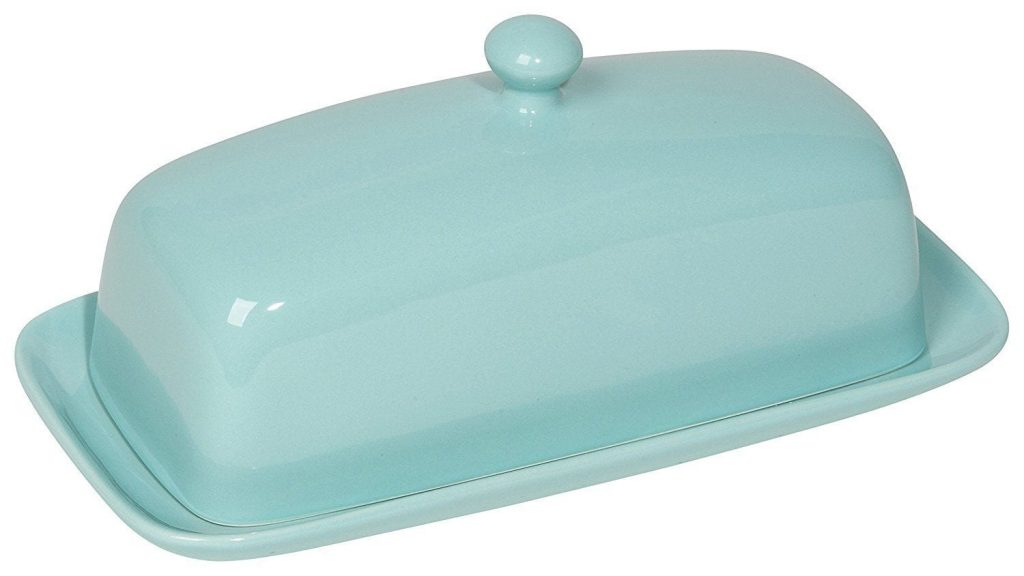 Butter Dish — Nothing says retro kitchen more than a stoneware butter dish. The dish measures 8 inches long, 4 inches tall and 4.5 Inches wide, and is both microwave and dishwasher safe. The Eggshell blue is ideal for your retro color scheme, but they also feature four other gorgeous and fun colors.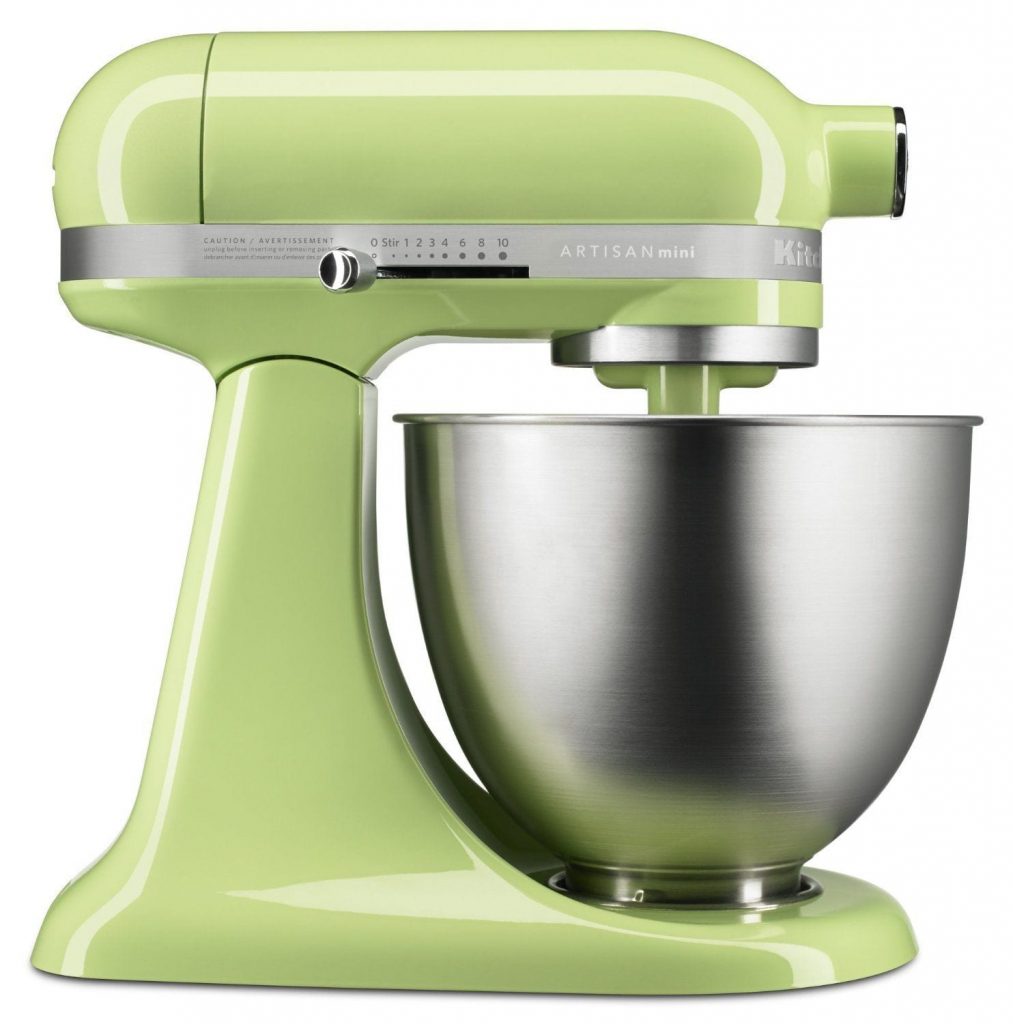 KitchenAid Artisan Mini Series — This new mini series mixer is 25% lighter and 20% smaller footprint compared with KitchenAid Classic Stand Mixer. It's still powerful enough for nearly any task or recipe, whether you're stirring wet and dry ingredients together, kneading bread dough or whipping cream. The color pictured above is Honeydew, but it also comes in 9 other colors.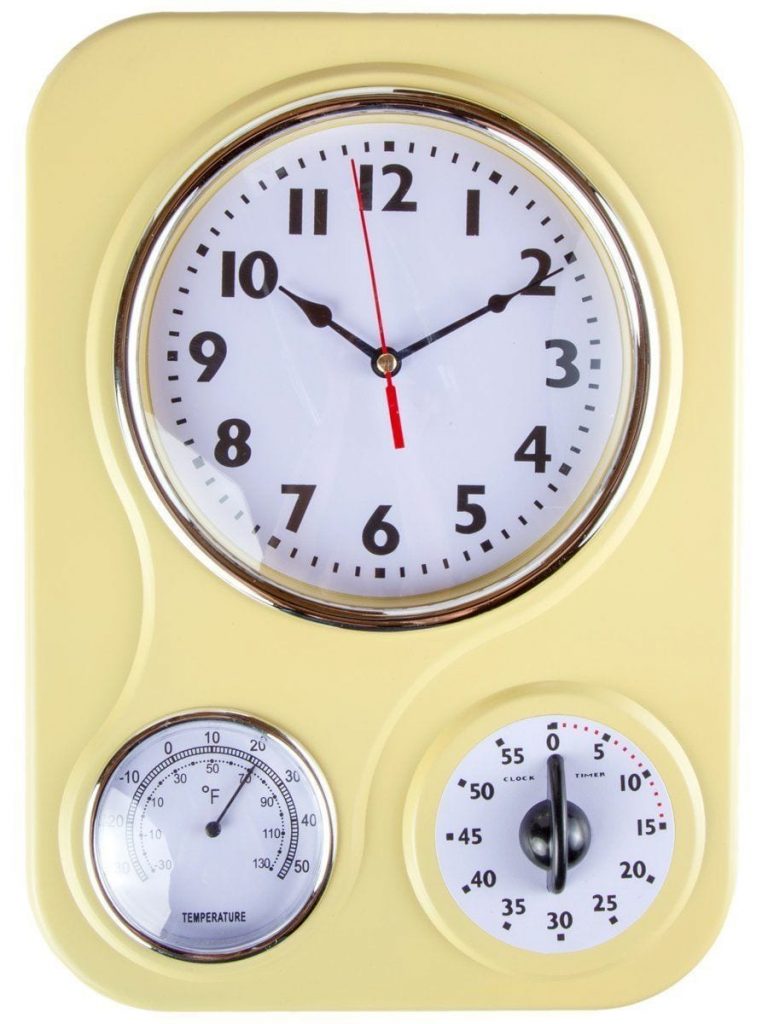 Retro Kitchen Clock With Temperature and Timer — Does it get much more awesome than this? It's a clock, a one-hour timer and a temperature gauge all in one. It features an easy-to-read retro modern type font and is an attractive and practical piece for any kitchen.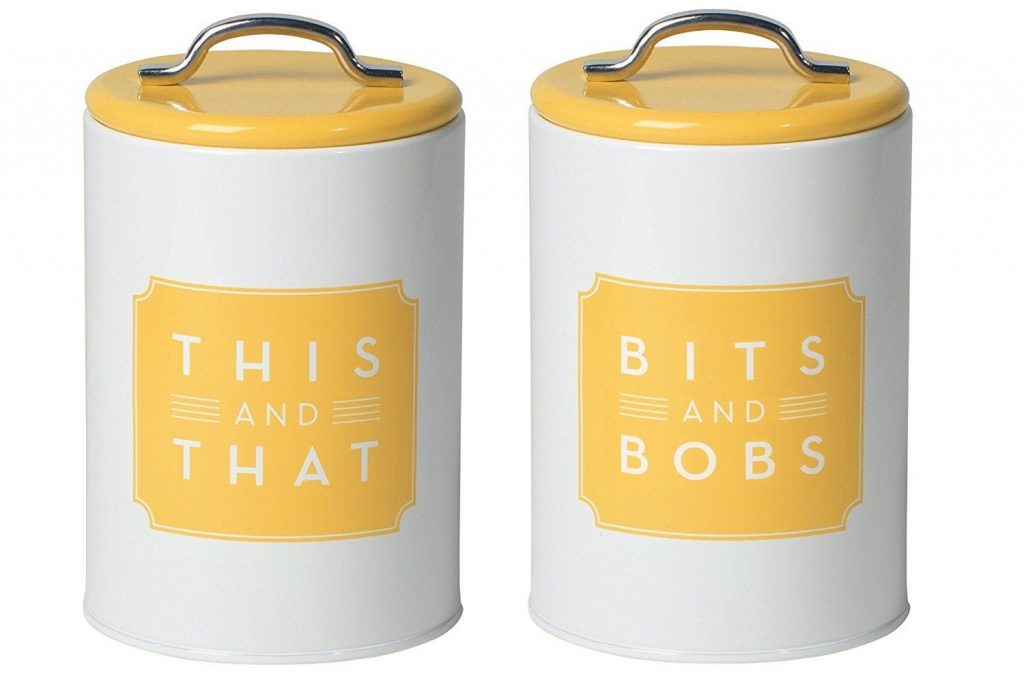 This and That & Bits and Bobs Tins — These two coordinating tins have a fun message letting you know what's contained in them. They measure 4-inches wide and 6-inches tall and have lids with handles. They'll make a fun addition to your kitchen counter.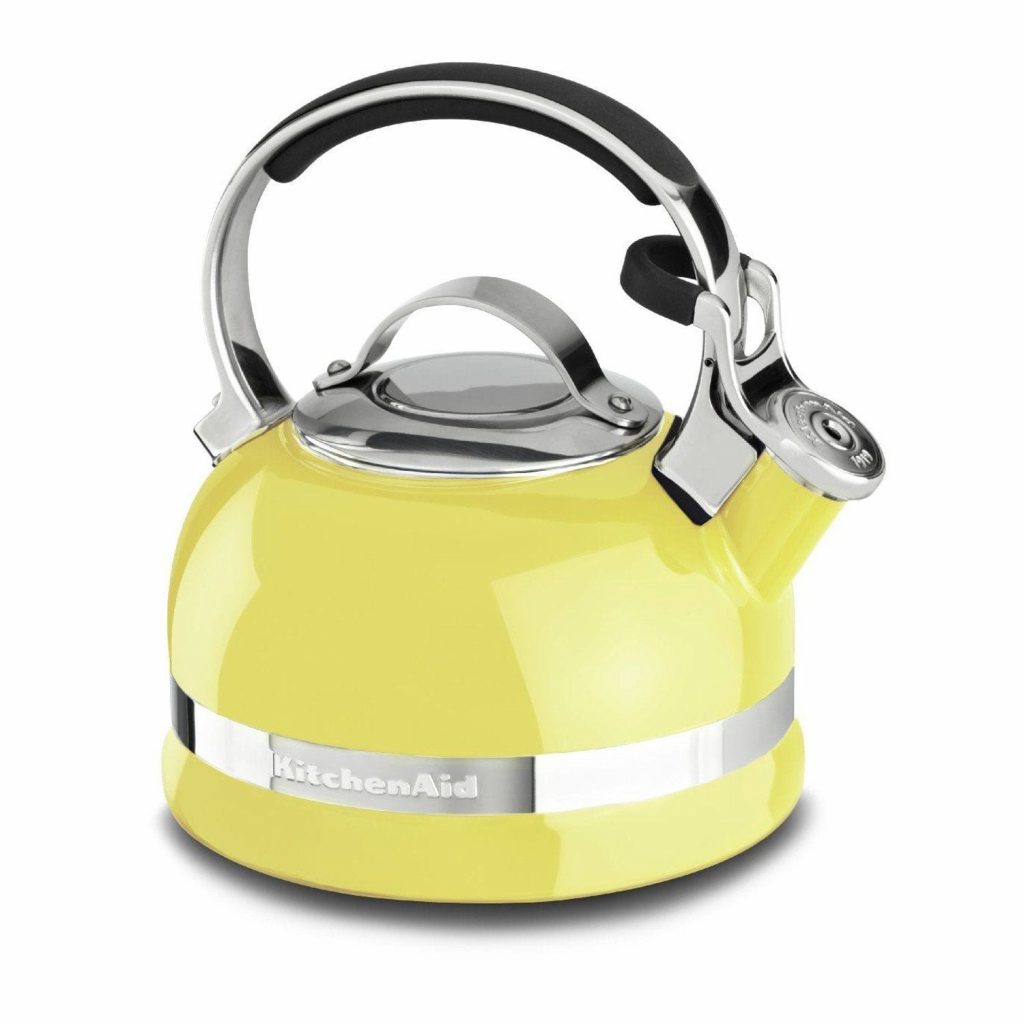 KitchenAid Kettle — Put the kettle on for your guests with this retro looking piece. You can quickly prepare and serve seasonal drinks, delicious soups, or hot cereals in style. The color above is Citrus Sunshine and also comes in 9 other colors.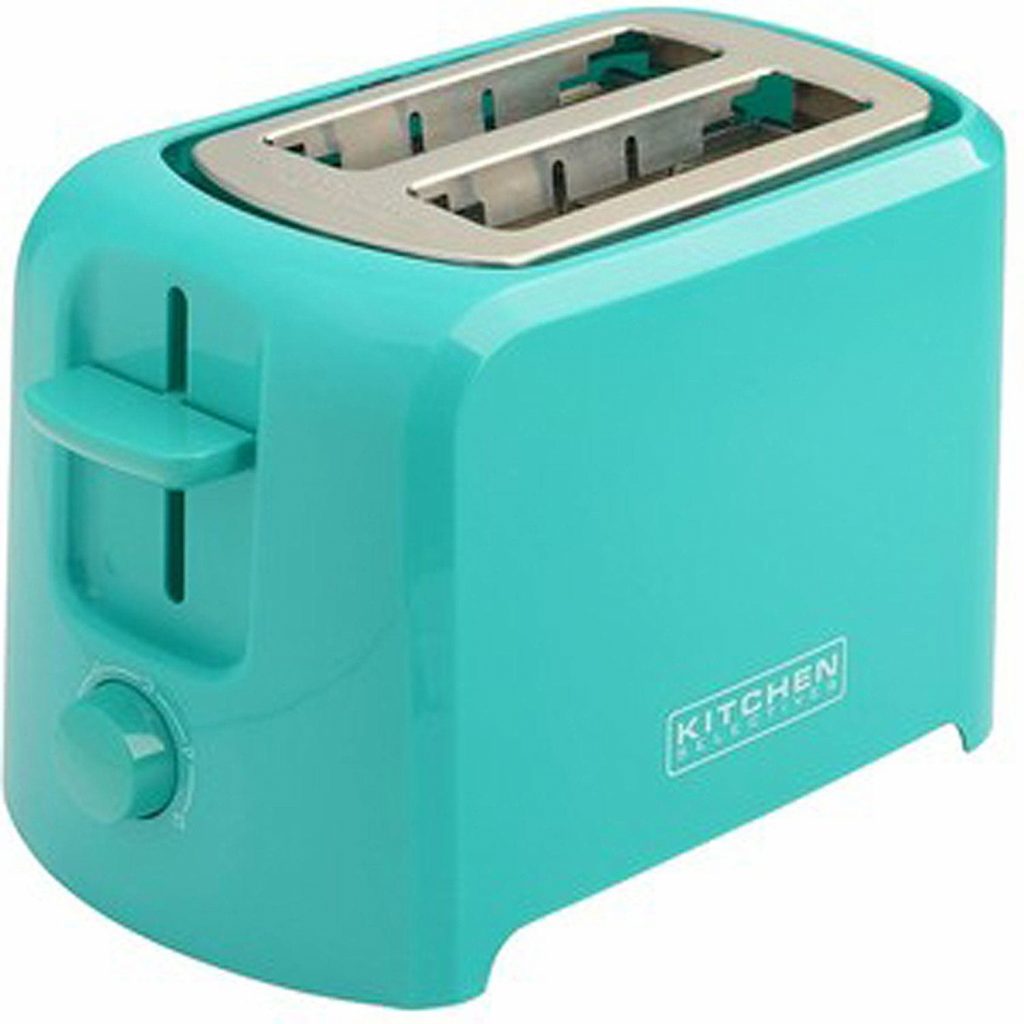 Cool-Touch 2 Slice Toaster — Not only will you have awesome toast with this toaster, but it perfectly matches your dream kitchen's retro style featuring the gorgeous teal color.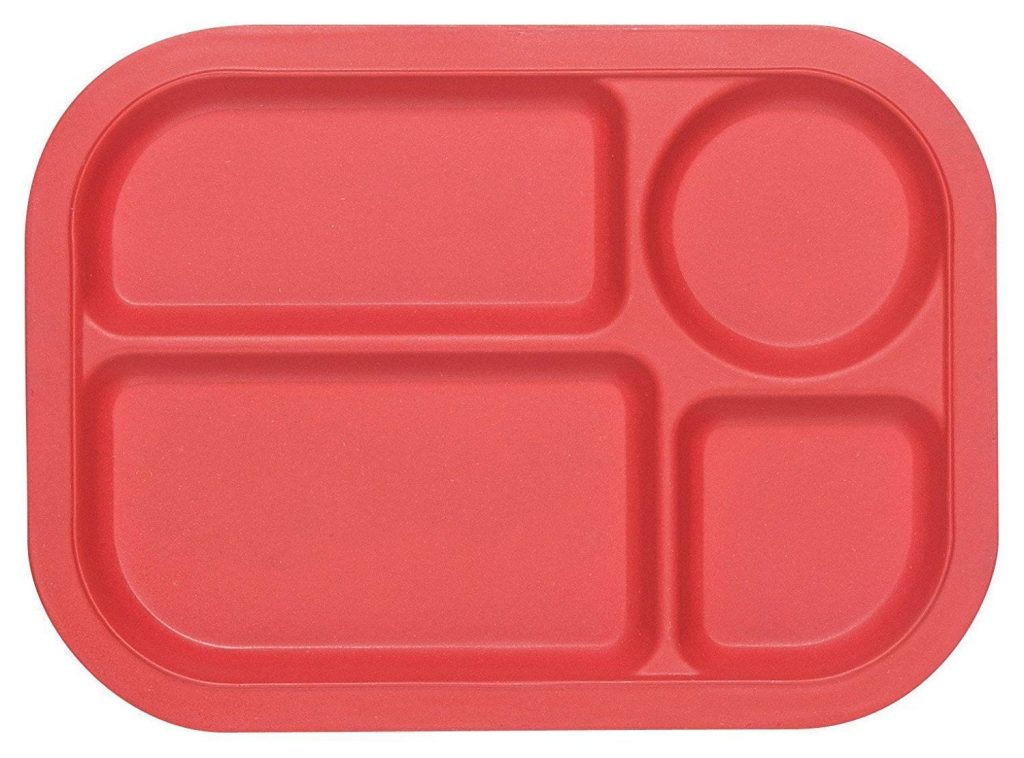 Ecologie Lunch Tray — These trays bring back the memories of TV dinners in front of the old television, as well as a throwback to lunchroom days. They're great for bbq's picnics, lunches and summer dining: these trays keep all meal components separated. No more cole slaw/baked bean merging! Ewww! The trays measure 11 inches long and 8 inches wide.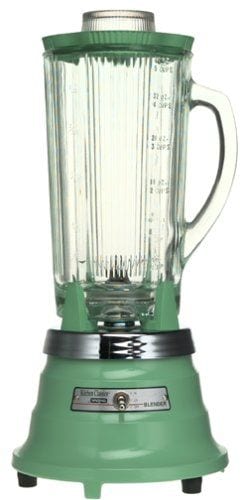 Professional Bar Blender — This model pays tribute to early blenders in its retro styling. The 40-ounce, ridged glass jar holds 5 cups of mixed drinks, soup, or sauce. It's powerful enough to crush ice and blend frozen fruit beautifully in a few seconds.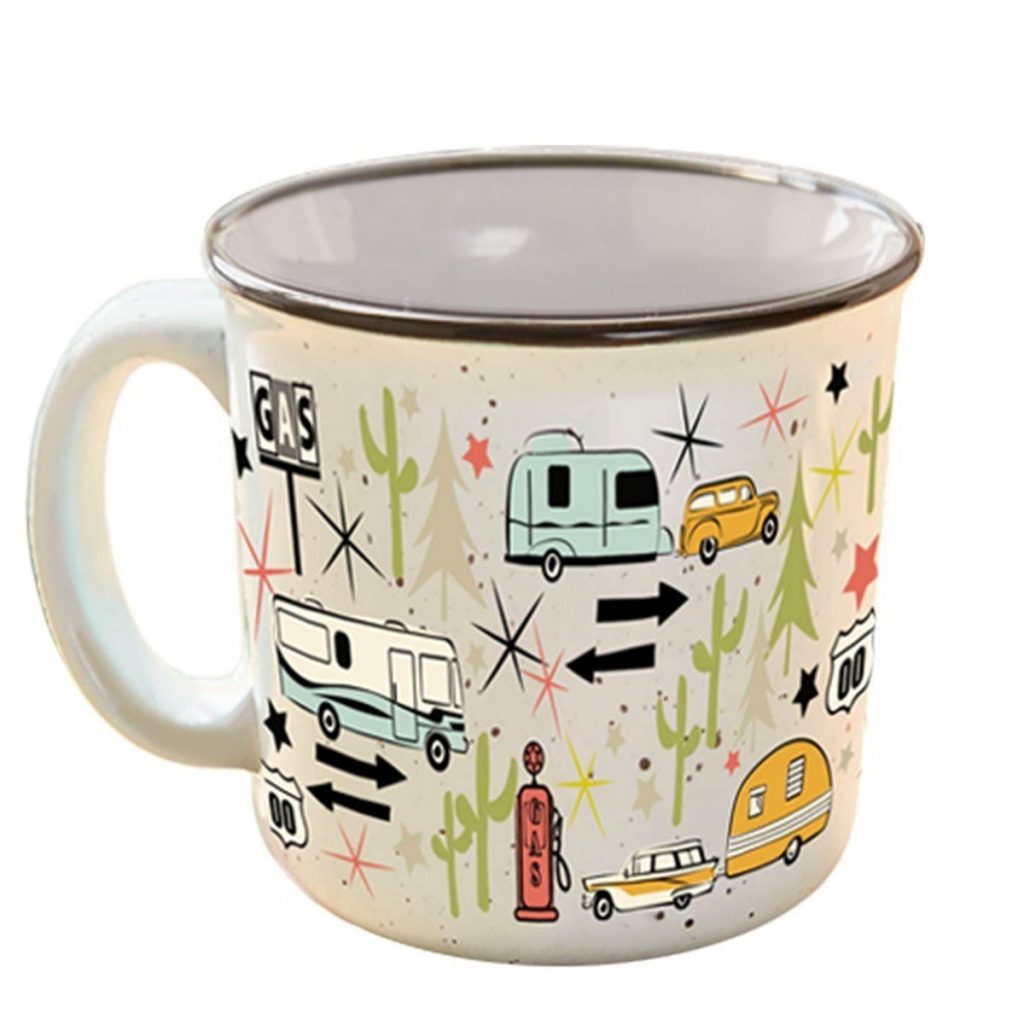 Ceramic Mug — The ideal mug for your retro kitchen! You can also take it along in your RV or camping when you're ready for coffee time, tea time, cocoa time or soup time. The mug is 15 oz. and made from sturdy ceramic.
Which one of these retro kitchen accessories was your favorite? Any of these will be a great addition to your vintage kitchen decor.
If you liked this post, please share it on your social media channels or pin it on Pinterest to save for later.