I participated in a campaign on behalf of Mom Central Consulting for OxiClean. I received a product sample to facilitate my review and promotional item as a thank you for participating.

A couple of years ago I had this great idea that we would start using only white towels in the bathroom. White hand towels, white bath towels, white wash cloths. You get the idea. Now before you shake your head at me :), I had my reasons why. One of them being because three of the members of my family, myself being one of them, were using acne products that contained benzoyl peroxide in them and no matter how hard we rinsed our faces, it seemed to get on the towels and bleach them out! Especially with teens in the house who were just ready to get in bed at night after washing their face and were in a hurry.
So, my beautiful towels were never beautiful anymore. I finally switched to white towels. But guess what. Yep, they got incredibly dingy. Which meant I had to start bleaching them. Which was a royal pain the butt!
And then in walked OxiClean into my life. Like a few weeks ago. Oh My Gosh.
Bye Bye Bleach.
Here's a before and after shot of a dingy white towel and a pretty bright white towel.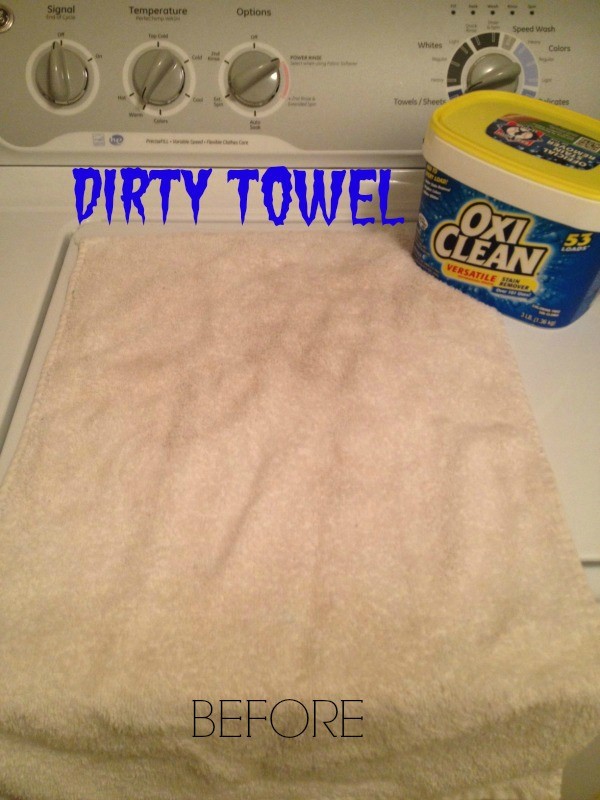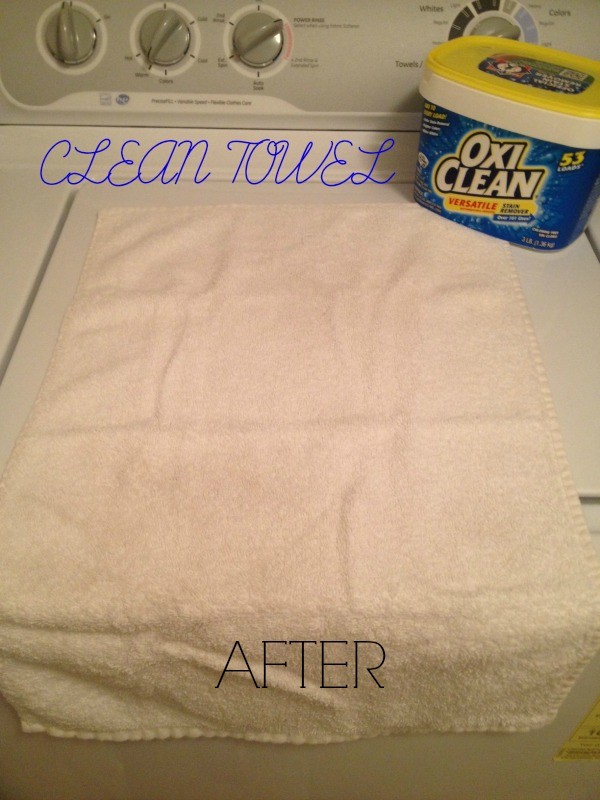 To say I am ecstatic about not having to use bleach is an understatement. I really do prefer to use white towels in the bathroom and now I can continue to without having to mess with using bleach. OxiClean has completely whitened our whites and brightened our brights and I could not be happier about adding this small extra step to my washing routine.
What IS OxiClean you might ask:
A chlorine free and color safe, oxygen based stain fighter designed for maximum strength stain removal in your laundry and around your home. OxiClean Versatile Stain Remover has the most stain fighting oxygen power of any OxiClean product.
OxiClean is extremely versatile. You can use it to whiten your whites and brighten your brights. It's a stain remover and can get out those set in stains that regular laundry detergent just can't get out. Those set in stains on my white hand towels? GONE.
But it's not just for the laundry. You can use it all around the home. We just moved into a brand new home.With brand new CARPET. With a dog who keeps eating our brand new gorgeous bright green grass and throwing it up on our brand new carpet!! It's a good thing he's cute! Thankfully we can use it on those stains, other pet stains, upholstery and even on hard surfaces in the kitchen and bathroom.
Am I pleased by the results of OxiClean? Heck yes.Will I be purchasing a tub of my own when the one I was sent runs out. You bet. I use it in every load.
Now that school is starting, my kids come home with so many random stains that they have no idea where they got them from. And two of them are in high school. Heck, sometimes I get random stains on my clothes that I have no idea where they came from. Life is messy. Did I just steal that slogan?
Anyway, I encourage you to give OxiClean a try and see what it does for those sneaky stains and the ones that you know are there and just won't go away.