You know how you have that one shirt in your closet that's your absolute favorite, and you wear it all.the.time? But you get sick of wearing it the same way all.the.time? That's me and a shirt I recently received from J. Jill's December collection. It's comfortable, it has great colors and I just feel good in it. So, I went into my closet and experimented to create more than one red plaid shirt outfit. The results? Well, here you go!
Red Plaid Shirt Outfit Ideas
Outfit #1
Outfit details: J. Jill Tunic | Isaac Mizrahi Jeans | J. Jill Puffer Vest | J. Jill While Pullover (on sale) | Target sneakers
This is my favorite of the three outfits and I even received a "you look cool mom" comment from one of my children, so you know it's a winner right? 🙂 This outfit works for so many reasons: it's layered well for warmth, it has both light and dark colors making the outfit pop and it's so incredibly comfortable. I wore this go-carting with the kids and my husband and I stayed nice and warm.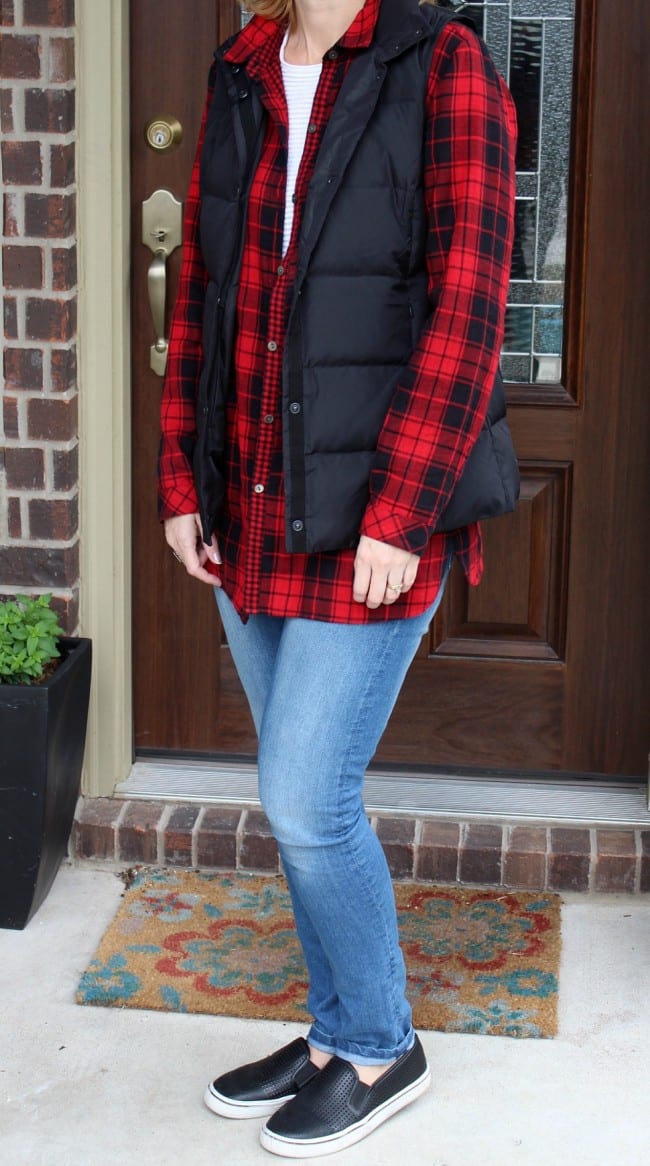 Outfit #2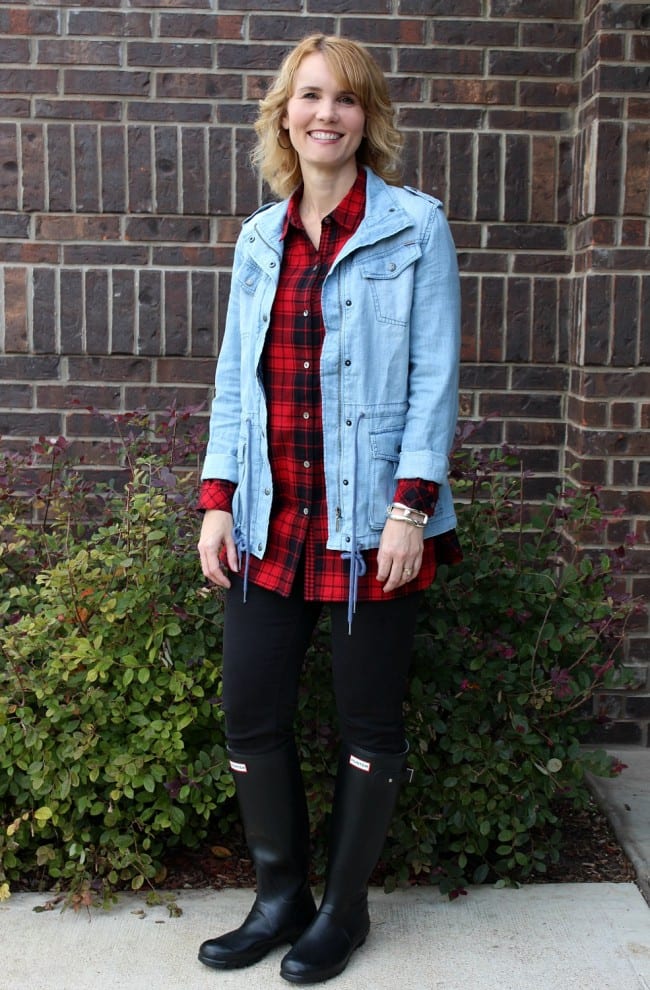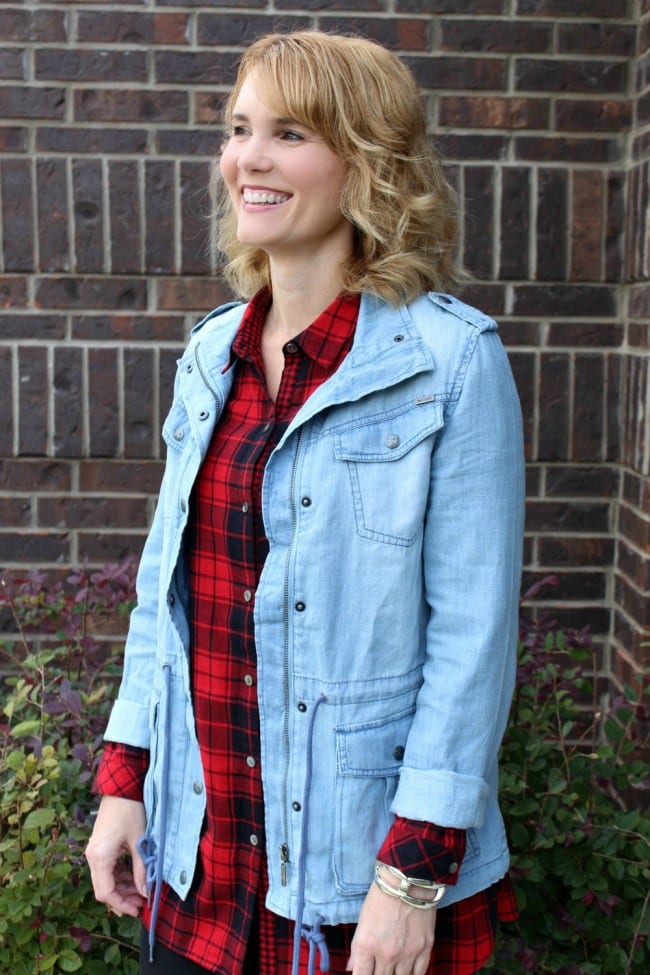 Outfit details: J. Jill Plaid Tunic | Lee Dream Jean | Denim Anorak | Hunter Boots
Here's a great outfit for a rainy and cold day. The fall and winter are all about layering, which is something you can really experiment with. I knew I wanted to pair this shirt with a light-colored jacket, so as soon as I saw the denim anorak hanging in my closet, I knew it was just what I was looking for. Don't be afraid to pair dark and light colors together.
I purchased these Hunter books a couple of months ago and so far, it's my best purchase of the season. I walked over two miles in them while out trick-or-treating with one of my kids, and have been wearing them ever since like crazy. They're comfortable, stylish, and perfect for cold weather. I'm really happy with the matte black ones. I did a little research on Hunter Boots before purchasing them and saw many customers saying the gloss turns to matte after a while anyway. The matte makes them look less like your typical rain boot and more like a regular, everyday, wear-them-with-whatever-you-want boot.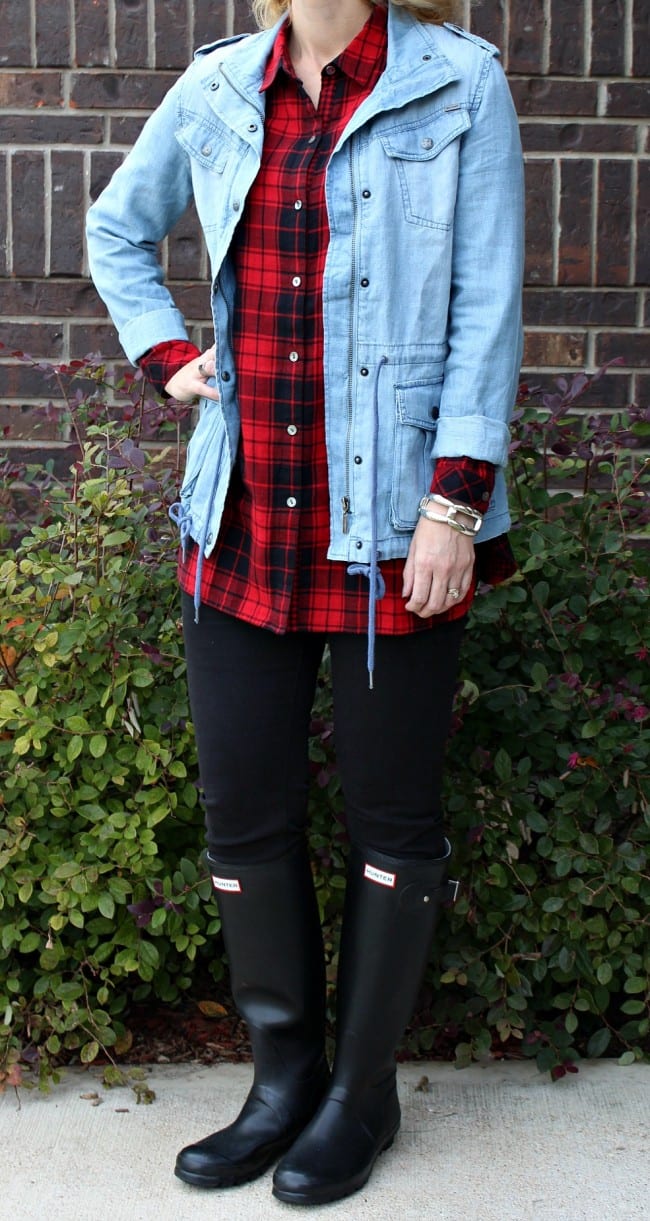 Outfit #3
Outfit details: J. Jill Plaid Tunic | Gray t-shirt | Lee Dream Jean | Black scarf (similar) | Booties (similar)
This is a very casual, throw on and head out to run errands kind of outfit. I like how this plaid tunic looks great buttoned or unbuttoned. It gives you a lot of variety when it comes to red plaid shirt outfit ideas. Throwing on a scarf is my secret weapon when it comes to creating outfits in the fall and winter. A scarf can be the finishing touch to your outfit, plus it keeps your neck warm. Win-Win. If I wanted to do a little pattern mixing, I could even add a striped scarf for something different.
The jeans I'm wearing in this outfit and the one above, are a new design from Lee called the Dream Jean. You'll be hearing about these more in the next week, but let me just tease you by saying…these jeans are absolutely amazing. My favorite feature? They make my butt look fantastic, and so will yours in a pair of these! 😉 They lift and tuck in all the right places. I wore them on Thanksgiving so I could EAT ALL THE THINGS and still feel comfortable. So I did.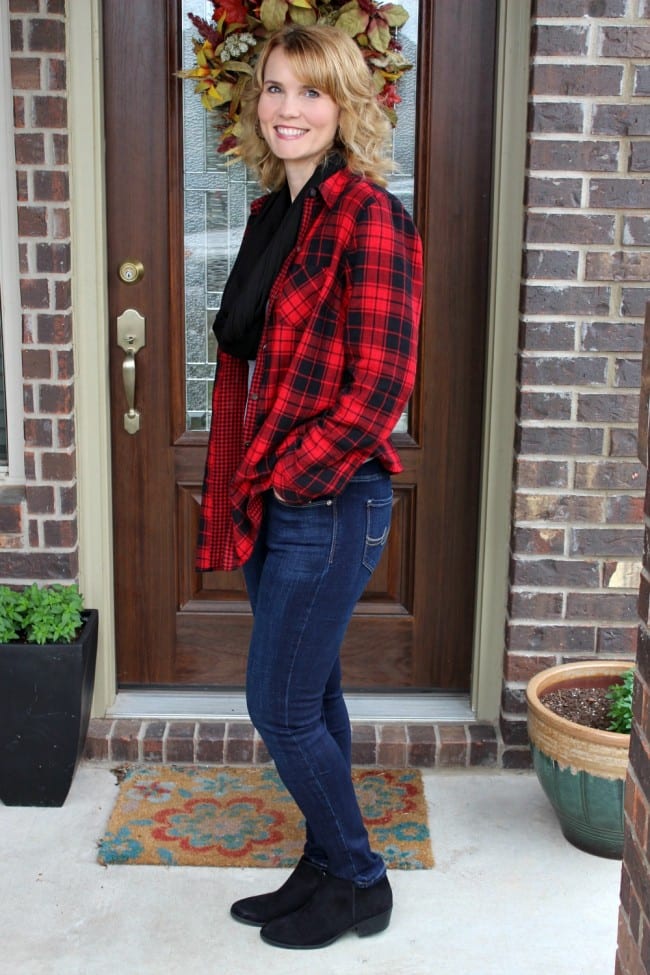 Which red plaid shirt outfit is your favorite? Would you wear any of these? You can purchase the shirt here and while you're there, be sure to browse their new collection. J. Jill items are timeless. These are pieces you can wear year after year. The sweaters, hats and gloves also make really great gifts. I can't wait to show you more items I received from J. Jill, like these over-the-knee suede boots that are on sale!!