I love creating outfits, on myself while experimenting in my closet, on friends, and also virtually. It's fun and it's one way I express my creativity. Because of that, I've decided to expand my popular Cute Outfit Ideas of the Week to a new series titled Outfit Idea of the Day. Monday through Friday, I'll share one outfit idea like the one below. I may highlight something on sale, or possibly a hot trend. Basically whatever comes to my mind. I'll still continue rounding up cute outfit ideas of the week featuring one item in different ways, but I hope you'll enjoy this new series and get some fabulous outfit ideas. Let's get started!
Outfit Idea of the Day #1: Classic in Camel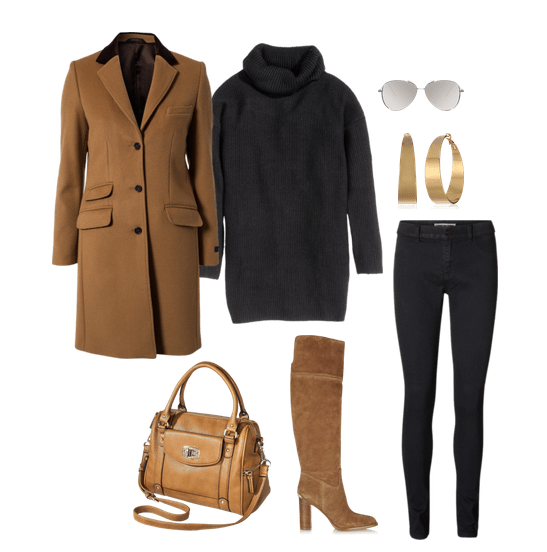 Outfit details: H&M Cowl-neck sweater || Black Jeggings || Morris Loren Camel Coat (similar) || Target satchel || Michael Kors Boot (similar) || Mirrored Aviators || Vince Camuto Gold Hoops
I desperately need a new coat for the winter, so I've been doing a lot of searching around. I have a black leather jacket that was gifted to me by my mom years ago, and it's still in decent condition, but I'm starting to see some wear and tear. I purchased a lightweight pastel pink faux leather jacket, which I love, and will work for cool days. But I need a solid coat that will last and work with everything.
Camel coats have been catching my eye like crazy and I've decided that's the coat I want. It's classic and will go with my every day casual outfits, as well as dressier outfits. I love the look of black on black, paired with camel. It is such a classy look and one that never goes out of style, no matter what the trends say.
Do you have a favorite coat? Are you on the look out for one? Let me know in the comments section below!
Shop more Camel colored Coat options below.