There's something very important you should know about my family and I – we LOVE to travel. It's such a part of who we are and why, I believe, we are so close as a family. I haven't talked about it near enough here on Mom Fabulous and that's about to change.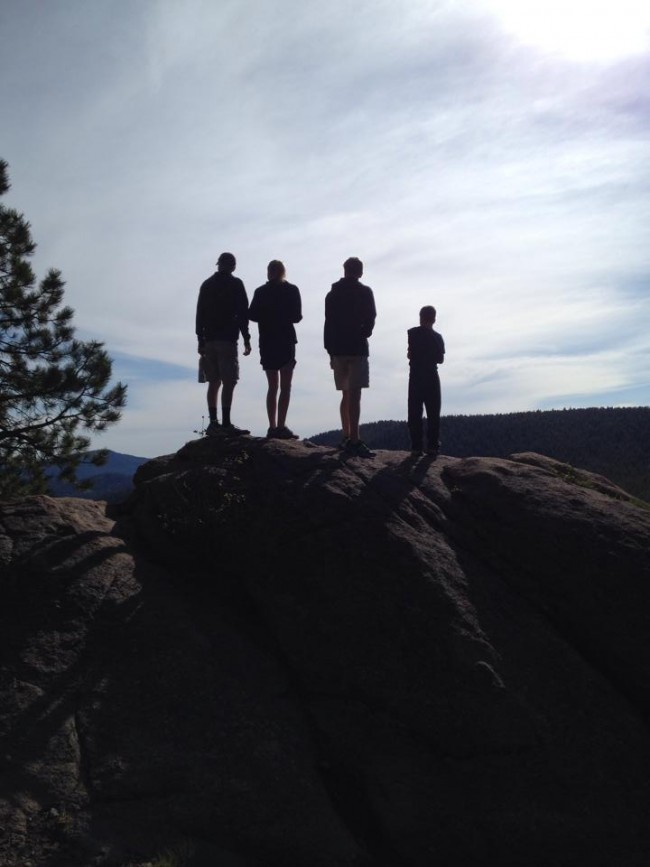 I want to start sharing with you why we love to travel, tips and places we've visited; plus information on some of our dream destinations.
Places We've Been
We've lived in Slovakia and had the chance to travel Europe while my husband and I were dating. After having kids, my husband joined the military which took us to places like Alaska, California, Georgia and New Mexico. We've taken trips together as a family to some beautiful places and I want to share that with all of you. So expect to start seeing the Travel category here fill up.
Memories, Not Material Things
When my husband asked me what I wanted for Christmas this past year, I said experiences. I didn't want or need anything material. I wanted memories. As we're getting geared up to send our first child off to college, I've been hit hard with the fact we're entering a new season of life. In two years we'll have two kids out of the house (most likely, but I know how things can change!) and that will leave us with our youngest at home. I'm excited to see them grow up and venture out on their own, but it reminds me of the memories I want to build with them and the memories I  want them to have of their childhood.
So, Todd and I are making it a point from here on out to make travel a big part of our lives. That means making sacrifices in other areas like eating at home more. It also means before we bring anything new into our home, asking ourselves what value it brings. That's been my new mantra with everything in my life and VALUE is actually my word to stay focused on for 2016.
Our Trip to Fredericksburg
I share all that to lead into a trip Todd and I took alone, and we enjoyed it so much that we returned and brought the kids with us. We live in the Austin, Texas area and a popular place to shop and visit is Fredericksburg, Texas. They're known for their peaches, wine, shopping, and just all around charm.
Where We Stayed
For our trip alone, we stayed at a little cottage called Ava Haus Bed and Breakfast.
When Todd was reading the reviews, everyone was talking about how comfortable the bed was. And they were right! From the mattress, to the pillows and comforter – it was the perfect place to rest.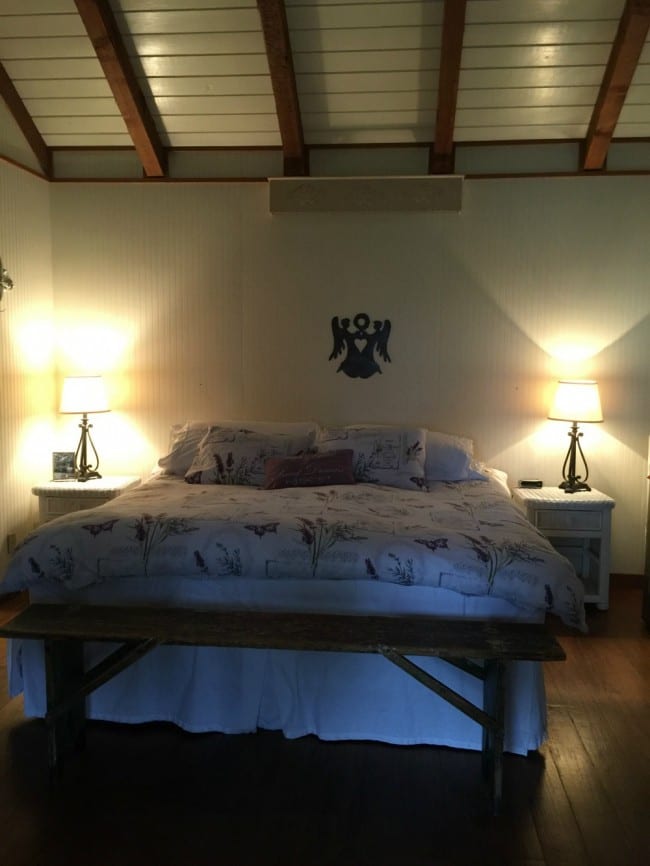 They also have a claw foot tub (big enough for two!) situated in a cute bathroom.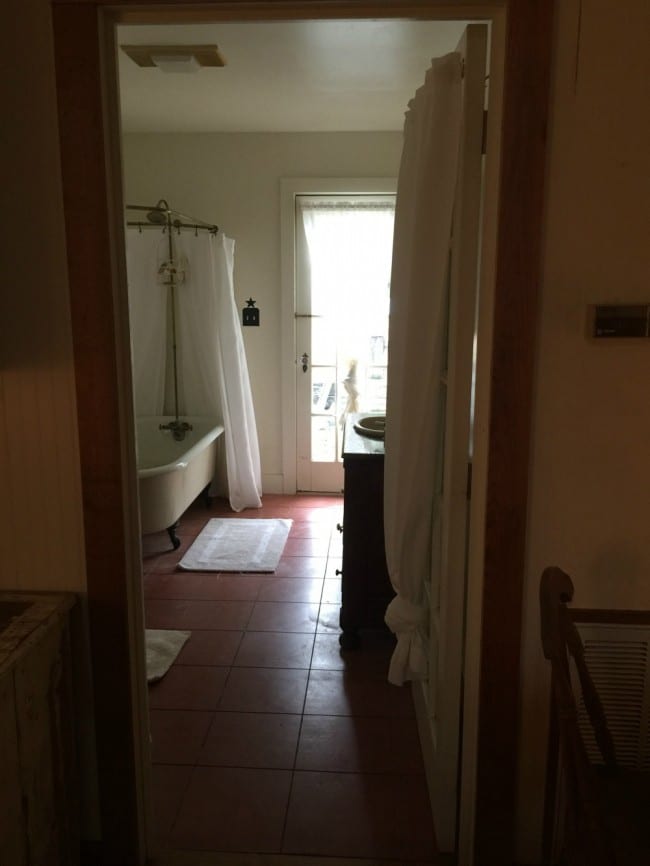 If you're wanting privacy and a big homecooked breakfast isn't too important to you, I would recommend Ava Haus. They leave yogurt and juice in the refrigerator and muffins on the table. There's a Keurig to make coffee and wine glasses to indulge in some local wines. The leave the key for you at the cottage and you literally don't see anyone the entire stay.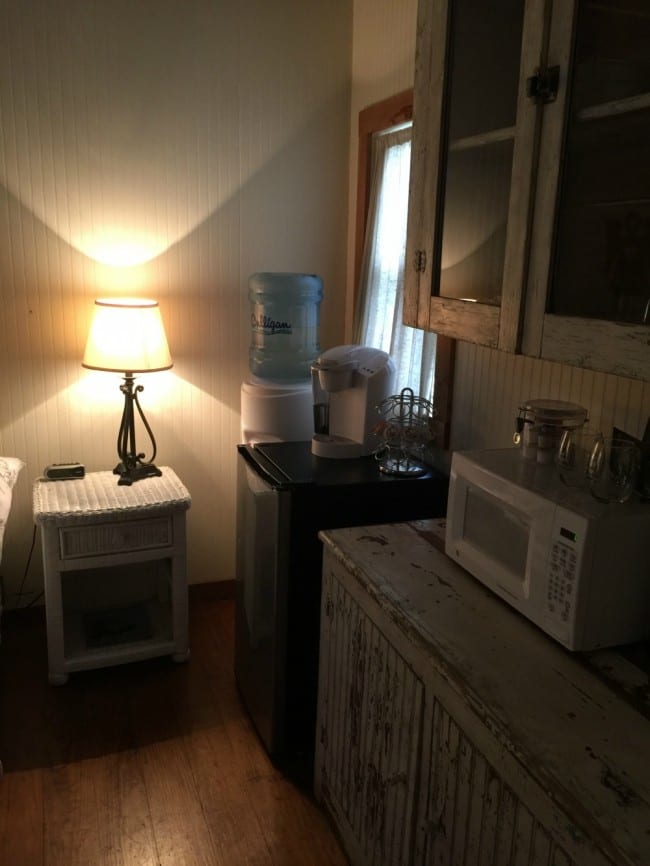 As a side note, the bed and breakfast is located off a fairly busy four-lane highway; so expect some road noise. It wasn't terribly bad, but we did buy some ear plugs at their local Walmart store.
The cottage we stayed in was built in 1861, and I was envisioning a family living in this one room cottage. It was cozy and the perfect little getaway for a night.
Our family trip
A few days before Christmas, we took the kids to visit Fredericksburg for the day. We arrived early afternoon to do some shopping and look around their downtown area. If you like antiques and clothing items you can only find at a little boutique, then you'll love it here.
Our plan was to walk around for a little while and work up an appetite to eat at the Fredericksburg Brewery.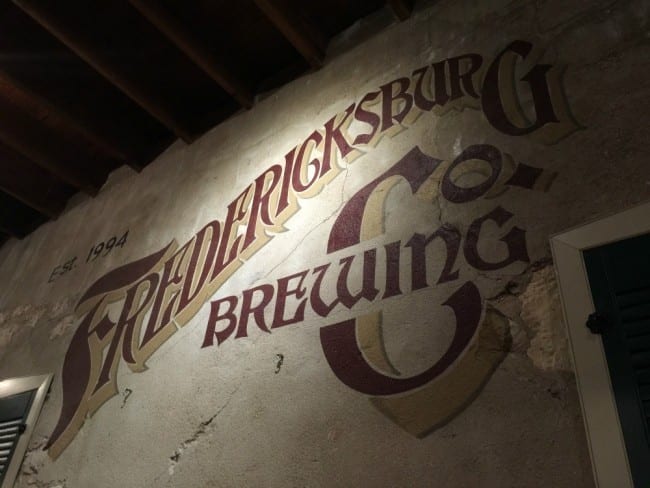 It's a little tricky choosing places to eat out for our family since we have two vegetarians and one who's gluten intolerant. Thankfully the brewery had something for everyone and it was delicious. We did have to wait for quite awhile for a table (40 minutes) since we were there at one of their peak times for visitors. But they have a large room in the back  with picnic tables and TVs. You can order something to drink while you wait and if you have little kids, it's big enough for them to wander around if they get restless.
Speaking of little kids, we were seated at a table next to a party of about 15 people, half of them were kids and the restaurant seemed to accommodate them well.
If you're looking for a place to eat in Fredericksburg to have a good burger, pizza, wine and a beer – I highly recommend the Fredericksburg Brewery. Also, they have a Bed & Brew upstairs for an adult only getaway, which Todd and I plan on taking advantage of sooner than later. All guests are offered a four sampler beer each night, hence the "brew" part of your stay. 😉
What to do
After we ate, it was nice and dark outside and the town was lit up for Christmas. There are horse drawn carriages, as well as a small ice skating rink near this 25-ft tall German Christmas decoration that is just so cool!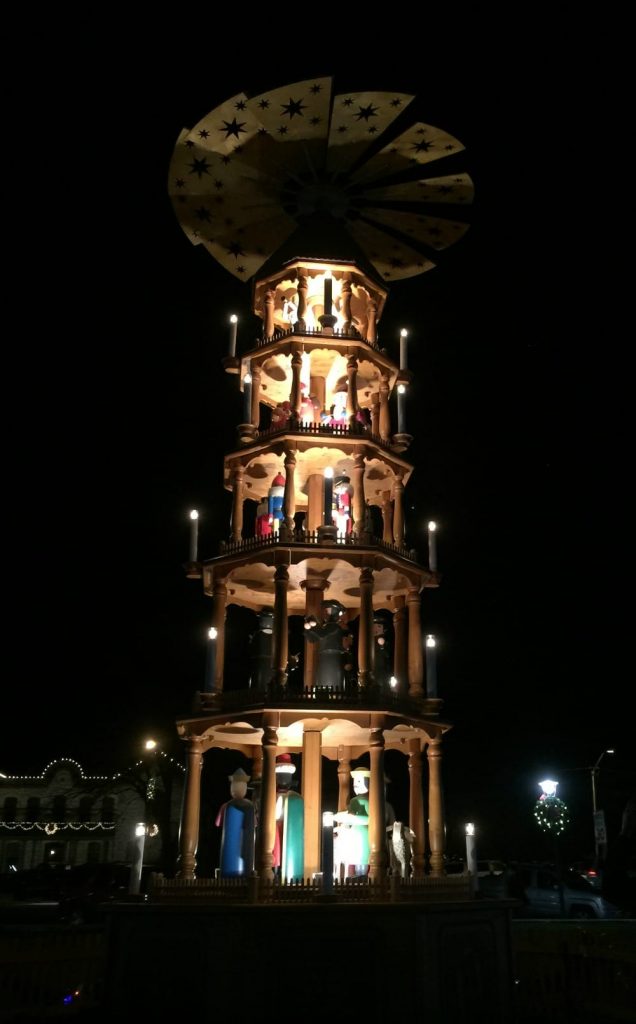 We did have a big problem finding any coffee to drink after dinner because everything was closed. It's a small town and we were there around the holidays, so a lot of the shops closed by 7, or earlier. We just missed out on a couple of places to get coffee, but later on got our fix at one of my favorite Starbucks located in Marble Falls. It's about 30 to 40 minutes away from Fredericksburg.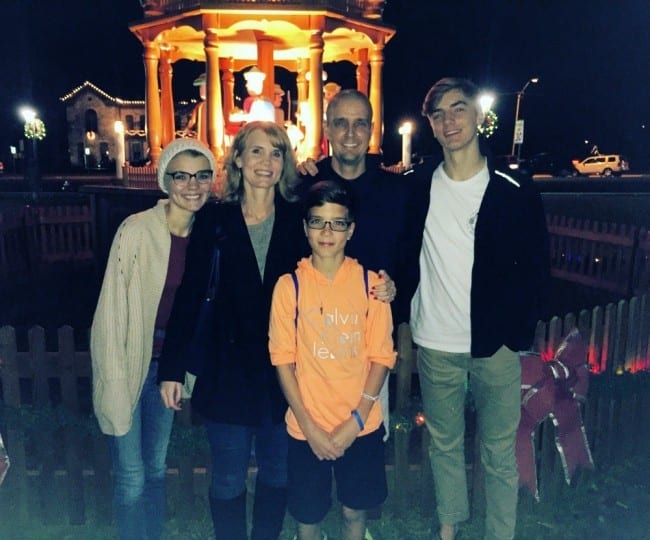 Overall it was a fun trip and definitely a place I'll be visiting again. Next time, me and the hubs (and maybe some friends or family) are visiting the wineries. You can take tours and winery hop on Wine Road 290, which includes 15 wineries. I know! Fun right? This is Texas wine country at its best.
I did walk away with a wine souvenir that I'll look forward to getting out every Christmas. 😉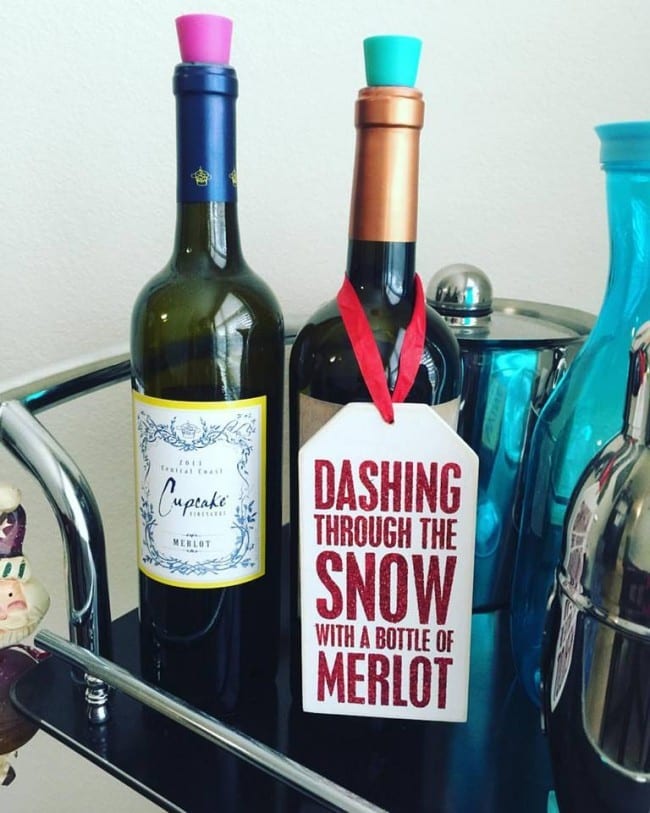 Have you been to Fredericksburg? If so, tell me your favorite places to stay, eat, drink and shop!