There's one space in our home that if it's out of control and not organized, my husband starts to get a little crazy. My sore spot is the kitchen, his is the garage. So when I asked him how he felt about doing a garage organization DIY project, he was all for it. Between the bikes, the gardening tools and the sports equipment, our garage can get out of control!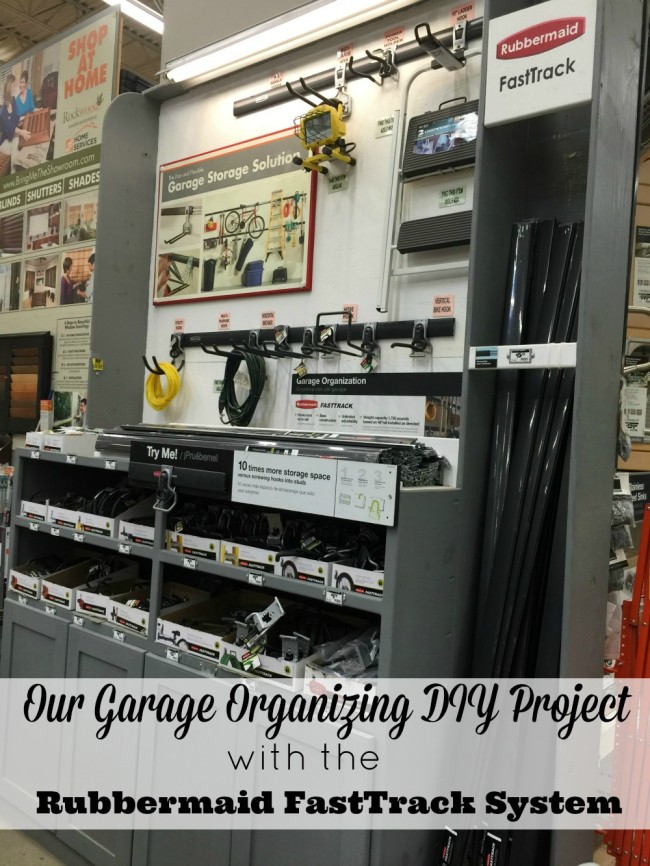 A couple of Saturdays ago, we headed over to Home Depot to check out the Rubbermaid FastTrack Garage Organization System. One of the rules of organization is to think vertical. To use your available wall space so the room works for you, not against you. (Can you tell I used to own a professional organizing business?!) The idea of using the wall space in our garage was very exciting because that meant getting those tools, bikes and balls off the floor!
Here are the items we ended up using for our project:
1 – Vertical Ball Rack (available online only)
1 – Wire Basket (available online only)
1 – 4'x16" Wire Shelf (available online only)
3 – 25" Upright (available online only)
3 – 16" Bracket with Clips (available online only)
3 – 48″ Hang Rail
3 – Multi-purpose Hooks
2 – Utility Hooks
1 – Cooler Hook
1 – Vertical Bike Hook
2 – Dual Handle Hooks
1 – Power Tool Holder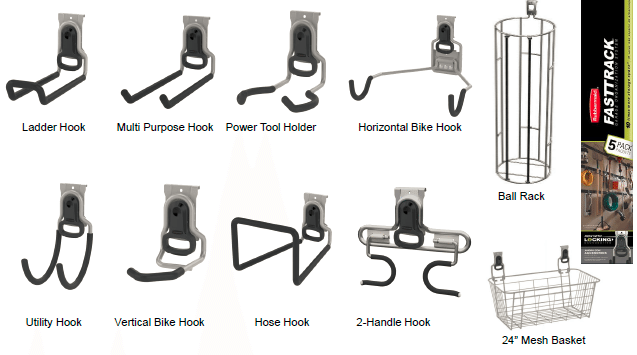 The project is coming along really well. We're almost finished and we both already feel a sense of calm and peace when we walk through the garage.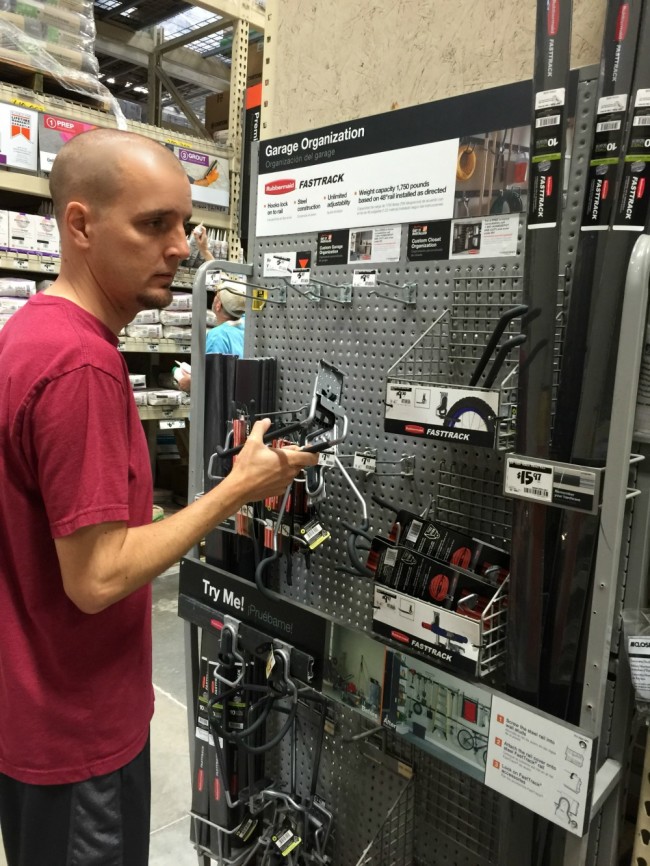 Garages in Texas usually aren't just garages. They're hang out spaces as well. Ours serves as not only storage, but my youngest son and his friends often hang out in there, plus we have a dartboard set up for entertainment. It's important to not only have a cleared space so everyone can move around comfortably but also a safe space. Using our wall space to store items like tools and gardening supplies gets them up and out of the way. This means I feel better about my son and his friends using that space to hang out and talk about their next bike trick, girls, and how their parents are driving them crazy.
Is your garage a constant stress and sore spot in your home? Our homes should be a place where we feel at peace and often times that can start with getting it organized.
Stay tuned for the before and after of our Garage Organization DIY project!
Fast, easy, fun. The FastTrack Garage Organization System is easy to install and allows you to store more by making use of your entire wall…not just where the wall studs are located!  Visit your local Home Depot today!
This is a sponsored conversation written by me on behalf of RUBBERMAID®. The opinions and text are all mine.