This shop has been compensated by Collective Bias, Inc. and its advertiser. All opinions are mine alone. #BrightMind #CollectiveBias
Our little Papillon named Dart turned ten! So I'm celebrating this month by sharing a variety of posts about our dog, our relationship with him and how we're helping him as he ages. I'll never forget the day he entered our lives and neither will our kids. He was, to this date, the best Christmas present they've ever received.
We've been spoiled by Dart with his love for us, his playfulness and what an easy dog he is to take care of. The last couple of years we've noticed his aging (and what all comes along with that) more and more. From not being able to jump up on things like he used to and walking a little slower, to even running into walls and tripping up the stairs. Poor little guy! Some days are better than others and we're doing everything we can to make sure these last years of his life are the best they can be.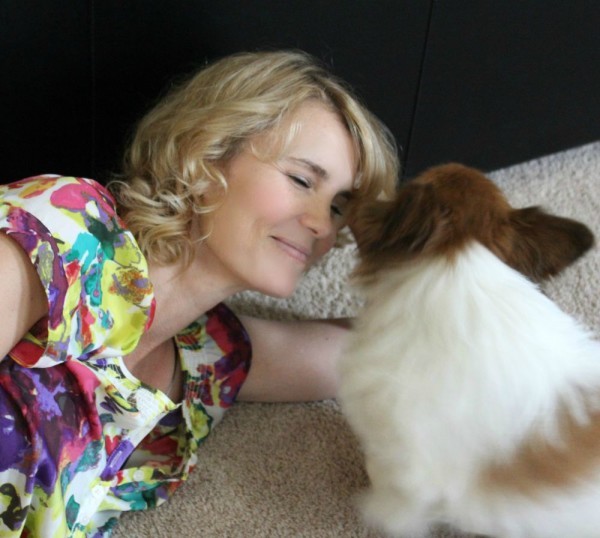 One of Dart's absolute favorite things to do with us is ride in the car and go somewhere. The day after his birthday, we strapped on a GoPro to Dart and went on a little outing to PetSmart and a local yogurt shop where our daughter works. Would you like to see the video? I thought you might! On a side note: our dog walks with a little waddle (he always has) and the video shows that waddle off quite nicely. 😉
Can you tell he had the time of his life?! Sticking his head out the window and seeing the other dog friends in PetSmart were the highlight of his trip. As well as purchasing new dog food that we've been gradually switching him to – Purina® Pro Plan® BRIGHT MIND for Small Breeds.
I remember having a conversation about a year ago with a family member whose dog is older than Dart is. He mentioned his vet told him how the food we're feeding our dogs when they're older can make a huge difference in their overall quality of life. Just like us, the kinds of food dogs fill up on matters. We've slowly been transitioning Dart to Purina Pro Plan BRIGHT MIND and he did perfect with the transition. That's all he eats now and he gobbles it right down within a matter of minutes.
I started off by putting just a little bit of the new food in his current food. Every day I added a little more of the Purina Pro Plan until that's all he was eating. It worked like a charm and he never snubbed his food – which he's been known to do before! There have been times he's gone on a mini hunger strike letting me know he's not happy with the food currently in his bowl. 🙂
So, why Purina Pro Plan Bright Mind food? Here's why…
The experts at Purina have done their research and know that at around the age of 7, the glucose metabolism in a dog's brain begins to change. That affects a dog's memory, learning, awareness and decision making.
Through their research, Purina discovered a way to promote alertness and mental sharpness in dogs 7 and older, and has introduced their new line, BRIGHT MIND Adult 7+ formulas. Visible results can be seen in as little as 30 days when switching to Purina Pro Plan
The BRIGHT MIND formula contains enhanced botanical oils, which promotes memory and attention.
Did you know a dog is considered senior at age 7? I didn't. Out of the approximate 87 million dogs in the U.S., it's estimated that around 44 percent of them are seven years and older. Is your dog in that 44 percentile?
I'm looking forward to seeing how Dart responds to a change in his diet and so are the kids! On another note, I would love it if he would stop barking every time someone knocks on the door, but I don't think any nutrition or scolding is going to change that about him. 😉
Do you have an adult dog? If so, what are some of his favorite activities to do with your family? I would love to hear about them! You can find out more about Purina Pro Plan BRIGHT MIND dog food by visiting their website. They share a sweet story about a dog named Sierra and her family.