"I participated in an Influencer Activation Program on behalf of Influence Central for Ame & Lulu. I received product samples to facilitate my review."
From home, to school, to work, to the store, to the gym, to activities…this in a nut shell is the average mom's daily life. We're busy. We're on-the-go and sometimes it feels as if we live in our car! For those days when we are non-stop, it's nice to have a fashionable bag that is large, durable and compliments my outfit. This is where the Ame & Lulu Easy Tote fits in with my life perfectly.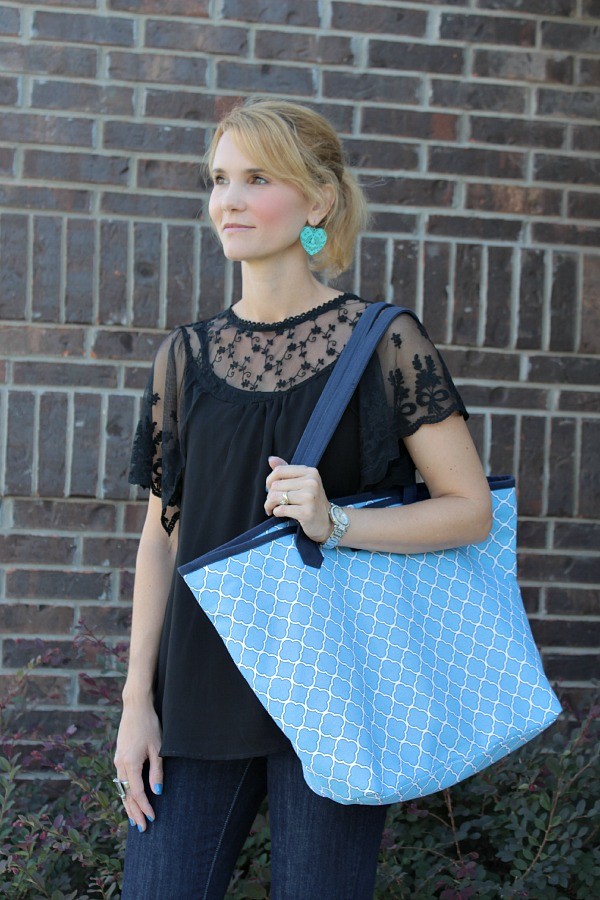 One little peek in my closet and you'll see that I'm a little tote crazy. (And shoe crazy, but that's for another post.) I love large bags! I occasionally break out a smaller purse and try to use it throughout the week, but I get frustrated because I can't cram enough in there. Would you like to see what I carry in my bag on a busy day?
Magazines, tablet, gum, sunglasses, phone, headphones, day planner, small notebook for jotting things down, water, granola bars, lotion, makeup – just to name a few items you see in the picture above. Why so many items you ask? Because I'm in my car, a lot. I sit and wait on my kids, a lot. Even though I work from home, I'm away from the house…yes, a lot. I like to be prepared and I like to do it stylishly.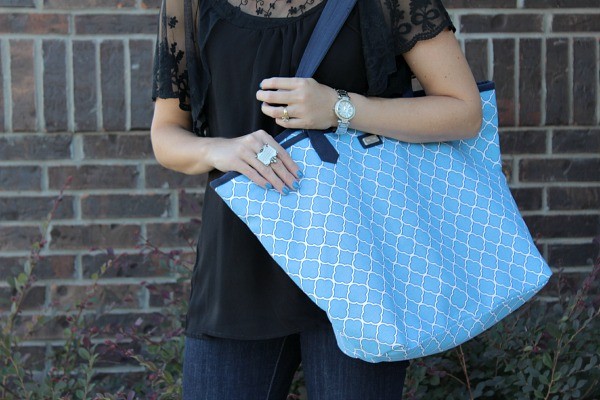 Ame & Lulu was founded by Amye Kurson in 2003 because she was an avid golfer who didn't like the choices when it came to the look of traditional activewear. She wanted stylish accessories that could go from the golf course to out to dinner with friends, seamlessly. So Ame & Lulu was born. The company embraces an active lifestyle, but with a feminine and classic approach.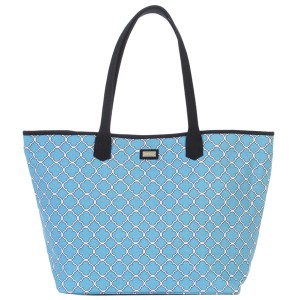 From her Golf Head Covers and popular Tennis Backpack, to the Easy Tote and Travel Accessories – Ame & Lulu offers the active woman stylish variety. The colors and styles are Classic, Colorful, Stylish and Preppy, with an All-American look and feel. When faced with the decision to choose a pattern for the Easy Tote, it was not an easy task. I would use and incorporate any of the styles, but given blue is my favorite color, the Villa design spoke to me.
I was very excited to also receive the Essentials insert and  Key Pouch in the same pattern. I am a little bit of an organizing freak, so I try to keep my bags clutter free. One of the best ways to do that is to put your smaller items inside something, instead of just throwing them in your bag loose.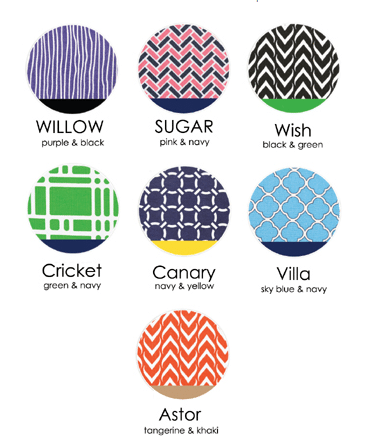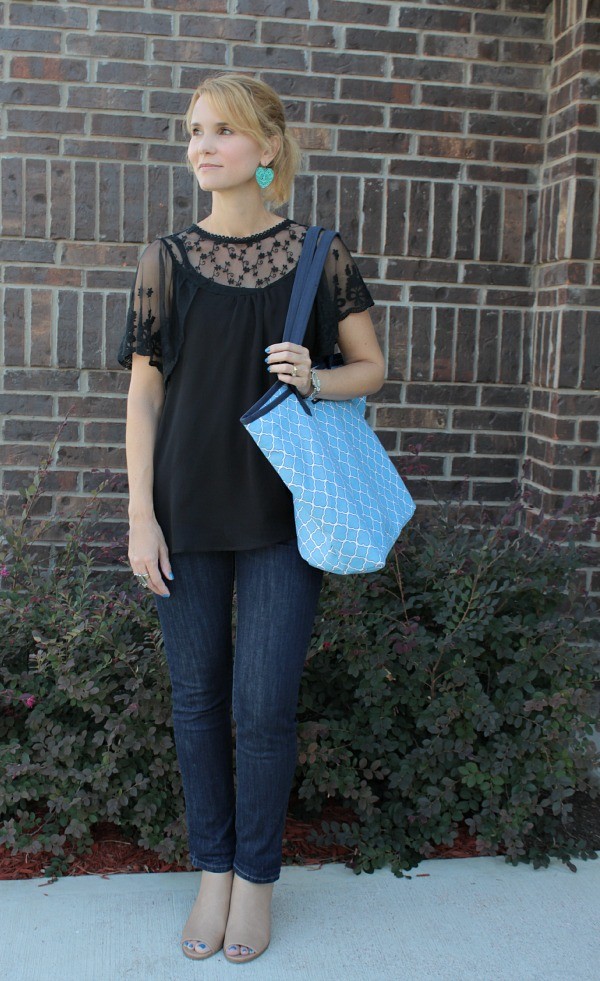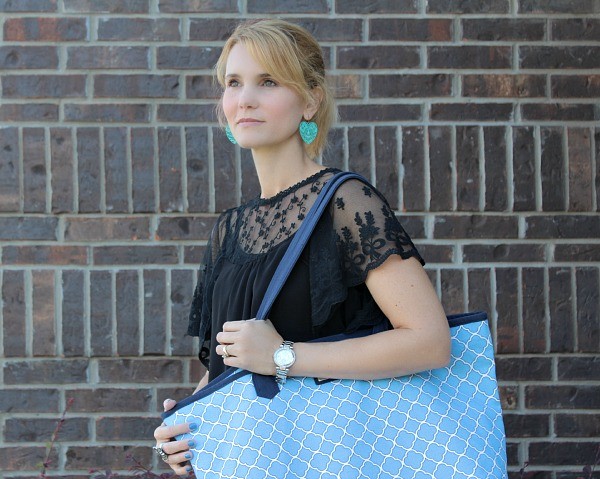 The Ame & Lulu Easy Tote was the perfect bag for an evening with my girlfriends. When I'm in a hurry to get out the door and don't have time to change bags, it doesn't matter because as you can see from the pictures, the bag compliments my outfit and fits right in.
How would you like and Ame & Lulu item? Or, what about a gift for someone special this Holiday season? I have a one-time use 25% off code for you to use. Just enter love25 at the checkout.
Enjoy browsing through the Ame& Lulu collection!
Stay connected with Ame & Lulu through their social media accounts: Facebook, Twitter and Instragram.
________________________________________________________________________
Tote bag not for you? How about a backpack? Check out this article on affordable backpacks for more information.