If you follow me on Instagram, Facebook or Twitter – most likely you saw my tweets, pictures and posts about the #SimplyAmerican Almay bus tour I attended in Austin, TX over the weekend. I partnered with SheKnows and Almay to share with you about the event and my fantastic Almay beauty finds!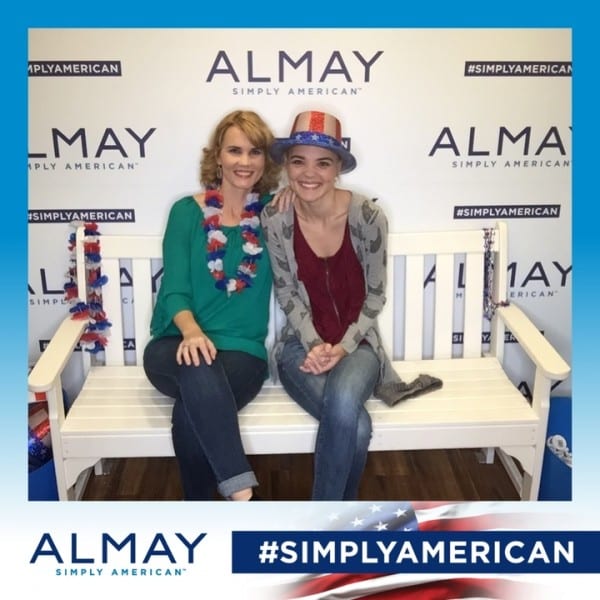 I brought my daughter with me, who is also a blogger and more makeup obsessed than I am. We had so much fun getting makeovers together! It was mother/daughter bonding at its best.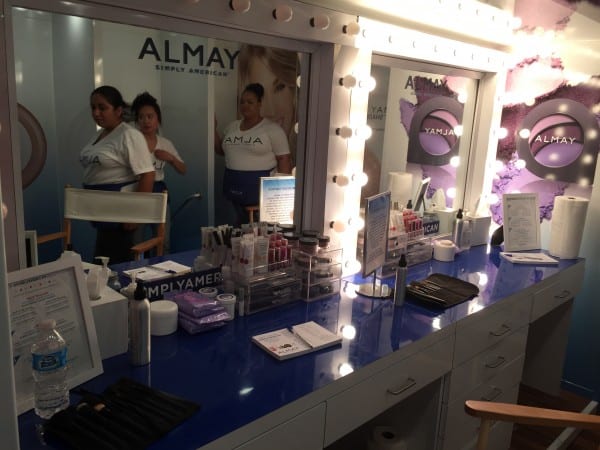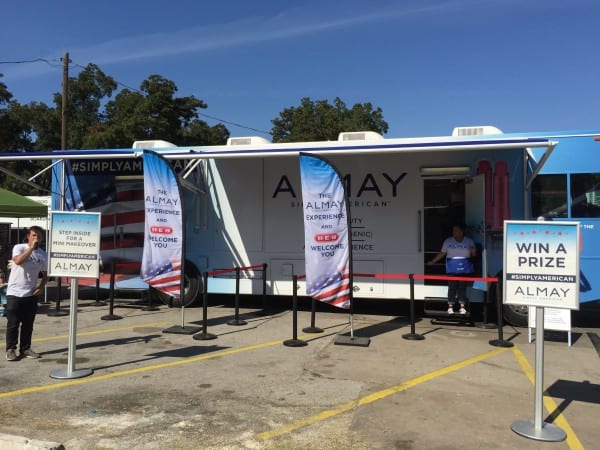 The day started off with a visit to the Almay bus for a makeover. They called it a mini makeover, but they treated my daughter and me to the whole nine yards! My very sweet and talented makeup artist removed my makeup with the Almay Oil Free Gentle Makeup Remover Towelettes that I am now obsessed over. I recently purchased a pack of makeup remover wipes from another company and they instantly stung my face. That's a clue letting me know that's not a product I want touching my skin!
She then removed my eye makeup with Almay Oil Free Gentle Eye Makeup remover pads, which I've been using since I returned home with my swag bag (more on that in a minute). I have had a really hard time finding eye makeup remover pads that really get in there to remove my eyeliner and mascara, but are gentle enough to not hurt my eyes. The Almay brand was exactly what I was looking for. The makeup remover pad is completely black when I'm finished with it. Hey, I like my mascara and eyeliner. 🙂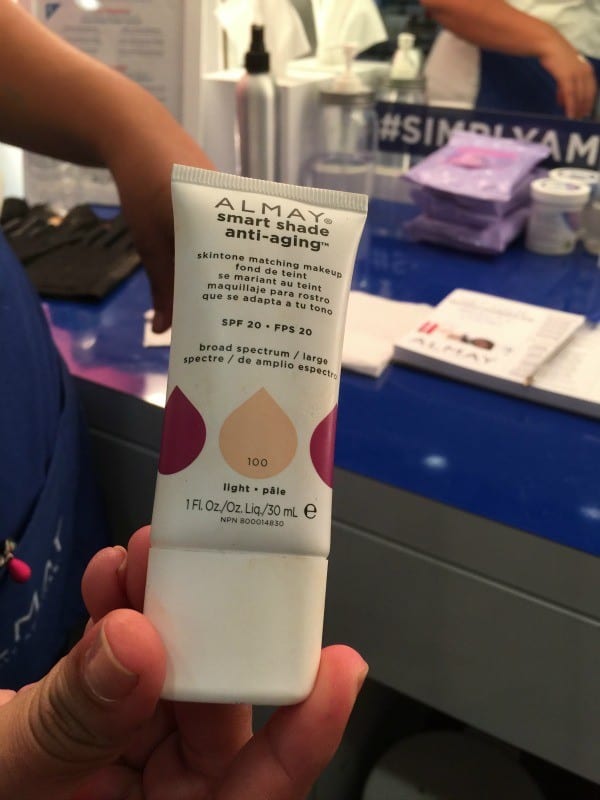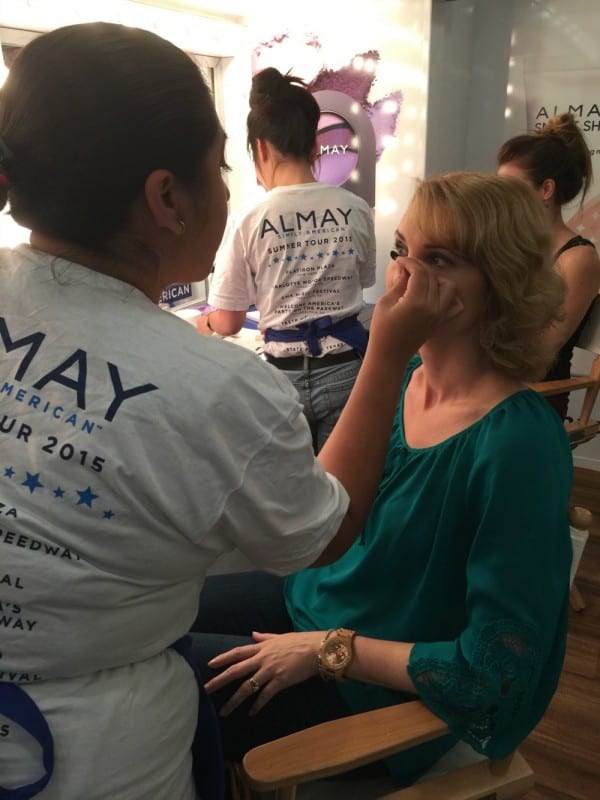 Next, she applied Almay Smart Shade Skintone Matching Makeup with SPF 15. I'll admit I have always been a bit skeptical of a product that starts out white and says it adjusts to your skin tone, but the product does what it claims. She held a mirror up for me to look at more closely after she applied it and my skin looked flawless. She also applied concealer for my under eye circles, a powder to set everything, a nude blush and bronzer to give me some color.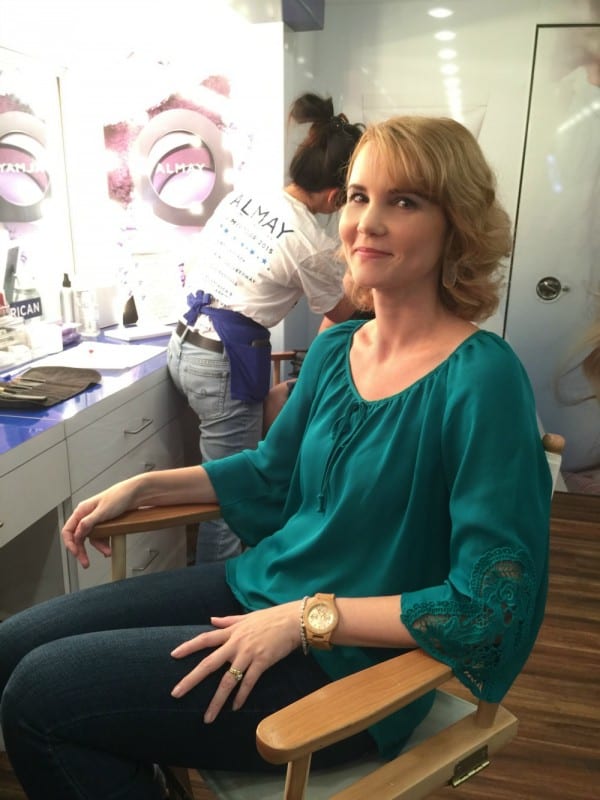 After asking me what kind of look I wanted, she chose the Almay eye trio for hazel eyes and went with a smoky eye look. Almay takes the guess work out of knowing what eye shadow shades are best for you. Which I think is just brilliant. She also lined my eyes with Almay black eyeliner pencil. I have had one heck of a time trying to find an eye liner pencil that goes on smooth and stays put. Almay's hypoallergenic eye liner pencil not only goes on super smooth, but it lasts for up to 16 hours.
To finish off my makeover, she applied a berry Almay lipstick and a lip gloss that my daughter and I are now currently obsessed with. It's their Color + Care Liquid Lip Balm which is a life saver for your lips! It combines the best of both worlds for your lips – conditioning + color. My absolute favorite feature of their lip balm is that it's not sticky! It glides on smooth and feels so good on my lips. My favorite shade (that I've tried so far) is Rosy Lipped. It's a beautiful neutral shade that I can wear over my lipstick or alone.
How did we feel after our makeover? Stunning!!
After we got all dolled up, they fed and hydrated us with their free food and water (thank you Almay!), we took some pictures in a photo booth, spun their wheel and won prizes (I won a tote bag full of makeup and my daughter won a makeup bag full of products and coupons) and relaxed and charged our phones in their relaxation station.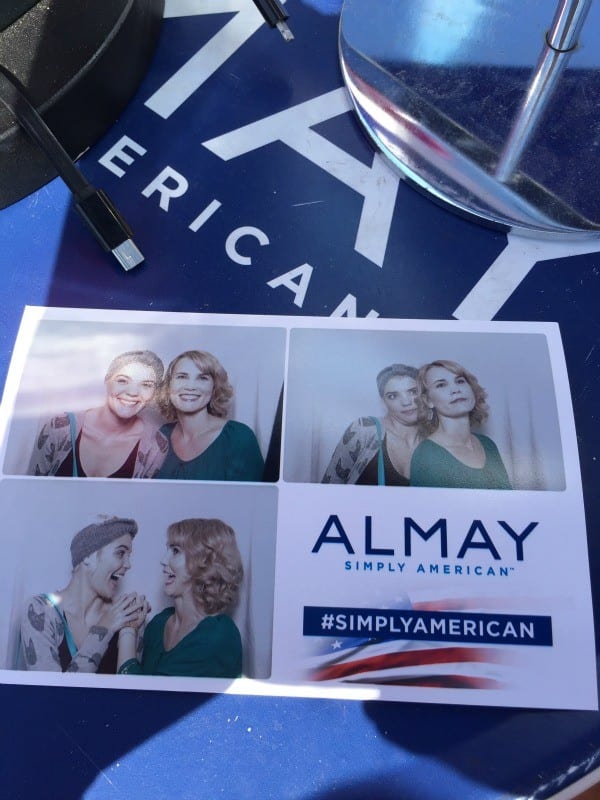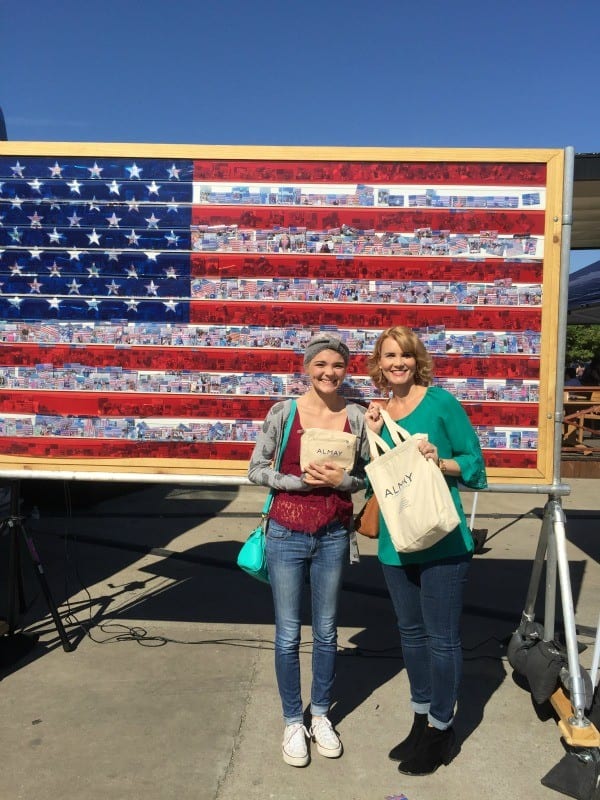 Not only did we have so much fun, but I was honored to participate in the #SimplyAmerican Almay tour. Almay teamed up with the USO, the only military non-profit organization that has supported our troops for more than 70 years, to honor the women of the U.S. military and veterans. They focus on troops as they make the challenging transition from service to being a part of their communities. Almay wants to celebrate the spirit of American beauty inside and out. I love that!
My husband served in the Air Force for 9 years and we saw first-hand the challenge of military life. He was never personally sent into combat or away from his family for extended periods of time, but I sat with friends whose husbands were gone for months at a time and listened to them talk about what it's like. And unfortunately it doesn't get any easier when their spouse returns. It's a huge transition for both, and the support of friends, the military and organizations such as the USO and Almay, is what helps them get back to some sort of normalcy.
Austin, Texas was Almay's last stop on their #SimplyAmerican tour. In addition to contributing $250,000 to the USO, during the tour Almay donated a $1 (up to $10,000) for every social media share that included the SimplyAmerican hashtag.
Thank you Almay! Like I said, it's an honor to team up with companies like this who see a need in our communities and do what they can to make a difference.