I used to spend a fortune on cleaning supplies. I needed several cleaners for the bathroom, one for the kitchen counter and one for the stove, a cleaner to mop the floors and something to clean up carpet stains. You get the idea. Over the last year or so, I've realized that I actually have everything I need to clean, really clean, right in my kitchen. Like pet stains on the carpet for example. There are two ingredients I always have on hand that do the trick and get the job done. The other morning my husband woke up to, wait for it, dog puke on the carpet. That's such a nice greeting at 5 am isn't it?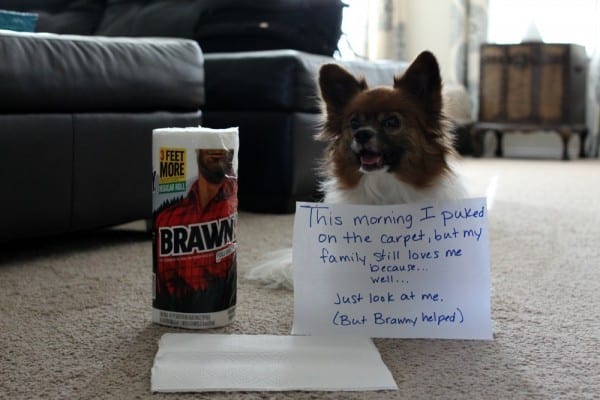 Here's our dog Dart standing by the carpet stain, admitting to what he did. He looks innocent enough doesn't he? They always do! I wondered if the concoction that worked on pet potty stains would work on dog vomit. Ew. The verdict? It works like magic!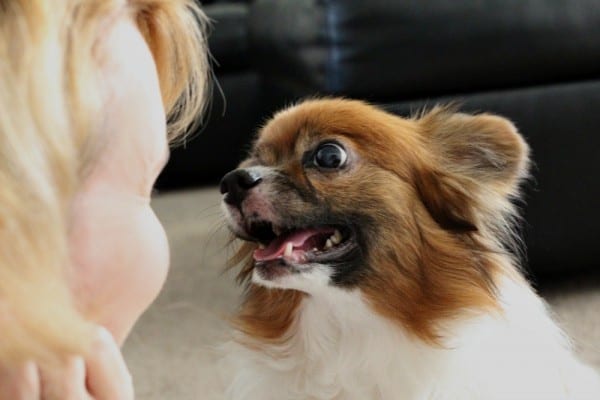 Here's what you do. (Side note: First do a test spot on a small corner or out of sight spot, as this could potentially discolor dark carpet.)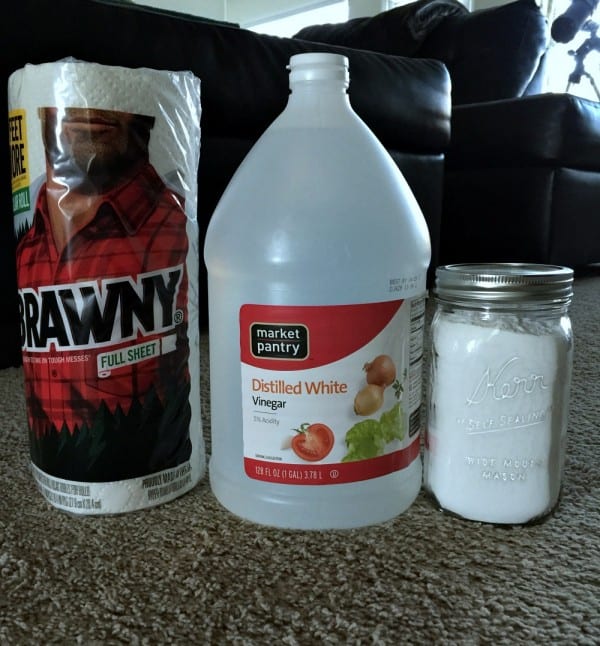 Remove and or soak up as much of the "stuff" as you can. I used Brawny® Paper Towels and then was able to just throw them away afterwards.
Pour some vinegar on the stained area.
Sprinkle a good amount of lavender baking soda over the vinegar. You'll see it start to bubble. I have a jar of baking soda with about 15 to 20 drops of lavender essential oil mixed in. The lavender helps remove the odor and is an antibacterial.
If it's a pet potty stain, you'll need to leave it there for a day or two to really soak up everything, including the smell that lingers. We caught this type of stain early enough, so we only left it there for a day.
Cover it with a paper towel, or if you have little kids and pets that won't leave it alone, cover it with a bowl big enough to cover the area.
To clean, loosen up the baking soda with a stiff brush and then vacuum.
The stain is now gone!
Dart and I celebrated with a high-five. Well, kind of. He really just wanted his belly rubbed.
With the Holidays coming, for me that means more cooking, more crafting and more messes. I like to keep rolls of Brawny® Paper Towels on hand for quick, easy clean-up, whether it's a mess in the kitchen or somewhere else in the house. I've also used them for quick wipe-downs of the bathroom if unexpected company shows up. With more sheets per roll, I can tackle any mess. No matter the mess, Brawny helps me "Stay Giant™ " when life gets messy. There have been times I've been faced with messes that seem overwhelming (both actual messes and life's messes), but by having a few tricks up my sleeve – I can get through the mess and come out stronger on the flip side.
Do you have any DIY cleaning solutions that you swear by? Please share!
This is a sponsored conversation written by me on behalf of Georgia Pacific. The opinions and text are all mine.