If you're like me, updating your wardrobe every season with entirely new looks isn't going to happen. But there is a way to give your spring fashion some oomph without breaking the bank: by adding accessories and smartly trying new trends.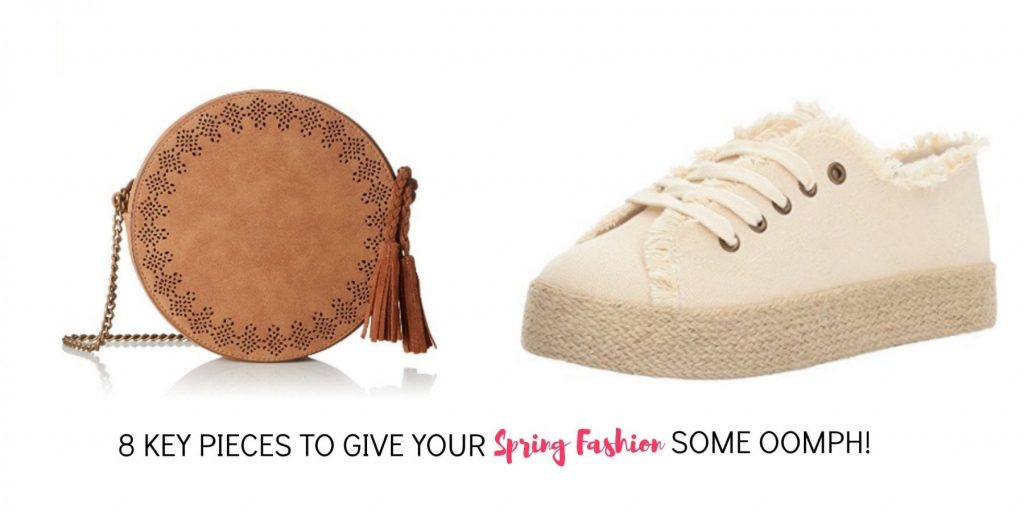 Trying New Trends
I have a very simple rule when it comes to trying new trends. If I like it, I try it. If I don't, I don't. Pretty simple right?
I also don't buy expensive investment pieces that are trendy, like jeans for example. One year patchwork jeans were in and now ones with frayed hemlines. Instead of going out and spending $100 on a trend that I'm not even sure I'll like, I go small.
Fashion is Personal
Fashion is personal and there is no reason whatsoever (as I've been learning and soaking up in the book The Curated Closet) that any of us should feel we need to be trendy or in fashion, as they say. But I do want to have fun with my wardrobe and if you're a Mom Fabulous reader, I'm thinking you do too.
Alright, here are 8 key pieces that'll give your spring wardrobe some oomph. Try what you like and leave the rest. 🙂
8 Key Pieces for Your Spring Fashion
The Bell Sleeve Dress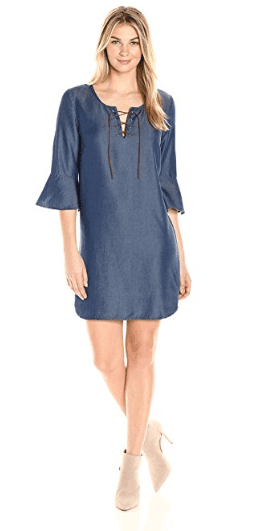 Unique sleeve design, the bell sleeve in particular, are going to be huge this spring. I recently purchased this bell sleeve shirt at Target and it's become one of my favorite shirts. I've seen this exact shirt in different colors featured on several other fashion blogs. So we all agree, it's just a great shirt.
If you love this sleeve style, take it a step further for spring and purchase a bell sleeve dress. Here are a few that caught my eye:
Denim Laced-Front Shift Dress | Luxology Bell Sleeve Shift Dress | Lulani Heavy Rayon Twill Bell-Sleeve Dress
The Bomber Jacket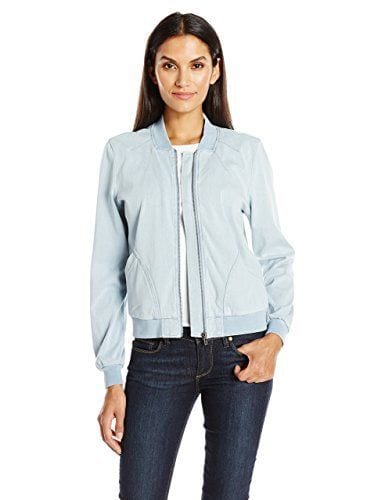 This is a spring fashion trend that has come and gone, and it's back again big time! I've seen this style of jacket featured on fashion blogs and in magazines. It's a fashionable and lightweight jacket that's perfect for spring temperatures. Wear a bomber jacket with your favorite jeans or layer it over a dress.
My bomber jacket favorites:
Elina Bomber Jacket | Floral Bomber Jacket | Lace Bomber Jacket | Liverpool Bleach Out
Sneakers Taken to the Next Level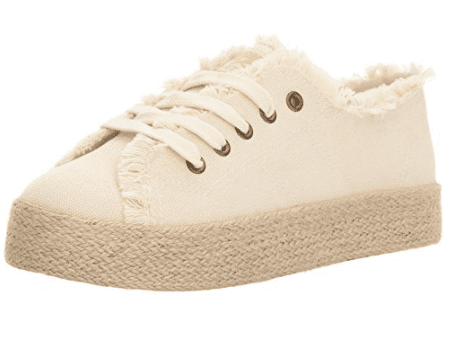 Whether you're doing a bit of traveling this spring or you need a comfortable yet stylish shoe for days out and about with the family, sneakers are the perfect go-to shoe. If you want to take your sneaker game to the next level, an updated sneaker might be just what you're looking for. Wear these with shorts, your favorite denim, or even a casual dress.
Fashion sneaker favorites:
Canvas Cotton Fashion Sneaker | Bretta Fashion Sneaker | Adidas Fashion Sneaker
Frayed Jeans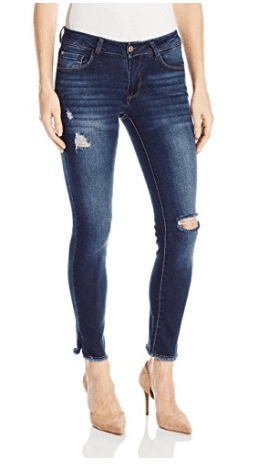 It's always so interesting every year to see what style of jean is going to be trendy and popular. A couple of years ago, we saw flare jeans take over our Instagram feeds. Last year it was cropped flares and distressed denim. And this year it's all about the frayed jeans.
On my post about the best travel clothes for women, I styled my new favorite denim for spring. They are slightly frayed on the bottom, as well as distressed. I have worn these non-stop!
A few of my fashion blogging friends share some really cute ways to style these jeans: Momma In Flip Flops , That Chic Mom and Take Time For Style has two – white frayed denim and a post on how to wear them. Jo-Lynne Shane shares a couple of outfit ideas with frayed denim shorts that I just love.
Frayed Denim favorites:
Liverpool Avery Crop | Kensie Jeans Ankle Skinny | Lucky Brand Frayed Denim
The Pendant Necklace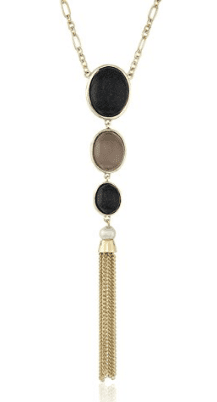 Adding a pendant necklace to your spring workwear outfit is a simple way to spruce up your wardrobe. And don't be afraid to go bold with something like a geometric charm or a tassel. If you go bold on one item of jewelry, make sure the other pieces you wear are tone down. When I wear my favorite tassel necklace, I usually wear simple earrings.
Favorite Pendant Necklace Picks:
Cole Haan Fringe Pendant Necklace | Stone Tassel Pendant Necklace | Vera Bradley Pendant Necklace
Easy-On Slides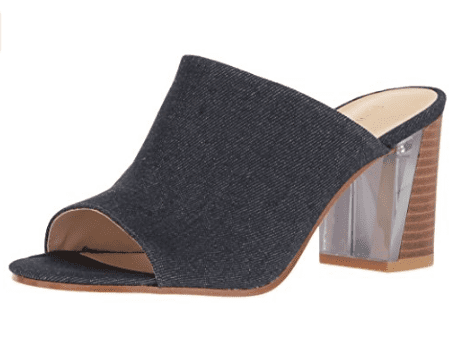 If you're looking for a shoe you can slip-on and head out the door quickly in, an easy-on slide is a great choice. There are all kinds of different style choices from ones that are sandals and more casual, slides that will compliment your work outfit and even ones you can wear for a night out.
Slides are a very versatile shoe that you can wear with jeans, dresses, and slacks.
Favorite Easy-On Slide Picks:
Nine West Denim Slide | Call It Spring Thirenia Slide | XOXO Slide Sandal
The Trench Coat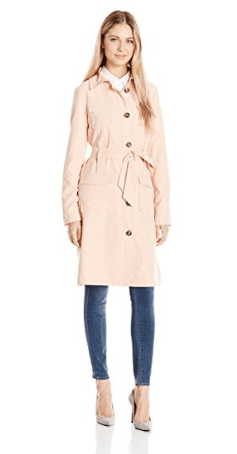 A basic trench coat for spring is not only practical for spring showers that come unexpectedly, but it's also very stylish. It can kick a boring outfit up a notch! You can wear a trench coat to work and on the weekends. It's also a great item to bring with you when you're traveling. I featured a trench coat in this travel outfits post and love the way it looks with a classic black and white striped shirt.
Favorite Trench Coat Picks:
Artemis Microfiber Trench Coat | Double Breasted Trench Coat with Hood | London Fog Trench with Hood
The Mini Bag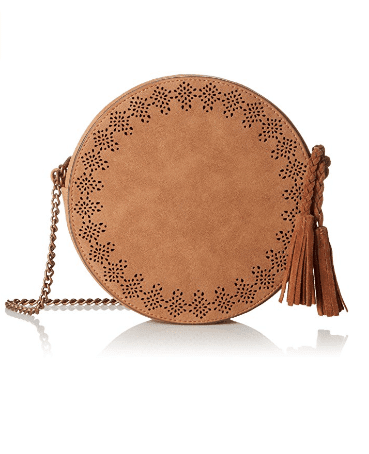 Sometimes you don't feel like lugging around a big handbag with you when you only need the essentials; which is where a mini bag comes in handy. Mini bags have become incredibly popular and for good reason – they are so fun! From bright colors and cute embellishments, mini bags are an easy way to add some personality to your spring fashion.
Favorite Mini Bags:
Round Cross-Body Bag | Steve Madden Cross-Body Bag | Danielle Nicole Harlow Mini Bag
Are you ready to give your spring fashion some oomph? Which one of these key pieces caught your eye? For more outfit ideas for spring, check out these posts on Mom Fabulous: Denim Shorts Outfits You'll Love, Best Travel Clothes for Women, 7 Ways to Wear Florals This Spring.