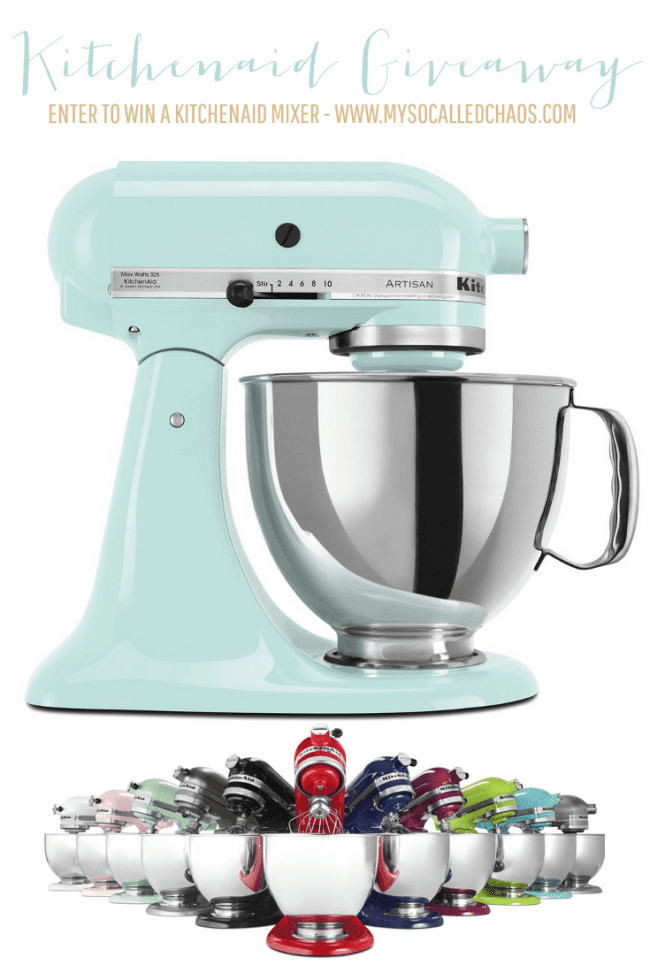 Wowza, do we have a special treat for you just in time for the holidays! I've banded together with Angie over at My So-Called Chaos, her sponsors, and some other wonderful bloggers and people to offer all of you lucky readers a Kitchenaid Mixer. Do you want to win a Kitchenaid Mixer? Good-read on to enter!
Angie asked the wonderful people participating in this giveaway with me to share their favorite holiday treats with you. Maybe our answers will inspire you, and if you win, you can make those treats in your brand new kitchenaid baby. *Swoon!* So here are the lovely ladies involved, and their favorite holiday treats: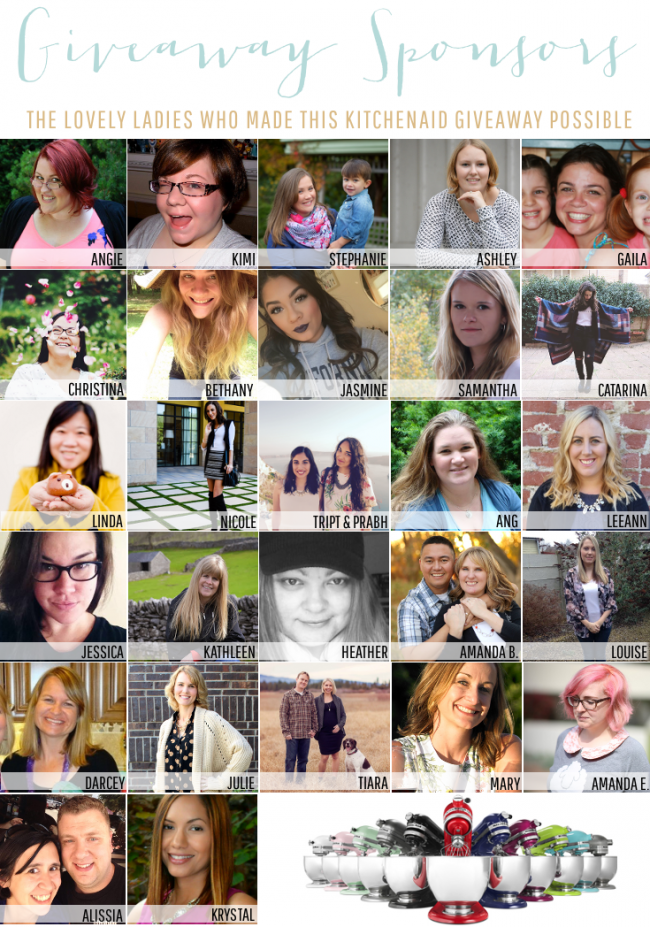 "To kick this off, I'll share that my favorite holiday treat is Pumpkin Pie. I know, it's totally basic, but a good homemade pumpkin pie is something I look forward to all year long. That and all the festive holiday coffee options-love!" – Angie from
"There's something just so classic and comforting about freshly baked chocolate chip cookies and a tall glass of cold milk. I bake them every year because the smell stirs up the best childhood memories." – Kimi from Kimi Who
"I recently made Buckeye Brookies! They are a twist on an old Ohio classic. I made them on Monday and by Wednesday they were totally devoured. Everyone loved them and was asking me when I was going to make them again! Looks like I've found my signature sweet treat!" – Stephanie from Wife Mommy Me

"I am definitely a sweet eater! I love just about any sweet, but when it comes around to the holidays, I'm in love with cream puffs. If you haven't ever had a cream puff, its a dough filled with a cream cheese mixture feeling. It is a must try this holiday!" – Ashley from Simply Ashley Nichole
"Churros with dulce de leche!, it's sweet and crunchy, and I just love the creaminess of the dulce de leche, it could also be Nutella!" – Gaila from Petit Gourmet
"My favorite holiday sweet treat is Christmas cookies. I love cookies year round, but the cookies my family makes around the holidays are super delicious. I love my Grandmama's shortbread and my Aunt's sugar cookies. I also like to make cookies and make some awesome chocolate chip cookies." – Christina from Cali Darling
"My favorite treat is homemade Caramel Apple Pie. I'm not great at baking but I can make some delicious pie and this one is by far my best. I'm proud of it every time I cook it and it's absolutely delicious." – Bethany from Stella Kenton Body Shop
"My favorite holiday treat would have to be brownies or cookies, wait maybe Pie. Lol I love all three. How can I choose? But I do need them to have some time of holiday spirit on them such as peppermint." – Jasmine from Classy, Sassy, and a Bit Smartassy
"Definitely hot chocolate! Maybe with a shot of espresso? It reminds me of colder weather (I live in Florida!) and cozy blankets! There's a comfort in holding something warm." – Samantha from Samanthability
"My favorite holiday sweet treat is simply hot milk with cinnamon. I think cinnamon immediately drives me to the Christmas atmosphere as for the whiteness of the milk that reminds me of snow falling down." – Caterina from Kate/idoscope
"Cookies….because who doesn't love cookies? :)" – Linda from Brunch with Joy
"Every Christmas, my grandparents in New Jersey ship us out kiffles from the Kiffle Kitchen Bakery in PA, and they're by far my favorite holiday sweet treat! I love them because they remind me of the holidays in NJ when I was a child! Now that I'm across the country in AZ, it's nice to have a little something that reminds me of home during the holidays." – Nicole from Violet & Vine
"Our favourite holiday sweet treat is a chocolate candy called Almond Roca. It comes out in the stores around the holidays. It's toffee wrapped with chocolate and almonds." – Tript and Prabh from Footnotes & Finds
"Anything with chocolate – white, milk or dark, I love it all!" – Ang from Juggling Act Momma
"A big ol' piece of pumpkin pie covered in Cool Whip! But, minus the crust. I eat around that nonsense ;)" – Leeann from Join the Gossip
"I love my mom's homemade butter cookies. Her baking always fills up the house with a fantastic smell that reminds me of the holidays. I remember sneaking cookies that just came out of the oven. So good!" – Jessica from Living La Vida Holoka
"My favorite holiday sweet treat is pumpkin pie, although I have met very few cookies I don't like. I love the spices of the pie and it brings lots of fond memories. Plus, I love to squirt the whipped cream in my grand kid's mouths." – Kathleen from Fearlessly Creative Mammas
"I love homemade toffee – one bite takes me back to sneaking pieces off my grandma's kitchen counter during the holidays!" – Heather from All Roads Lead to the Kitchen
"I love cinnamon rolls. The sweet smell. The warmth. It just is perfect for the fall and winter time!" – Amanda from Green Tea & Cotton
"My favourite holiday sweet treat is something we get in the UK called After Eight Mints. They're absolutely delicious and I can't imagine not indulging in a few (or half a box) after dinner on Christmas Day!" – Louise from With Love From Lou
"Every Christmas we host a Family Cookie Day, so I have to go with Butterscotch Haystacks as my favorite holiday sweet treat. Eating them brings back great memories of my youth." – Darcey from Foodie & Wine
"Chocolate Peanut Butter Balls – they're a tradition in our family and I've been making them for my kids for about 15 years!" – Julie from Mom Fabulous
"Pumpkin chocolate chip cookies because they're good with coffee or after dinner." – Tiara from Ice Cream & French Fries
"It's so simple (and might sound totally lame) but I love Peanut Butter Blossoms. Every holiday season I crave them!" – Mary from Vindulge
"My favorite holiday sweet treat are Hershey kiss peanut butter cookies! There is something that just screams holidays when I'm stuffing them in my mouth by the handfuls, haha!" – Amanda from Little Lady Little City
"I love hot chocolate and fudge! Hot chocolate just reminds me of the cooler weather and fudge reminds me of Christmas time!" – Alissia from Stay at Home Mompreneur
"Sugar cookies topped with sprinkles are my favorite! They are so simple to make and taste delicious." – Krystal from The Krystal Diaries
Enter the Giveaway
Prize is one Kitchenaid Stand Mixer in your choice of color (as long as that color is no more than $300 value currently on Amazon) This giveaway is open Worldwide (Internationa winners will receive $300 Paypal cash instead to purchase from an international site) and ends on 12/8/15 at 12AM. Entries will be verified and entering below agrees to full terms and conditions within the Rafflecopter widget.