Are you bored with your pixie cut or bob hairstyle? Here are all the tips, tricks and even video tutorials on how to curl short hair. Boring 'dos be gone!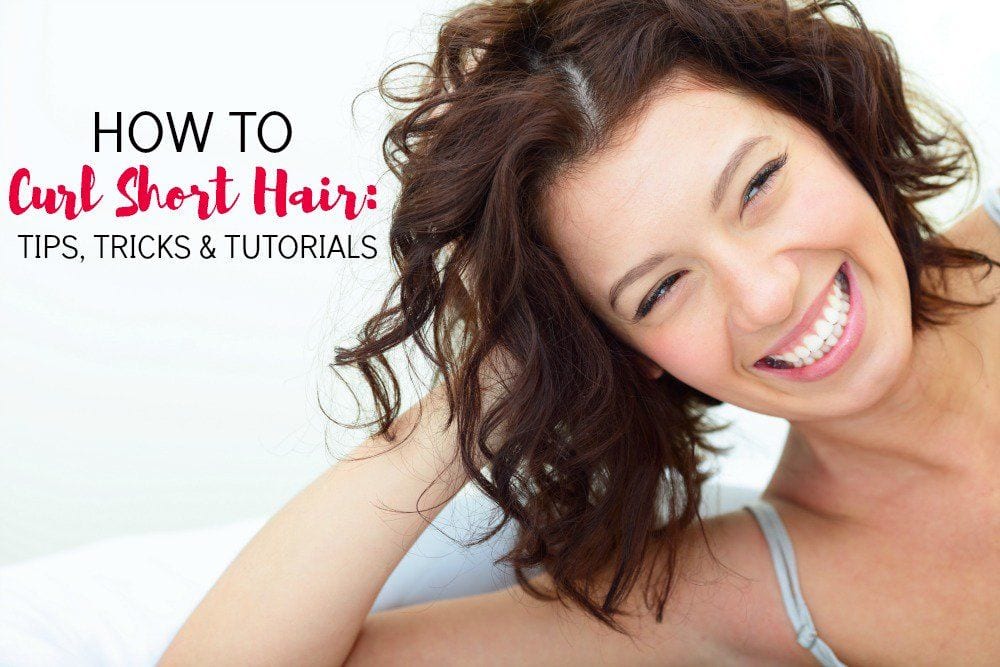 Short hair can be low maintenance and a heck of a lot of fun but one of the biggest complaints I've heard, is short haired girls can get a little bored with their 'do. You want curls! You want body! You.just.want.something.different.
As someone who has had pretty short hair in the past, I totally get it. My daughter also has a pixie cut (which she's attempting to grow out at the moment) and she learned how to give it some curl on top, which gave her already cute pixie cut, even more personality.
Because there are several ways to curl short hair, I've broken it down into different sections. For example: how to curl short hair with a flat iron, without heat (aka heatless curls) and more. Since we all love our different hair tools (or lack of if you're trying to grow it out or regain some healthy hair) it's good to cover all the bases.
Are you ready to learn how to curl your short hair for some seriously cute styles? Great! Read on.
How to Curl Short Hair: Tips, Tricks & Tutorials
How to Curl Short Hair with a Straightener
There are some short haired ladies out there who have some amazing tutorials on using a straightener (some call it a flat iron) to curl short hair. Not only do they have some fabulous tutorials, they have amazing hair! Some would argue that this is the best way to curl short hair.
Most of the tutorials I've watched and read have recommended a 1-inch flat iron. Here are a few with different price points:
Here are a few of my favorites: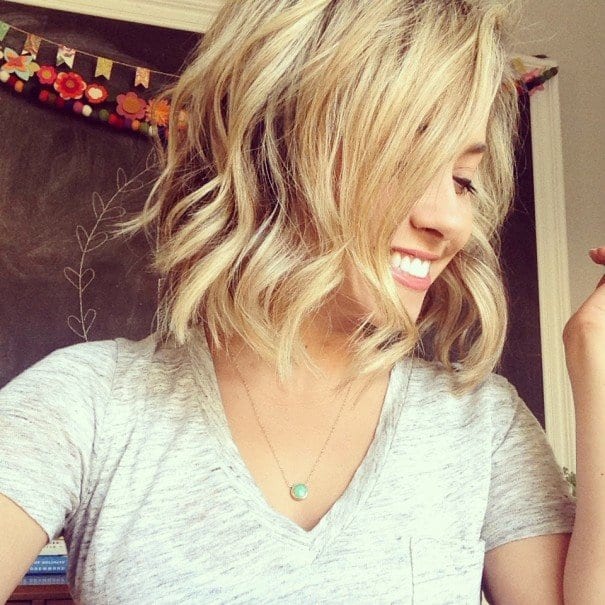 Image via Instagram
This tutorial by Little Miss Momma is by far my favorite. I'll never forget seeing pictures of her hair after she chopped it all off. It was super cute straight but then when she curled it, it kicked the cuteness up a notch. She has a video (below), as well as step by step picture tutorials on her post.
This video tutorial shows you how to get barely there waves with a straightener. So I wouldn't call them curls, but this is a highly coveted hairstyle idea for short hair.
Laura shares in this video how to curl your hair with a flat iron so it doesn't go too short on you. She has a pixie cut with some volume and longer layers on top. The end result is so pretty!
As far as products go for curling hair with a straightener and getting good results, here are some recommendations:
If you like this post, you might like these related hair posts on Mom Fabulous:
How to Curl Short Hair with a Curling Iron
If you would prefer curls with more definition and a little tighter curl, using a curling iron is your best bet. These kinds of curls are perfect for a party hairstyle or a big event where you want to go all out.
This video tutorial shows you how to get beautiful curls with a curling iron for a bob hairstyle. This is such a pretty look!
Here's a tutorial on how to get messy waves using a curling wand. I love her videos and her hair. She has pretty short hair and her steps are easy to follow.
Whitney cut off 5 inches of her hair and started experimenting with different styles. As she says, it's easy to get in a hairstyle rut! Follow her step by step advice for curling bob length hair.
Most of the tutorials recommended using a 3/4 inch to a 1-inch curling iron or a small wand.
Curling Iron and Wand recommendations:
How to Curl Short Hair without Heat (aka Heatless Curls for Short Hair)
What about curling your short hair without any heat? Is it possible? It sure is! And if you're trying to grow out your hair or if your hair has quite a bit of heat and styling damage, the longer you go without heat, the better. The good news is there are some techniques to still getting curls while leaving the heat styling tools stored away.
This video shows how to use a product from Curlformers. They are made from a mesh material and are in a corkscrew shape. You have to purchase the styling hook as well, so don't forget that! There are different Curlformers for different lengths of hair.
This heatless hair technique requires wet hair, some twisting and braiding and sleeping on it overnight. It sounds more difficult than it really is. I love the way her hair turned out and what a great options for styling your hair while you sleep.
There are several options for heatless curlers on Amazon; from the Curlformers mentioned above to the good 'ol foam rollers I grew up with.
Now that you know all of the techniques on how to curl short hair, it's time for you to try it out on yourself. Which technique will you try first?
PIN THIS TO SAVE FOR LATER