This is a sponsored post written by me on behalf of SmileDirectClub. All opinions are 100% mine.
Are you looking for Smile Direct Club reviews? See how my journey started and ended and how I now have a smile I love!
Do you love your smile? I've always had a bit of an issue with my smile and feeling slightly self-conscious about some overlapping and crowding teeth. I notice it in pictures and it's just something that's always bothered me a little.
I've been told in the past that braces would take care of it, but I didn't feel my problems needed such an extensive treatment plan. Plus, after putting one child through braces, I saw how expensive it is; not to mention time-consuming with all of the office visits.
(Side note: Would you like to see my Smile Direct Club results?)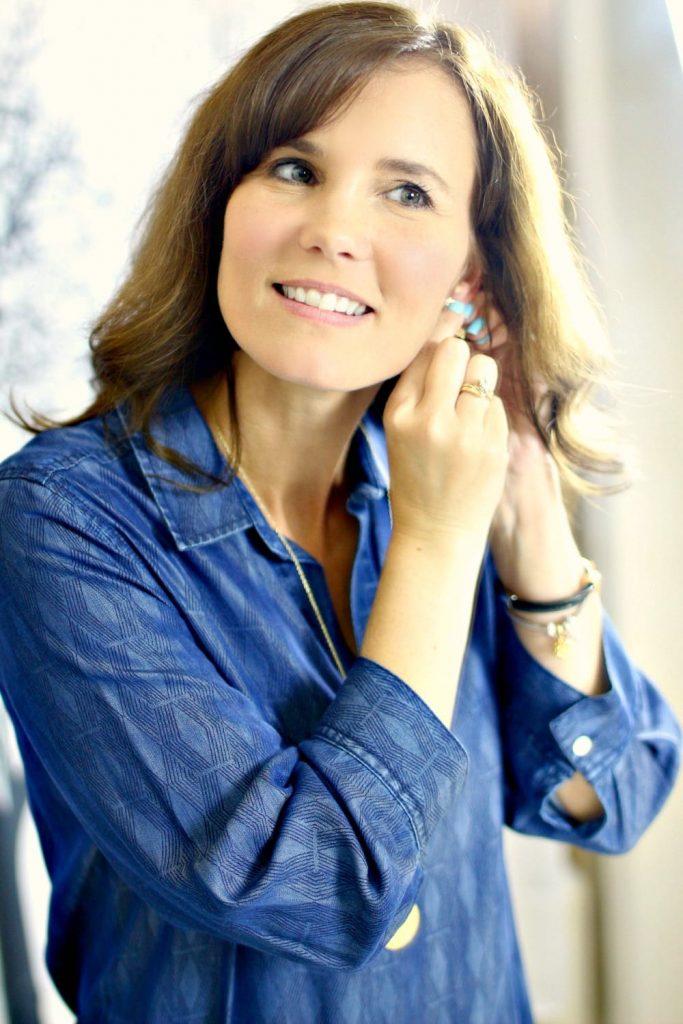 So when I was asked if I would like to partner with SmileDirectClub and share my journey, I jumped at the chance. To say I was excited would be an understatement! I was getting to take care of a problem that has bothered me since my teens, and that is an incredible feeling.
Let me walk you through the process of how it works and share what stage I'm at in my journey to a straighter (and whiter) smile.
Am I a candidate?
The first step in the SmileDirectClub journey is finding out if you're a candidate. The aligners are designed for ages 12 and older who are experiencing mild to moderate issues with their smile. I answered a series of questions on their free smile assessment and uploaded pictures of my teeth as they directed. The instructions of what they needed from me to determine if I was a good fit were super easy to understand. I had my daughter take the pictures for me, uploaded them to the website and awaited the answer.
After uploading my photos I received an email the next day that said "Thanks for completing our online photo assessment! A board-certified, state-licensed local SmileDirectClub affiliated dental provider will review your pictures generally within the next 48 business hours. Once we hear from them, we'll let you know if our invisible aligner treatment is a fit for your smile and what the next steps are for your smile journey!"
The next day I received another email telling me my impression kit would be mailed shortly. YES!
The impression kit
The impression kit is a risk-free $95 fee to see if you qualify for SmileDirectClub. If you don't qualify, you get your money back. It's as simple as that.
(Use the coupon code MOMFABULOUS to receive 50% off the cost of the SmileDirectClub evaluation so you can begin your journey to a smile you love!)
There's a demo on their website on how to use the impression kit, but the instructions were outlined so well, I didn't even need it. After I finished all of my impressions, I mailed them back in the same box they arrived in, using the prepaid label that was included.
They'll take my impressions and submit my information to a state-licensed dental professional in their network for review and set-up. Now I wait!
Straightening my smile
A couple of weeks later, I received an email giving me my treatment plan and letting me know my aligners were on the way.
The invisible aligners are custom made and are 3D printed with high-quality, BPA-free plastics. I was thrilled with the fact that the technology they use helps avoid costly office visits to a dentist or orthodontist; which cuts the cost of treatment up to 70%.
SmileDirectClub aligners cost a single payment of $1,500 (lab costs waived) or $250 down + $99/month for 15 months ($1,735 total). Other invisible aligner brands can cost up to $5000 for treatment.
Smile Direct Club Reviews + The beginning of my SmileDirectClub journey
I received my kit a little over a week ago and so far, so good. Here's what the kit looks like.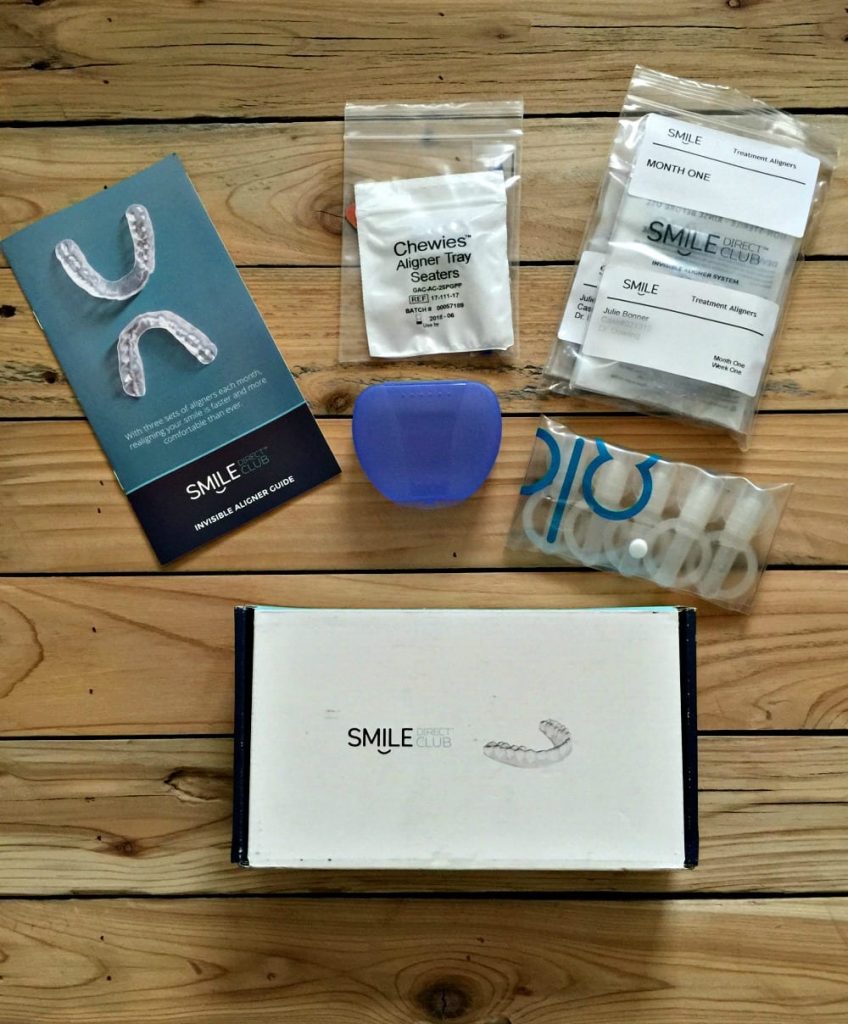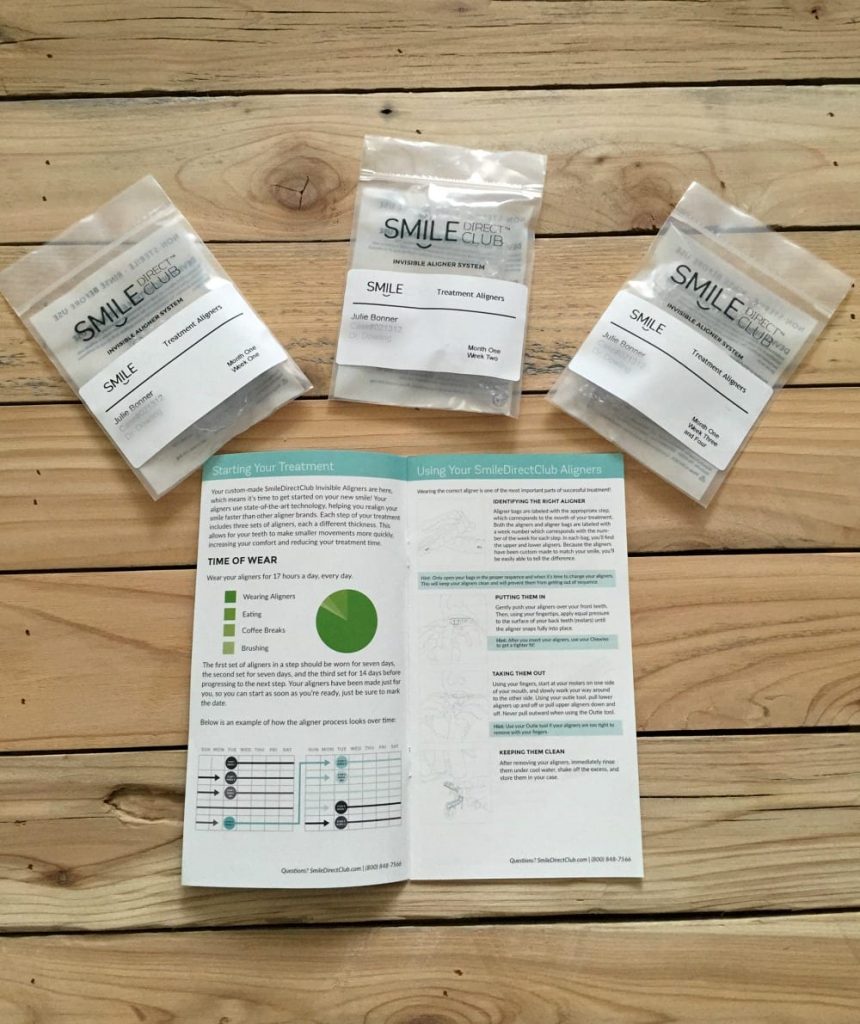 In my kit, I received month one of my aligners. I wear the first set for one week, the second set for one week and the third set for two weeks. My treatment plan is 4 months long (treatments generally last 3-10 months), so before I'm finished with week four, my next set will be on its way.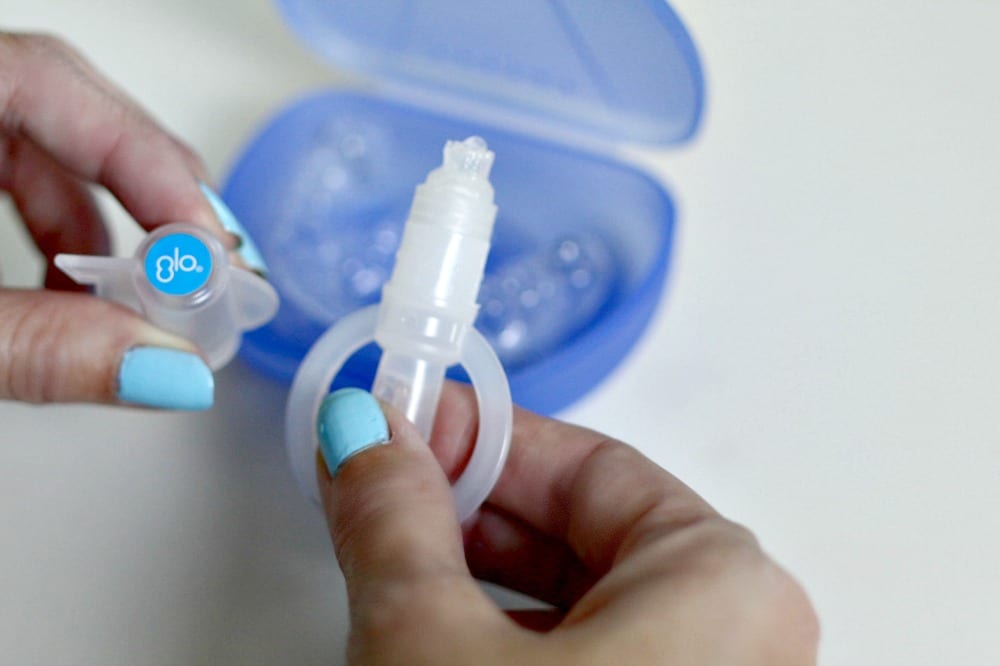 The kit also came with Chewies (which you can use to bite on to help the aligners lock in), a storage case, instructions, and GLO™ whitening gel. I was thrilled that I could whiten my smile while straightening it! I used the whitening gel the first week of treatment and my teeth are so white. My family even commented on how white they were, so I knew it wasn't just me noticing a difference.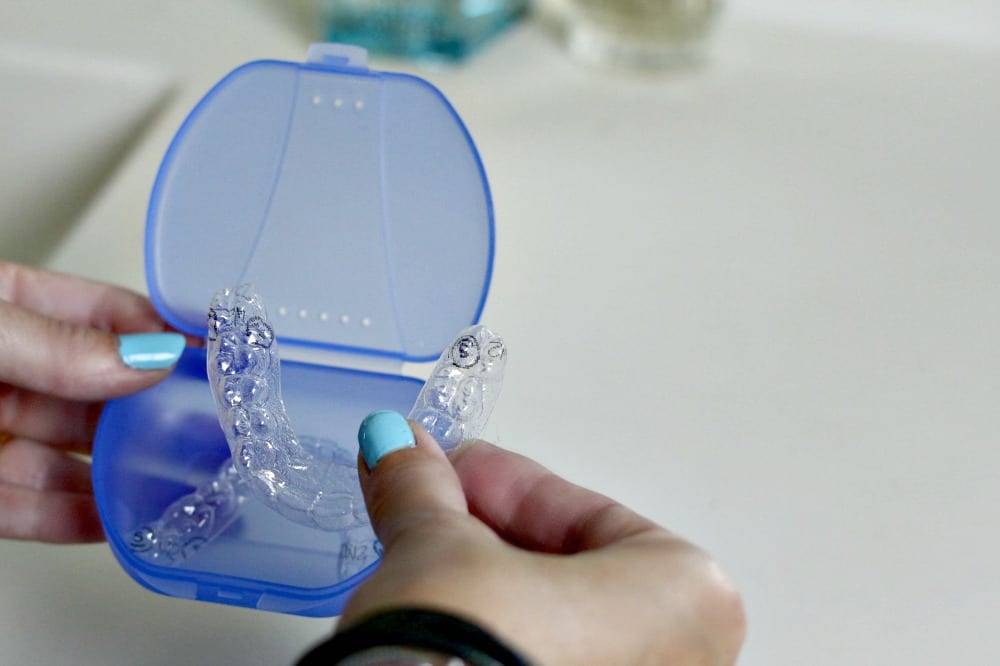 How do the aligners feel?
I noticed a bit of discomfort after wearing the first set, but it wasn't painful and I was able to take care of the aching with some ibuprofen. It was an adjustment at first learning to talk with them in, but after a few days, I was completely used to them.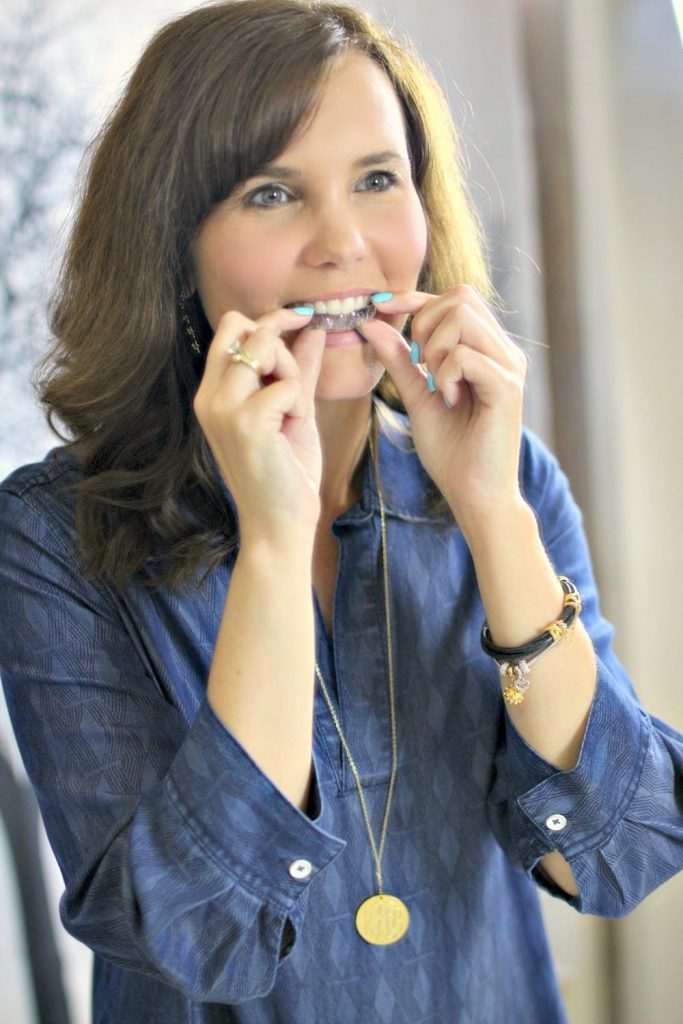 You wear the aligners 17 hours a day, taking them out while eating or drinking. I just put my second set in and am well on my way to a straighter smile I love.
I'll keep you updated on my progress! (Would you like to see my Smile Direct Club results?!) You can see more Smile Direct Club reviews on their website.
Don't forget, you can use coupon code MOMFABULOUS to receive 50% off the cost of the SmileDirectClub evaluation so you can begin your journey to a smile you love!