I've been making homemade granola for about 10 years and each time I make it, it seems to tastes better and better. I recently tried a no-bake version which is a little chewier than normal and it turned out really good. My favorite way to serve granola is parfait style with some vanilla yogurt. It's the perfect dessert or even breakfast.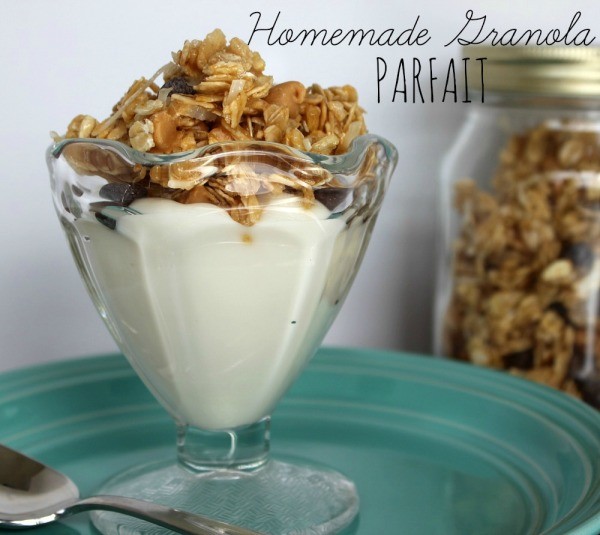 I also love a bowl of granola with some milk or a bowl of it plain. You could sprinkle it over a bowl of fruit and whipped cream or even over ice cream. I would basically eat granola with anything, maybe even a steak. Or not.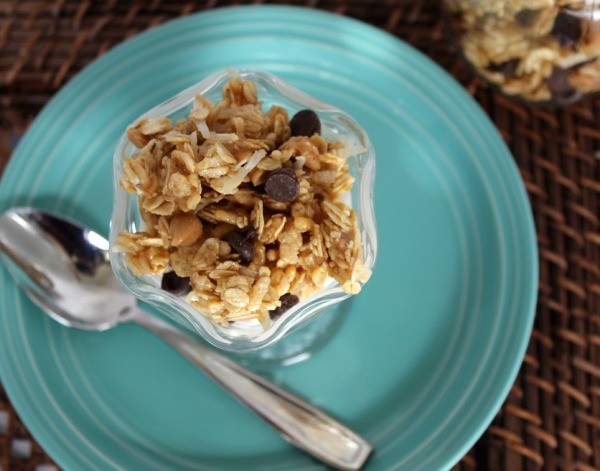 For this recipe I used old fashioned oats and didn't pulse them in the food processor like some suggest. You can, I was just being lazy and actually like it better this way. You can also use quick cooking oats. Either way, this recipe is oh so good.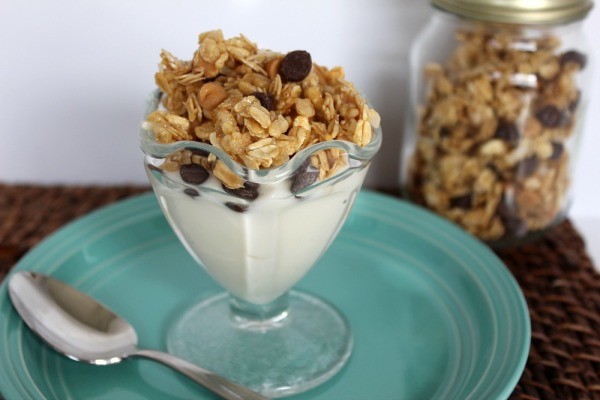 As far as the add-ins for the granola, I used chocolate and peanut butter chips since I wanted it to be a sweet dessert. You could also use white chocolate chips, toffee bits, dried cranberries, nuts, M&Ms…you name it. Get creative! Get the recipe below…

Homemade Granola Parfait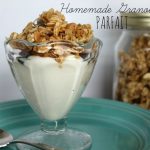 ---
Description
A sweet granola served with vanilla yogurt. It's the perfect treat for dessert or even breakfast.
---
2 cups

quick cooking oats or old fashioned oats

3/4 cups

rice crispy cereal

3/4 cup

shredded coconut (optional)

1/4 cup

butter

1/4 cup

honey

1/2 cup

brown sugar

1/2 tsp

salt

1/2 tsp

vanilla extract
Add-ins: 1/4 chocolate chips (1/4 cup peanut butter chips)
---
Instructions
1. In a large bowl, mix together the oats, rice crispy cereal and shredded coconut. Set aside.
2. In a large sauce pan, melt the butter over medium heat. After the butter is melted, add the brown sugar, honey and salt and mix together. Turn the heat up to medium high to get a good roiling boil. Let the mixture boil for 2 1/2 minutes. Keep a close eye on it and make sure it doesn't boil over. Otherwise, don't stir it. Just let it do its thing.
3. Remove from heat and add vanilla.
4. Pour the butter mixture over your dry oats mixture and mix well.
5. If you're adding any kind of chocolate chips or peanut butter chips, let the mixture cool before you add them or else they'll melt. After it's cooled stir in the chips.
6. Spread the granola mixture out on a cookie sheet and place it in the refrigerator for about 30 minutes. Then take it out and break it into chunks.
7. For parfaits, scoop some vanilla yogurt in a bowl and top with the granola. You can also layer yogurt, granola, yogurt, granola. Eat and enjoy!
8. Store the granola in an air tight container.
---