It's time to officially kick off my Holiday Gift Guide! I have something for every mom on your list. From the fit mom to the girly mom and every mom in between. The moment I first laid eyes on the Rivé water bottles, I was in love. I first saw them in my inbox and then I saw them at my local Target store. Why I am obsessed with these water bottles? Two reasons.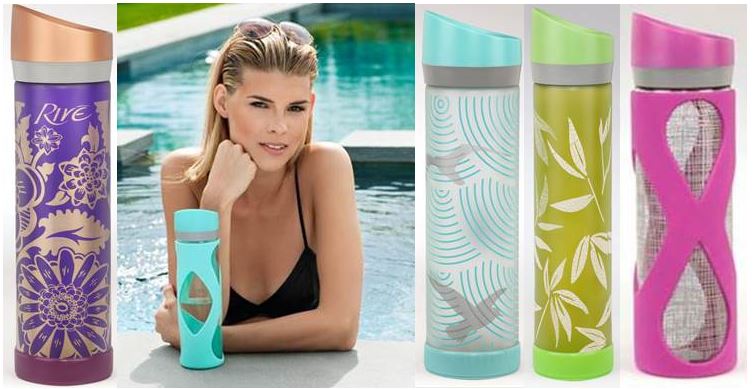 I recently read this article about how drinking three liters (it's from the UK, so liters…) a day changed this woman's face and how she felt in general. The pictures are amazing. What she says it did for her is amazing. Since I work from home and having to wee six times a day for me isn't a big deal (Again, the article is from the UK. Besides, saying I have to wee just puts a smile on my face), I thought I would give this little experiment a try. Having a pretty water bottle makes drinking that much water more enjoyable to me. I'm a visual person. It just works.
The other reason(s) is the Rivé water bottles are made from glass and they are under $20. A water bottle that is safe, stylish and affordable? Yes please!
Rivé offers three key styles fit for the fitness fanatics, it-girls and eco-friendly enthusiasts:
The Elan – the original Rivé Masterpiece offers distinctive and stylish elegance. With its hourglass, ergonomic shape, etched glass and clean, fresh colors, this bottle is both graceful and bold. It has a liquid capacity of 12 ounces. A style that even eco-friendly enthusiasts won't leave their green homes without.
Savoy Designer Series – the tall, straight and sophisticated lines of this bottle are complemented by the playful, limited-edition art that adorns it. The Savoy offers fine details like textured glass, an easy-flow mouthpiece, protective silicone end pieces, and boasts a liquid capacity of 16 ounces. The Savoy is perfect for the fashion glitterati who are always on the go whether jet-setting to fabulous events and parties or buzzing around the city for meetings with top editors and PR professionals.
The Lynx – Tall and sleek. The Lynx offers simplicity without sacrificing personal style. Sure to be a gym accessory favorite among fitness enthusiasts, the Lynx will be in every gym bag hydrating health nuts for their yoga classes, spin classes and personal training sessions all year round.
Imagine how great one of these would look peeking out of a stocking? Or you could put together a fitness gift basket and add one of these water bottles. They range in price from $15-$20 and are sold at www.riveusa.com, national Target stores, and select Bed, Bath and Beyond stores.