I'm out of control. I don't think I've ever done two Fabulous Finds Friday posts in a row. Let me check. Be back in a second…That would be a no. But after receiving an email from one of my favorite stores about a sale they're having, I couldn't resist. I'm talking about LOFT.
I pretty much dress like a LOFT girl. For example, this is me right now.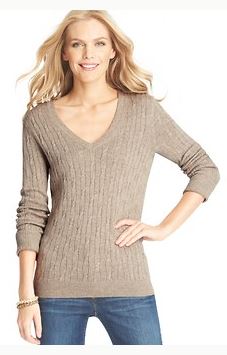 A LOFT V-Neck Cable Sweater and jeans. I even have my hands on my hips. Kidding. How on earth would I do that while typing this?
I also love their dresses, blouses, denim cut-offs and on and on. You get the picture? So about this sale….
The first sale is going from now (November 22nd) and ends in 4 days. It's an EXTRA 50% off SALE items. You can see the entire selection HERE. Let me show you a few of my faves.
These are just items from the first page. There are many more items that are marked down and then you get to take an additional 50% off that. Love it.
Now, on to one of my favorite articles of clothing…Sweaters!! I'm pretty convinced that even if I lived at the beach, I would still find a way to wear sweaters.
From today (November 22nd) and ending in 4 days, you can purchase select LOFT sweaters for $29.50 and up. Sweaters that used to be $49.50 and under are now $29.50 and sweaters that used to be $54.50 to $59.50 are now $35. That V-neck cable sweater I showed you up there, it's now on sale for $29.50. They also have cardigans, which is another slight obsession of mine (and my daughter's.)
Dear Santa, I'll take any of these thank you.
Remember, these sales end in four days. Happy shopping!