It's Menu Monday, it's almost Thanksgiving and my daughter's 16th birthday is tomorrow. Tomorrow you guys!! The fact that I will have a 16-year-old tomorrow both completely freaks me out and completely puts a smile on my face. Because for those that know her, you know just how amazing she is.
What does any of this have to do with chocolate pie recipes you ask?
Given the fact that her birthday is always around Thanksgiving, she's come to love pies. Chocolate pie to be exact and she asks for one for her birthday every year. Do I use the same recipe every year? Nope. I keep trying new ones and every time she says "This is my favorite!" So it's time to try a new recipe!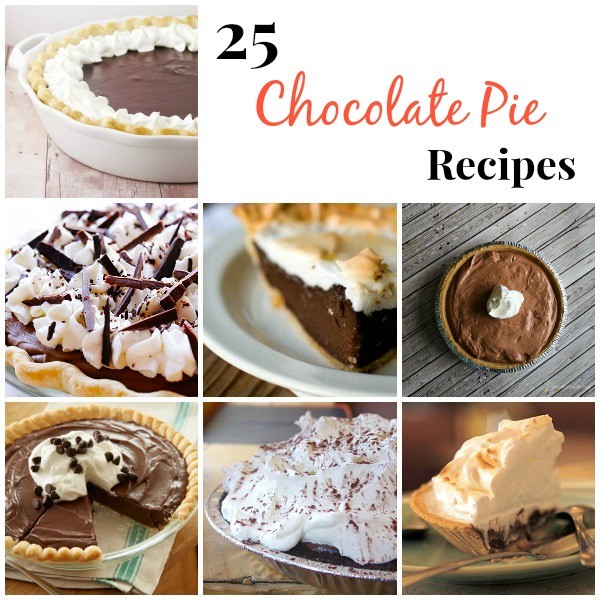 Here are 25 Chocolate Pie Recipes I've rounded up. While I decide which one to try, how about you enjoy browsing through them!
25 Chocolate Pie Recipes
1. Easy Chocolate Pie | Mom Spark
2. French Silk Chocolate Pie | Gimme Some Oven
3. Grandmas's Chocolate Pie | Home Sick Texan
4. Classic Diner Style Chocolate Pie | Martha Stewart
5. Crisp Coconut and Chocolate Pie | About Gourmet Food
6. Mississippi Mud Pie | Country Living
7. Easy Hershey's Bar Pie | Hershey's
8. Mexican Hot Chocolate Pie | Serious Eats
9. Oreo Triple Layer Chocolate Pie | All Recipes
10. Sky High Chocolate Pie | Cooking Light
11. Chocolate Pumpkin Pie | Heather Christo
12. German Chocolate Pie | Just a Pinch
13. Chocolate Chess Pie | La Fuji Mama
14. The Best Chocolate Fudge Pie Recipe | The View From Five Ten
15. Chocolate Cream Pie | Flourish
16. German Chocolate Pie | Southern Plate
17. Chocolate Pudding Pie | Joanne Eats Well With Others
18. Old Fashioned Chocolate Pie | Louisiana Bride
19. Easy Chocolate Pie Recipe | Moms Need to Know
20. Paleo French Chocolate Silk Pie | Paleo Fondue
21. Creamy Chocolate Pie | Easy Baked
22. Dark Chocolate Ginger Cream Pie | Salted & Styled
23. Dark Chocolate Peppermint Cream Pie | Butter with a Side of Bread
24. Minnie's Chocolate Pie Recipe from The Help | Made with Pink
25. Never Fail Chocolate Meringue Pie | Two Bears Farm
—
Which one will I make for her? I still have no idea, but I better decide quickly because I'm going to the store today in an attempt to beat the Thanksgiving rush!