Do you need some fast and easy Halloween Decorating ideas? How about affordable too? I don't like to spend a lot of time or money on decorating for Halloween because the decor isn't up for very long. I usually get around to it the second week in October (if I'm lucky) and then it's time to move on to Thankgiving decor. How do you decorate for Halloween without busting the budget? By heading to your local Dollar Tree where everything is $1.
Dollar Tree gave me the fun task of taking a box of 31 items and coming up with some Halloween Decorating Ideas. Here's my loot.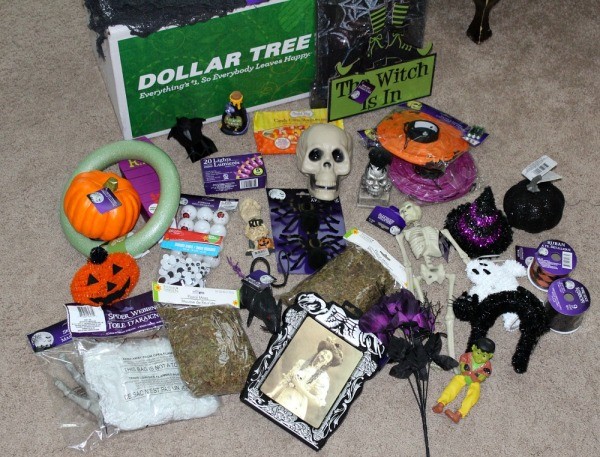 From skeletons and eye balls to flowers and spider webs, I had one fun task ahead of me. Here's how I took my entry way from this…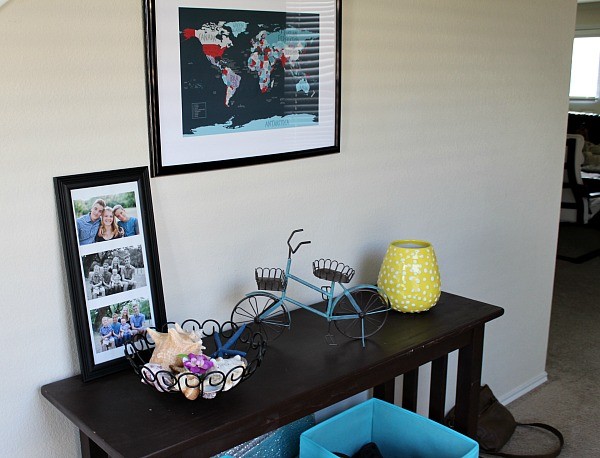 To this…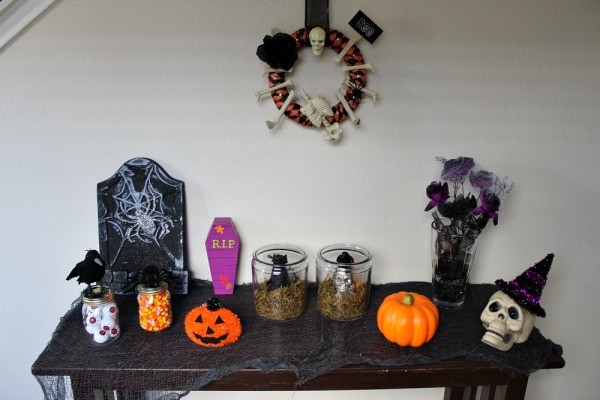 First on my to-do list was to make a Halloween wreath. My supplies included:
Foam wreath ring (Dollar Tree)
Skeleton (Dollar Tree)
Ribbon (Dollar Tree)
Black Flower (Dollar Tree)
Small Spider (Dollar Tree)
Small Metal Buttons (Had on hand)
Boo sign (Printed at Home)
Glue Gun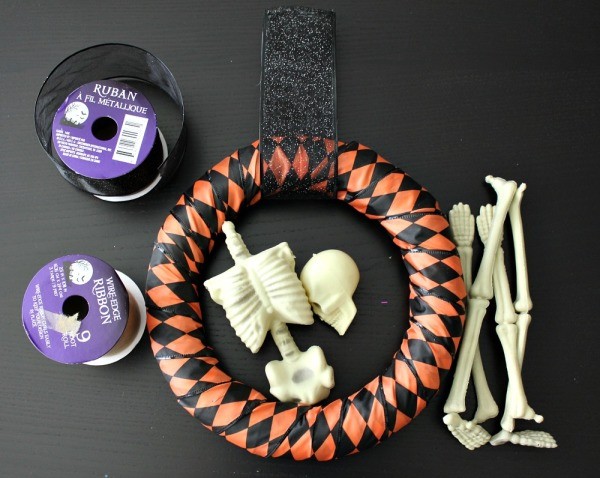 Here's how I made the Halloween wreath:
Step 1: Take a part the poor skeleton. Sorry skeleton.
Step 2: Wrap the foam ring with ribbon. Secure the beginning of the ribbon with a glue gun. Wrap the ribbon around the ring making sure to space it out well. Secure the end of the ribbon to the back of the ring with glue.
Step 3: Take another piece of ribbon to make the loop at the top in order to hang up your wreath. Cut a small piece of ribbon. Wrap it around the top and secure the two ends with your glue gun. I also secured it to the wreath with a little glue so it doesn't slide. I knew the skeleton head would cover up this part.
Step 4: Glue on the skeleton parts. This is sounding morbid….
Step 5: Glue on the metal buttons. I wanted a little bling, so these were perfect.
Step 6: Glue on the black flower and the black spider.
Step 7: Glue the Boo sign to the skeleton's hand.
It only took a few supplies, which were a $1 each, and a few minutes to create a one-of-a-kind Halloween wreath.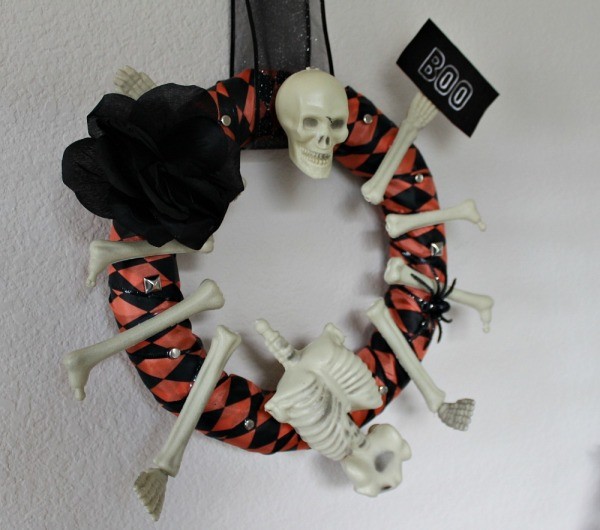 Here's how I used a few more supplies to turn our entry way into Halloween central.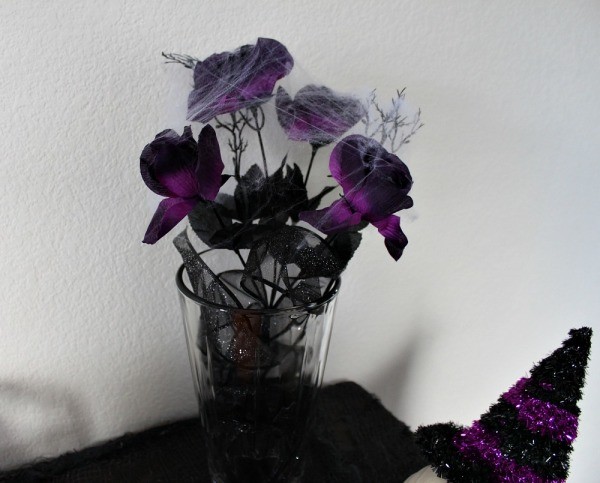 I placed some black sparkly ribbon (Dollar Tree) in a glass vase I already had on hand, stuck the purple flowers from the Dollar Tree in them and then wrapped a little bit of the spider web, also from the Dollar Tree, around the flowers. Because we all know Halloween flowers need spider webs.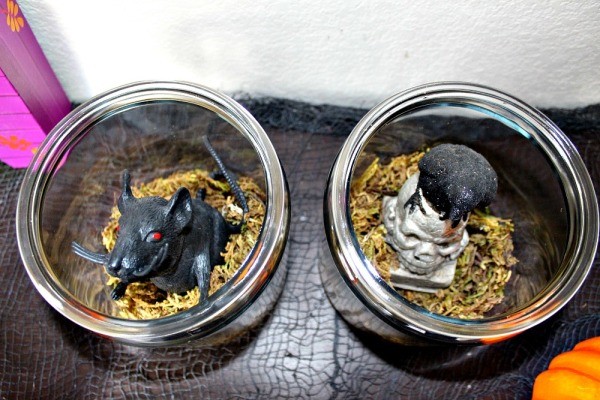 This next thing completely freaked my family out. They said "There's a rat…in a jar…and it's looking at me with beady red eyes. Creepy." Mission accomplished. I took two glass jars I already had on hand, stuck some moss from the Dollar Tree on the bottom and then put a rubber rat (Dollar Tree) in one and a skeleton head with a bird on top (Dollar Tree) in the other. Suuuuuuper easy.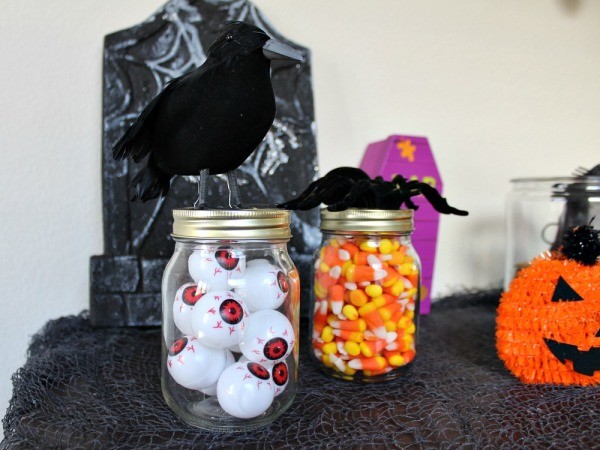 Next I took some mason jars I already had and filled one with plastic eye balls (Dollar Tree) and one candy corn (Dollar Tree). I felt they needed something else…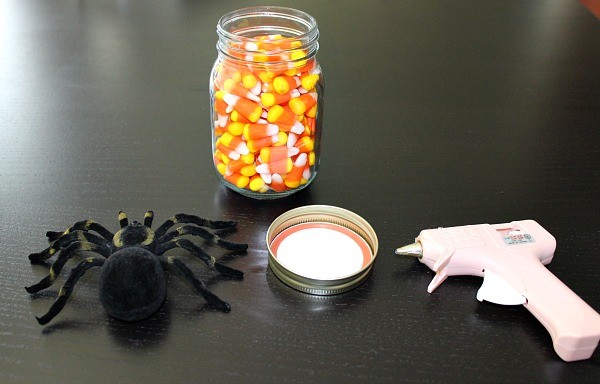 It doesn't get much easier than this. I glued the Dollar Tree tarantula on one lid, and the black crow (Dollar Tree) on the other.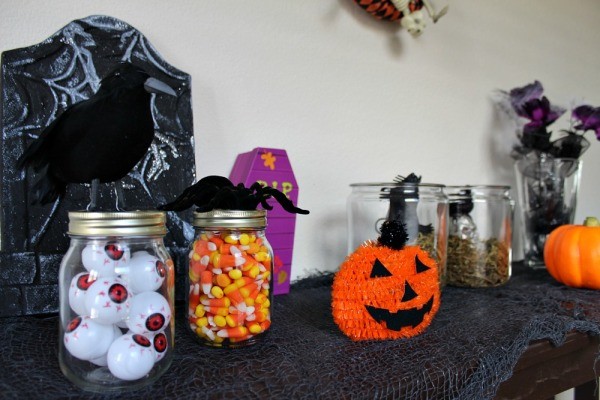 To fill in some gaps I added the foam Tombstone (Dollar Tree), which can also be used outside as it comes with two stakes, a R.I.P. purple box (Dollar Tree) and two orange pumpkin decor items (you guessed it…Dollar Tree).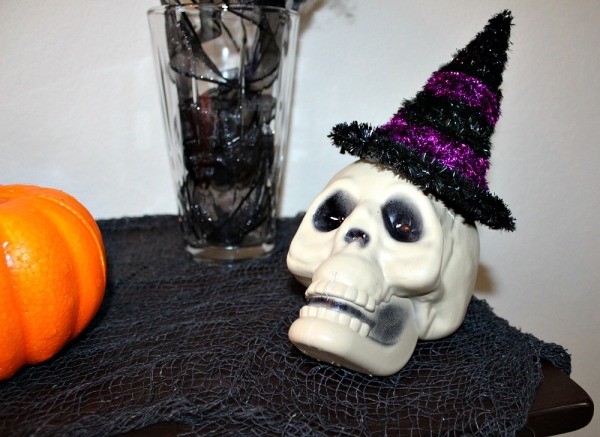 Last but not least, I knew I wanted to use this skeleton head on the table. But I felt he needed something to give him some personality. So, I glued a witch's hat on him. I swear I saw his eyes light up a little and his smile gets bigger. And yes, both of these items are from the Dollar Tree.
So there you have it! My entryway is now transformed from an everyday look to Halloween-tastic. All it took was about an hour, some $1 items from the Dollar Tree, and a little creativity.
Have you decorated for Halloween yet? I hope I gave you some great ideas and if you need more, be sure to check out Dollar Tree's website ILeaveHappy.com for additional holiday decoration and entertaining tips.  Everything's $1….So Everybody Leaves Happy! I love that Dollar Tree is a one-stop-shop for everything you need for a Fall or Halloween party. You really don't have to spend a fortune to decorate or entertain your little goblins. Visit a Dollar Tree near you to make some Halloween magic for only $1.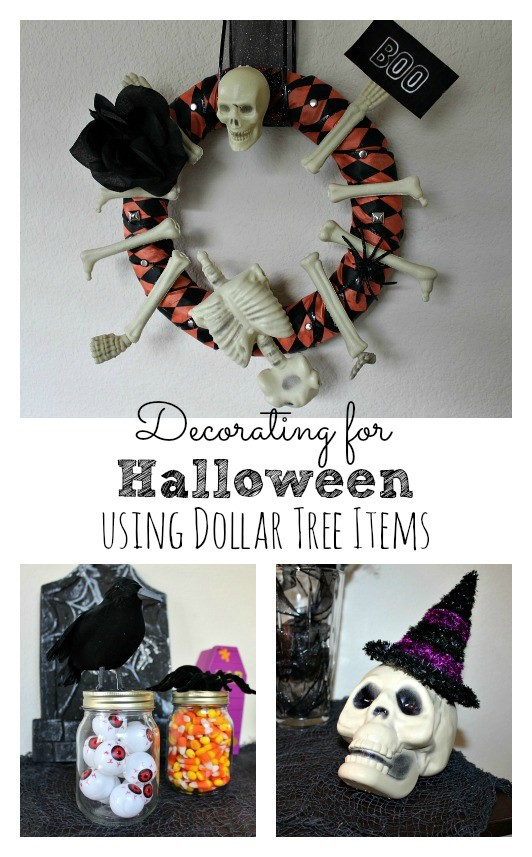 *Disclosure: Mom Fabulous was sent items from the Dollar Tree in order to facilitate this post.