Enjoy these fast and easy Rotisserie Chicken Recipes, which will help you get dinner on the table super fast!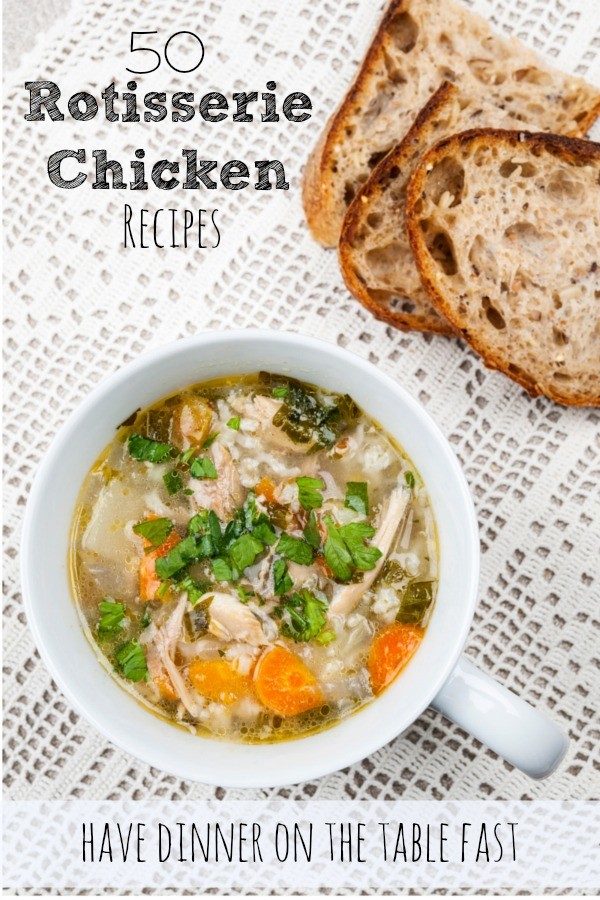 Rotisserie Chickens were on sale at my local grocery store the other day, so I picked up a couple of them, shredded them up and put all of the chicken in ziploc bags for later. I wasn't quite sure what I would do with them yet and then it came to me. I made Chicken, Mozzarella, Basil Paninis one night. Chicken Tacos another night and I have one more bag in the freezer just waiting. Those two on-sale Rotisserie Chickens will end up feeding my family of five four times. FOUR! It's not only economical for us, but I had dinner on the table in no time. Now that is a good feeling.
For those nights when time is tight or you're just flat out exhausted, use one of these 50 Rotisserie Chicken Recipes and not only have dinner on the table fast, but create something your family will ask for over and over again.
1. Chicken Enchiladas with Red Sauce and White Cheese | Eat at Home Cookes
2. Smoky Orange Barbecue Chicken Sandwiches | Let's Dish Recipes
3. Chicken Pot Pie | Unexpected Elegance
4. Buffalo Chicken Bites | Eat.Drink.Love
5. Chicken Dorito Casserole | Debbie Doos
6. Cheesy Chicken Broccoli & Rice Casserole | Mom on Time Out
7. BBQ Chicken Empanadas | That's What Che Said
8. Chicken Alfredo Pasta Bake with Sun-Dried Tomatoes | Eat at Home Cooks
9. Easy Chicken Noodle Soup | Chow
10. Spicy Srirachi Sandwich | Thyme Bomb
11. Fresh Fettuccine With Pulled Rotisserie Chicken, Pesto, and Roast | Food
12. Chicken Tacos | Sports Mom
13. Chicken Bacon Bundles | Tablespoon
14. Honey Lime Enchiladas | Dessert Now Dinner Later
15. Greek Nachos | Eat.Drink.Love
16. Quick BBQ Chicken Pizza | Let's Dish Recipes
17. Chicken Balls | Things We Make
18. BBQ Chicken on Garlic Toast Recipe | Delish
19. Chicken Quesadillas | Cooking Channel
20. Chicken with Lemony Egg Noodles and Peas | Delish
21. Chicken Alfredo Rollups | Table for Seven
22. Chicken Chow Mein Casserole | Midwest Living
23. Chicken and Slab Sandwiches | Progresso
24. Chicken Pesto Sandwiches | Big Girls Small Kitchen
25. Creamy Chicken Taquitos | Pink Parsley
26. Roasted Garlic & Pesto Chicken Flatbread | The Wicked Noodle
27. Easy Burrito Bowls | Cookies and Cups
28. Summer Chicken Pasta Salad | Sports Mom Survival Guide
29. Chicken, Corn and Tomatillo Soup | Bon Apetit
30. Chicken Curry on Brown Rice | Reluctant Entertainer
31. Leftover Chicken Soup | Fun Cheap or Free
32. Chicken Enchilada Soup | Your Home Based Mom
33. Quick and Easy Chicken and Dumplings | Welcome Home
34. Skinny Chicken Caesar Pasta Salad | Skinny Mom
35. Chicken Tamale Pie | Food Network
36. Southwestern Chicken Wraps | Martha Stewart
37. BBQ Chicken Soup | E Recipe Cards
38. Spiced Couscous and Chicken | Food Network
39. Cheesy Biscuit Topped Chicken Pot Pie | Southern Bite
40. Lemon Chicken Orzo Soup | The Girl Who Ate Everything
41. Chicken Cordon Bleu Soup | Chef in Training
42. Creamy Spicy Chicken Corn Chowder | The Cooking Jar
43. Chicken and Potatoes with Mustard Vinaigrette | Real Simple
44. Warm Chicken Salad with Sweet Potato Fries | Ginger Fig
45. Spicy Asian Chicken Salad Lettuce Wraps | Delish
46. Chicken Gumbo | Real Simple
47. Chicken Alfredo Pasta Bake | The Cooking Jar
48. Chicken Cream Cheese Pockets | Num's the Word
49. Chicken and Goat Cheese Dumplings | Wholesome Cook
50. Green Chile Enchiladas | Like Mother Like Daughter