These easy Chocolate Peanut Butter Balls are melt in your mouth delicious. I'd even say they rival that peanut butter & chocolate candy you can purchase in the checkout lane of your local grocery store. Plus, I believe this is the best recipe ever!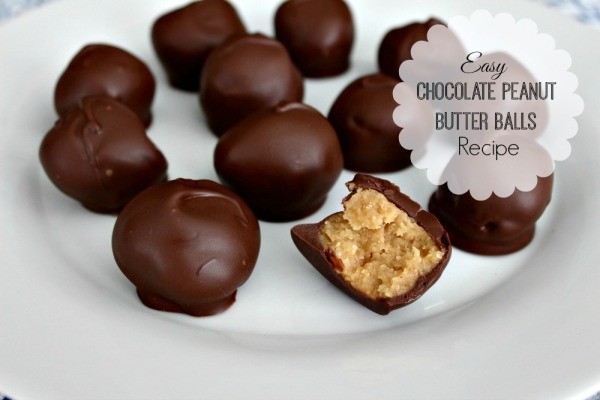 Ahhhhh, Chocolate Peanut Butter Balls.
Every year around October my family starts requesting these and I start craving them. I've been making these for the Holidays since my kids were little and they're always a crowd pleaser.
I've even given them away as gifts (in cute boxes similar to these) because these are so worthy of gifting giving. Just put them in a decorative tin and you have something chocolate peanut butter lovers will love you for.
Over the years I have tried and tested so many different variations of Chocolate Peanut Butter Balls recipes and every time I end up coming back to this one. This is the best and easiest peanut balls recipe I've tried, plus for me, it's a no-fail recipe.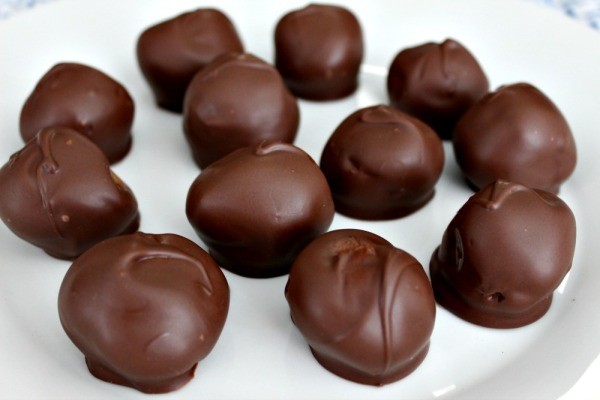 A few notes:
Chocolate Peanut Butter Balls with Rice Crispies
If you like more texture and crunch, you can add in 3 cups of crushed rice cereal. Just measure out 3 cups and give them a little crush. Don't pulverize them, just break them up a little. Add these after you've added the powdered sugar.
Chocolate Peanut Butter Balls with Powdered Sugar
I've always made these peanut butter balls with powdered sugar, but I've experimented with how much. The recipe below calls for 3 3/4 cups, but you can do less depending on a) where you live because humidity and high altitude will affect the results and b) how stiff or creamy you like them. Just remember that you should add enough powdered sugar to where it forms a dough you can work with. You don't want a sticky mess because the end result will not be good.
The Best Tool to Mix These Up With
It's easiest to mix these up with a powerful mixer. I've done it for years and years with a hand one, but oh my goodness it's difficult. If you have a Kitchenaid mixer or something similar, I would recommend using it. My sister-in-law gave me her old one and it's been so good to me. But I'm saving up for this one.  Now, which color should I go with?!
What Kind of Chocolate To Use
You can use different variations of chocolate to dip these in. You can use semi-sweet chocolate chopped up and then melted. You can use semi-sweet chocolate chips, melted.
I've always had success and prefer the chocolate candy coating (or chocolate almond bark as it's sometimes called). It gives it such a great texture and is so easy to work with. But, if you prefer a darker chocolate coating, try the semi-sweet options. (Side note: some readers said it was a nightmare with the semi-sweet chocolate and ended up using the almond bark.)
How to Coat the Peanut Butter Balls with Chocolate
The dipping technique I have perfected and un-perfected over the years. Meaning, some years it just seems to work and they look fantastic and other years it looks like I made them in my sleep. You can put the peanut butter balls on a skewer and dip them that way or use my strange technique. I use two spoons. I dip the ball in the chocolate with one spoon and then take it out and toss it back and forth between each spoon. Sounds a little weird maybe, but it's what has worked for me time and time again. The balls seem to turn out perfectly coated.
Alright, here's how to make these lovelies. Warning: once you make them for friends and family, they'll request them over and over again. Oh, and they're super addicting…like chips…you can't eat just one.
The Best Chocolate Peanut Butter Balls Recipe Ever!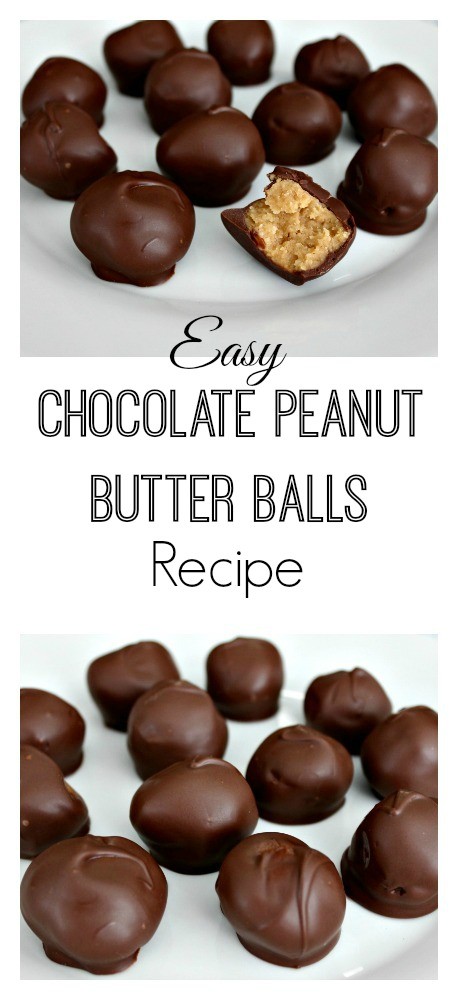 Where Would You Like to Go Next? Check out some of my other dessert recipes:
Old Fashioned Cinnamon Roll Recipe
How to Make Peanut Butter Cookies