Offering deliciousness, satisfying hunger, and providing unbelievable health benefits, chicken delicacies, without a doubt, can make for a perfect dinner option. Here are some incredible and easy chicken dinner recipes you shouldn't miss to try. As far as your meals and ingredients sourcing needs are concerned, you can try some meal delivery services and find more about Home Chef. You can check out the review about this company here. Air fryer chicken breasts, chicken fried rice, and maple-mustard chicken thighs and legs are some of the easy and healthy chicken dinner recipes you really should cook. Each recipe will result in a delicious and filling chicken meal that is low in calories yet packed with essential nutrients. That said, it's time to get cooking!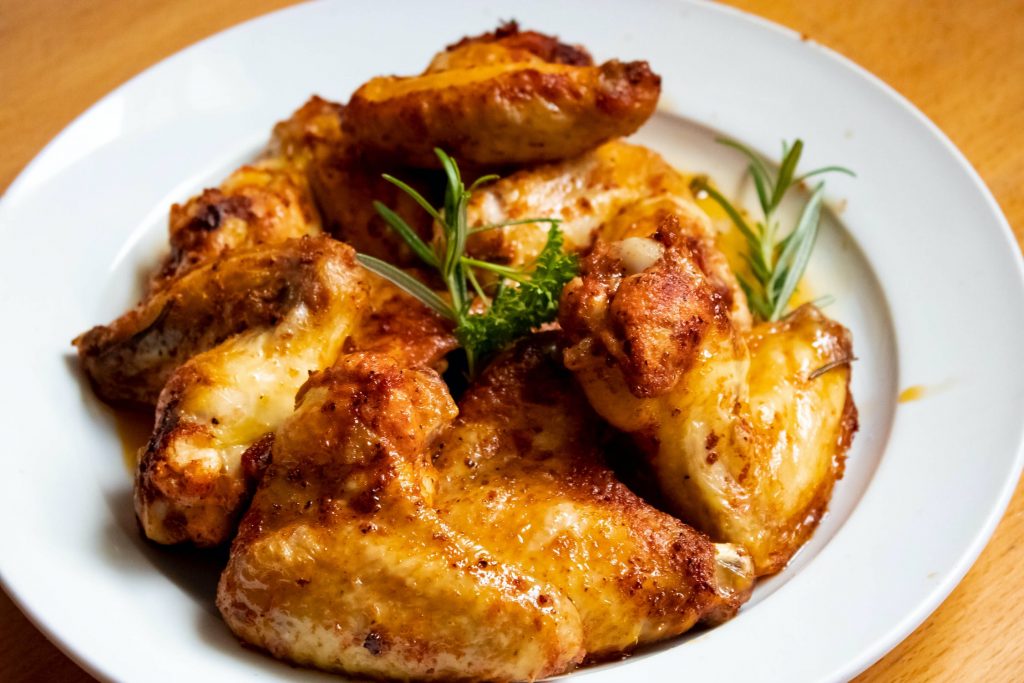 Source: pexels.com
Chicken Breasts Cooked with an Air Fryer:
Made using an air fryer, air fryer chicken breasts is a delicious and healthy meal that goes well with a whole lot of pairings ranging from salads and rolls to whole grains and potatoes not to mention combos of different pairings and more. Perfect for dinner, this flavorful delicacy is low in calories but high in proteins and Vitamin D with each nutrient offering incredible health benefits. It can be served with toasted herb rice, tangy potato salad & bacon, crescent cheesy bread, watermelon cucumber feta salad, as well as homemade mashed potatoes. In addition to these side dishes and salads, chicken breasts can also go perfectly well with cheesy baked asparagus, cumin-citrus roasted carrots, creamy cucumber salad, cheesy rosemary crescent rolls among others. Here is a quick air fryer chicken breasts recipe:
What You Will Need:
Three shallow bowls.

A fryer. 

A mixing spoon. 

A flipping spoon.
Ingredients:
2 boneless and skinless chicken breasts.

1 large, beaten egg. 

1/3 cup. freshly grated Parmesan.

1/4 cup. all-purpose flour.

2 tsp. lemon zest.

3/4 cup. panko bread crumbs.

1/2 tsp. cayenne pepper.

1 tsp. dried oregano.

An adequate quantity of table salt to serve.

Freshly ground black pepper to serve. 
Directions:
First, place flour and the beaten eggs in two separate bowls.

Second, combine cayenne, lemon zest, Parmesan, oregano, and panko in the third bowl before seasoning with salt as well as pepper.

Third, dip chicken breasts into flour, beaten eggs, and finally the panko mixture, in that order. 

Fourth, place chicken breasts in the fryer basket and let cook at 375° for 10 minutes.

Finally, flip chicken, and cook until coating is golden and the meat is cooked through.
Chicken Fried Rice:
Delicious, healthy, and going well with wine, chicken fried rice can be a perfect Friday or weekend dinner meal before movie or gaming time. Filling, neither heavy nor light, and rich in healthy carbs and proteins, this amazing white meat and whole-grain combo contains just the right amount of calories you need for dinner– 353 calories per serving. Plus, it takes just a few minutes to make, depending on the number of servings you wish to accomplish.
What You Will Need:
A small bowl.

A whisk.

A skillet of the right size.

A heating source. 

A stirring spoon.
Ingredients:
8 ounces shredded or chopped cooked chicken breast.

4 cups cooked brown rice.

2 teaspoons sesame oil.

2 tablespoons rice vinegar.

2 tablespoons canola oil.

1 large egg, beaten.

2 tablespoons gluten-free tamari.

2 teaspoons cornstarch.

1 cup grated carrot.

1 tablespoon granulated sugar.

¼ cup roughly chopped, roasted and salted cashews.

1 cup sliced mushrooms.

1 cup shredded green cabbage.

1 cup frozen peas.

Table salt to serve. 
Directions:
In the bowl whisk tamari, cornstarch, sugar, sesame oil, table salt, and rice vinegar before setting aside.

Then, heat one tbsp of oil in the skillet before moving to the next step.

Next, add egg and scramble gently before removing from the skillet and setting aside.

After that, heat the remaining oil in the skillet before adding chicken alongside vegetables and cooking for a maximum of three minutes.

Now, add sauce and cook for 2 minutes more or until the sauce is adequately thickened.

Thereafter, add rice alongside cooked egg and continue cooking for about five minutes while stirring regularly until all ingredients are heated through. 

Finally, serve topped with cashews.
Maple-Mustard Chicken Thighs and Legs:
Served with a wide range of side dishes including brown rice, noodles, zoodles, roasted squash with pomegranate and goat cheese as well as garlic-herb mashed cauliflower, maple-mustard chicken thighs and legs are another great delicacy combo for dinner. Delicious, filling, and healthy, this nutrient-dense dish doesn't require any special culinary skills to make. Here is a quick maple-mustard chicken thighs and legs recipe that yields four to six servings:
What You Will Need:
An oven.

Some paper towels. 

A small bowl. 

A kitchen thermometer.
Ingredients:
4 whole chicken legs with thighs attached. 

2 tbsp. whole-grain mustard.

2 tbsp. Dijon mustard.

1 tbsp. maple syrup 

12 oz. halved baby potatoes.

2 tbsp. extra-virgin olive oil. 

1 tsp. fresh thyme leaves.

8 oz. halved small carrots. 

Freshly ground black pepper.

An adequate quantity of table salt.

Freshly chopped parsley, and pinch crushed red pepper flakes, for garnish. 
Directions:
First, pull the baking dish out of the oven and smear the bottom with 1 tablespoon of the extra-virgin olive oil.

Second, place carrots and potatoes in the baking dish and season with salt as well as pepper. 

Third, pat chicken legs dry using the paper towels before drizzling the remaining olive oil over the meat.

Fourth, season the meat with salt and pepper before arranging(skin-side up) on top of carrots and potatoes in the baking dish.

Fifth, stir together thyme, mustards, red pepper flakes, and maple syrup in the small bowl.

Sixth, brush the sauce on top of the meat and drizzle any extra over vegetables. 

Seventh, push back the bowl into the oven. 

Meanwhile preheat the oven to 450°.

After that, allow the chicken to roast until golden and a thermometer inserted into the thickest part of a thigh reads "160°".

After that, pull the baking dish out of the oven and brush your chicken thighs with chicken drippings before pushing the dish back into the oven.

Then turn the oven to broil and let the thighs broil until deeply golden.

Finally, remove the thighs from the oven, letting cool slightly before sprinkling with parsley and serving.