I don't know about you, but I crawl out from under winter's grasp wanting lighter everything. Lighter clothes, lighter clutter and decor in my home, lighter makeup, and of course – lighter food. It's towards the ends of February that I start thinking and dreaming about those Summer Salad Recipes.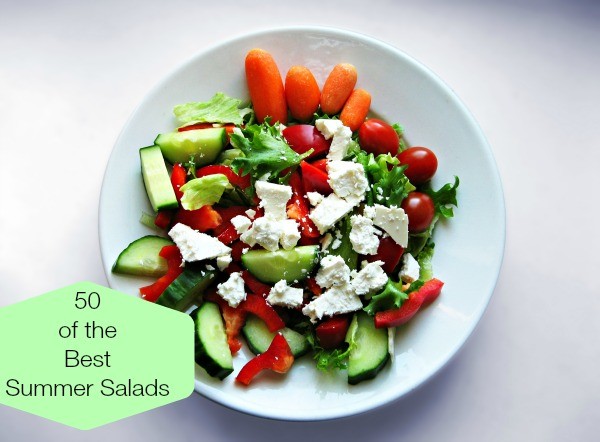 I have a few favorites such as spinach, strawberries, walnuts, a sprinkle of feta, and a dash of a vinaigrette. But I also like to try out new ones. Some with meat or fish for a heartier mealtime dish. Some without for a light lunch. You get the picture.
In order to inspire us all, I've rounded up 50 of the Best Summer Salad Recipes I could find. I would love it if you shared one or some of your favorites in the comment section. Let's just make this a mega summer salad resource for the entire world shall we? I like to dream big. Enjoy!
50 of the Best Summer Salad Recipes
With Chicken
1. Chicken, Bacon & Avocado Chopped Salad
4. Mexican Chopped Salad with Grilled Chicken
5. Chicken Berry Date with Candied Walnut Salad
6. Cafe Rio-Style Pulled Chicken Salad
8. Grilled Chicken Salad with Cherries
With Fish
9. Pan-Seared Shrimp Salad with Mango-Lime Dressing
10. Truffle Sea Salt Shrimp Salad
11. Salmon, Potato Spring Salad
12. Grilled Shrimp Panzanella With Basil
13. Smoked Salmon and Beetroot Salad
14. Wheat Berry and Tuna Salad
15. Mediterranean Salmon Salad
With Fruit
16. Watermelon, Watercress, Pepita and Salad with a Lime Cilantro Vinaigrette
17. Grilled Tropical Summer Salad
18. Melon and Prosciutto Salad with Parmigiano-Reggiano
19. Grilled Apricot, Gorgonzola, and Candied Walnut Arugula Salad
20. Bacon, Apple Raspberry Vinaigrette Salad
21. Arugula, Grape, and Sunflower Seed Salad
24. Red Raspberry Spinach Salad
25. Spring Salad with Pineapple
26. Pear Salad with Citrus Dressing
27. Cantaloupe, Prosciutto Salad
28. Kale Salad with Citrus, Avocado and Feta
29. Cucumber Honeydew Salad with Feta
30. Grilled Tropical Summer Salad
32. Sunflower Salad with Blood Oranges
With Vegetables
33. Greek Salad with Garlic-Lemon Vinaigrette
34. Fresh Corn Salad
35. Orzo Summer Salad
36. Go to Kale Salad
37. Sunflower Seed Salad with Honey Tahini Dressing
38. Caprese Salad with Heirloom Tomatoes
39. Broccoli Salad
41. Roasted Corn & Tomato Summer Salad with Lemon- Basil Yogurt Dressing
42. Roasted Potato and Asparagus Salad
43. Easy Mexican Salad in a Jar
45. Red Cabbage Detox Salad with Lemon Dressing
46. New York Style Chopped Salad
48. Quinoa Confetti Salad with Sugar Snap Peas & Toasted Pepitas