Inside: Do you need some ideas on what to wear this spring and summer? Well, break out the denim because I think you'll find a denim shorts outfit idea or two you'll absolutely love!
It's a gorgeous summer day and you have big plans. You're headed out for a day of shopping with the girls, but it's hot as heck and you have no idea what to wear. You want to look good and you want to be comfortable. So, what's a girl to do?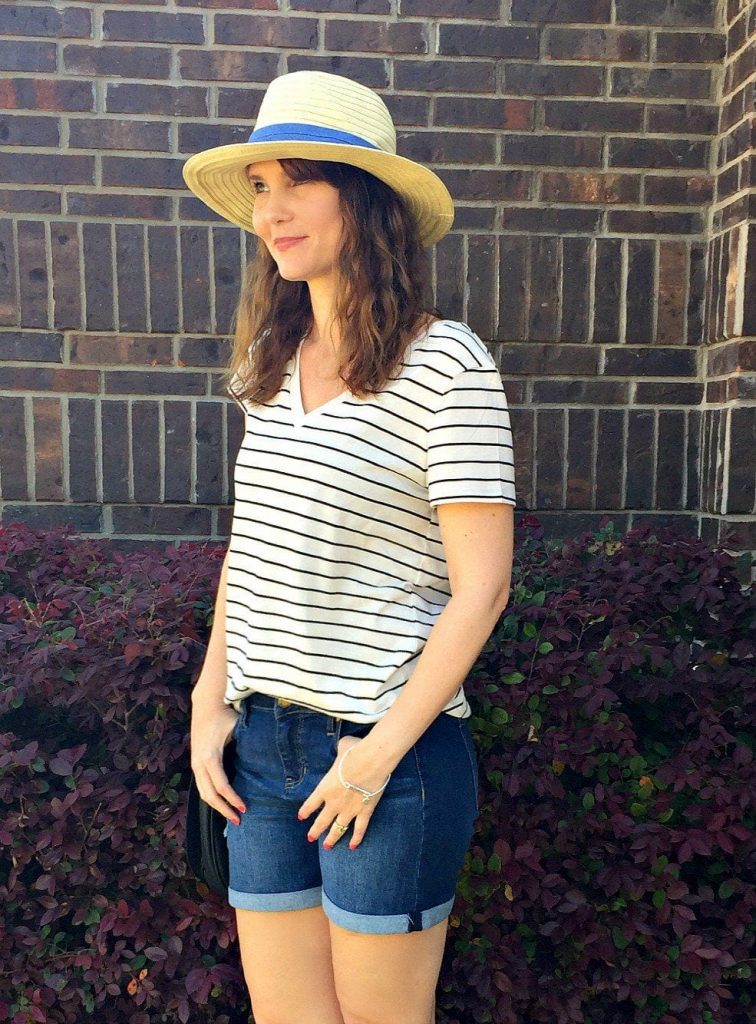 When in doubt, head for those denim shorts you love. Whether you decide to dress them up or down, denim shorts are extremely versatile. Plus, if the weather allows, they can be worn in spring, summer and even early fall.
Just like jeans are a must-have in the fall and winter, the same can be said for denim shorts in the spring and summer. You can create countless outfits, and when you find just the right pair, getting dressed for that day of shopping with the girls will be a breeze.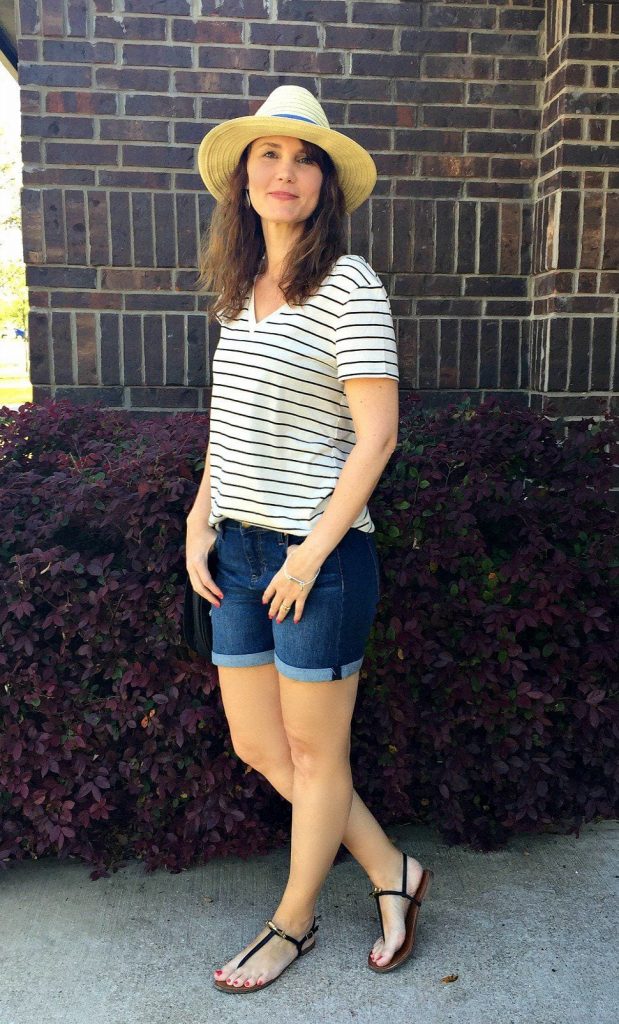 Since I have a small waist and wider hips, finding denim shorts has always been an issue. They need to fit comfortably, not be too short but also not too long. I thought I was asking for the impossible until the Vickie denim shorts from Liverpool entered my life. I could live in these all spring and summer – and I just might!
I'm wearing mine with a striped tee from Target (only $9) and a Chambray Sun Hat from J. Jill's April collection. This outfit is youthful but doesn't make me look like I'm trying to be a teenager. Sometimes finding shorts outfits (and shorts in general!) for those of us over 40 is tricky.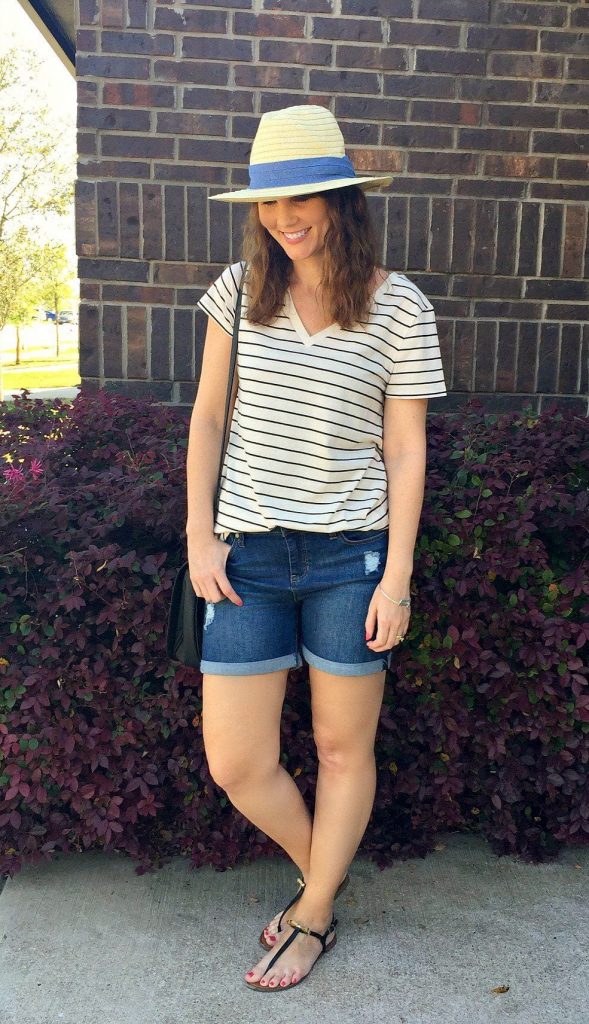 The Vickie denim shorts have just the right amount of stretch, are mid rise so they fit perfectly on me and have a little bit of distressing that doesn't go overboard. I'm wearing a size 6 and they are true to size.
Like I mentioned, denim shorts are versatile. You can wear them walking along the beach, out running errands, camping or even to a casual outdoor party. I've created 6 different shorts outfit ideas, ranging from casual to dressed up. I hope you enjoy the variety!
Denim Shorts Outfit Ideas – From Casual to Dressy
Casual Denim Shorts Outfit Perfect for Traveling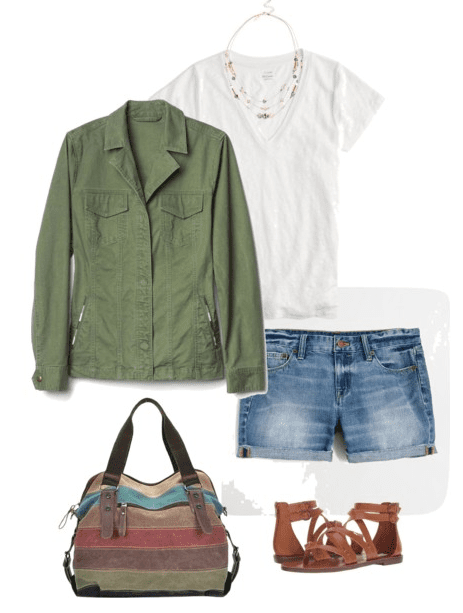 Outfit details: Cutoff Denim Short (J. Crew $35.50)| Olive Utility Jacket (Gap)| Linen Tee (J. Crew $36.50)| Striped Tote (Amazon $26.98)| Gladiator Sandals (6pm $49.99)| Layered Necklace ($4.99)
Pair denim shorts with a white tee, lightweight olive utility jacket and brown sandals for a stylish outfit between super casual and dressy. This shorts outfit would be perfect to wear while traveling over spring break or for a summer trip. And how great is that striped handbag? I fell in love with the structure and colors instantly.
Casual & Comfy Denim Shorts Outfit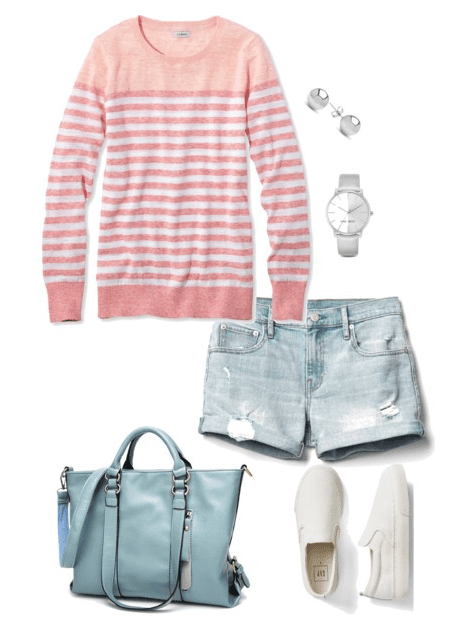 Outfit details: Denim Shorts (Gap $49.95)| Striped Sweater (LL Bean $39.99)| Slip On Sneakers (Gap $44.95)| Blue Handbag (Amazon $24.98)| Watch ($49.00)| Earrings (Amazon $12.23)
Sweaters aren't just for pants. Pair a lightweight one with your denim shorts; add a pair of sneakers and a great handbag and you have the perfect outfit for spring and summer.
Your Classic Go-To Denim Shorts Outfit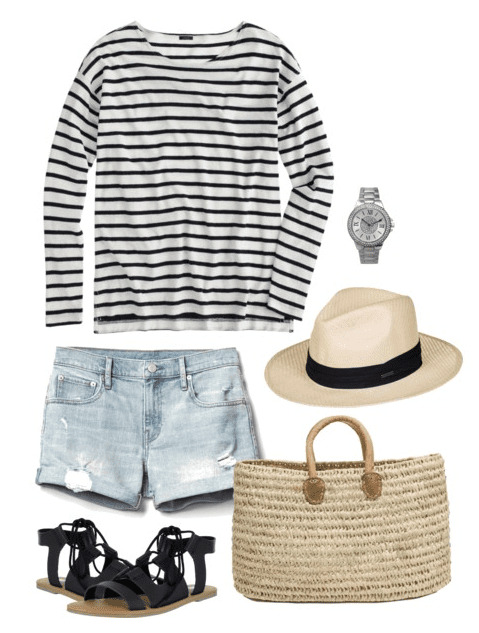 Outfit details: Denim Shorts (Gap $49.95)| Striped Long Sleeve Tee (J. Crew on sale $19.99)| Hat ($29.50)| Straw Tote (Amazon $43.98)| Black Sandals (Clearance $19.99)| Silver Watch ($50)
This is similar to the outfit I'm wearing above. I love it because it's such a classic look. On days I have no desire to put any effort into what I'm wearing…this is my go-to look. You can't go wrong with stripes and denim!
Dressy & Unexpected Denim Shorts Outfit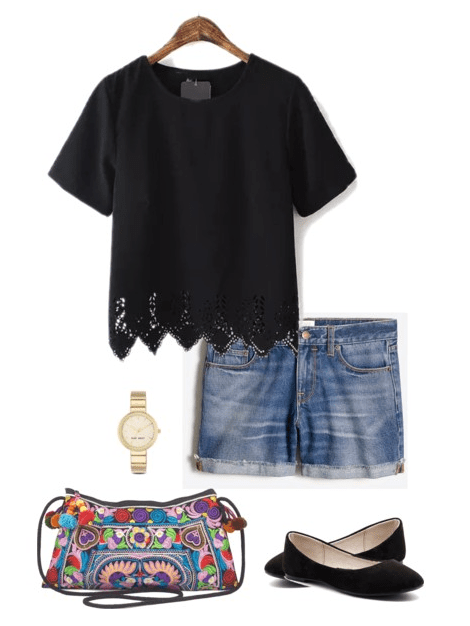 Outfit details: Denim Shorts (J. Crew $35.50)| Black Lace Top ($17.00)| Handbag (Amazon $14.99)| Ballet Flats (Amazon $15.00)| Watch ($49.00)
This outfit kicks denim shorts up a notch, giving it a dressy vibe. From the lace detailing on the shirt and the colorful handbag to the ballet flats, it's an unexpected pairing with shorts that just works.
Layered Casual Denim Shorts Outfit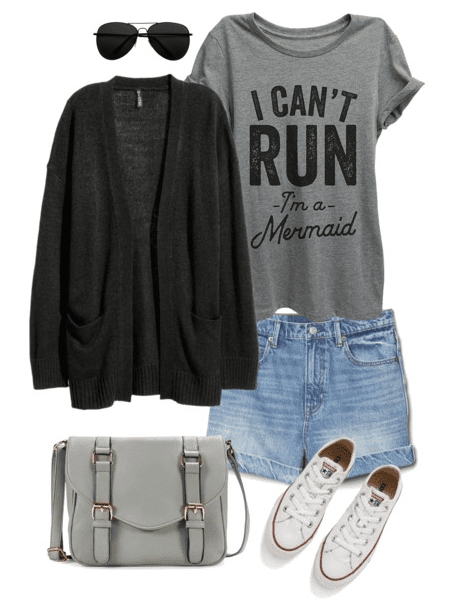 Outfit details: Denim Shorts (Gap $49.95)| Graphic Tee (Amazon $24.99)| Cardigan (H&M $14.99)| Handbag (Amazon $19.99)| Converse (Amazon, price depends on size)| Sunglasses (Amazon $9.99)
I carry a cardigan around with me all summer long for when I'm inside and the air conditioning is set at what feels like negative temperatures. I love how the cardigan looks paired with a graphic tee, denim shorts, and Converse. It's a fantastic casual look that's both comfortable and stylish. (And we're all secretly mermaids right?)
Boho Chic Denim Shorts Outfit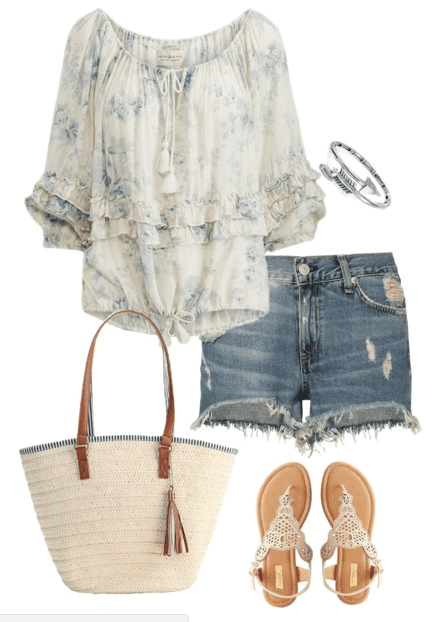 Outfit details: Denim Shorts (less pricey option here)| Boho Top ($69.99)| Straw Tote (Amazon $29.69)| Laser Cut Sandals ($13.99)| Bracelet (Alex and Ani $49)
If you love boho style, this is the shorts outfit for you. Pair a feminine top with frayed denim shorts for a look that screams a festival vibe. Wear it on a casual date, out shopping or when you want a touch of femininity.
—
I hope you enjoyed this round-up and that you found a shorts outfit idea or two you plan to try. For even more variety, be sure to check out this summer shorts round-up I did with 8 other bloggers. Also, my blogging friend Jo-Lynne Shane has a super cute outfit idea for summer featuring Bermuda denim shorts, for those of you who like shorts a tad bit longer.
Keep checking back because I have a bunch of spring and summer outfits planned to share with you! If you don't find something you're looking for when it comes to fashion, be sure to let me know in the comments or feel free to contact me.