Welcome to Day 8 of 31 Days of Fashion – Tips, Tricks & Outfit Ideas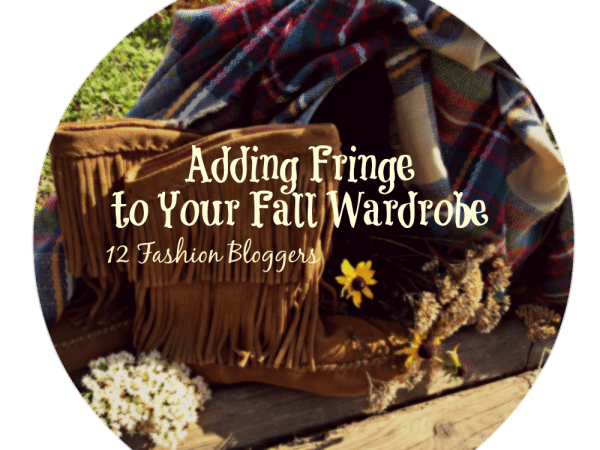 One word: fringe. Have you seen it popping up on handbags, boots, jackets and well just about everything? That's because it's a huge trend this season and one I am all over! I featured quite a few new pieces I styled as part of the Burlington Style Squad last week. I have worn those fringe boots over and over again! Well today, I've teamed up with quite a few fashion bloggers to share how we're adding fringe to our fall wardrobe.
My fringe friends are…
Jo-Lynne Shane, More Pieces of Me, The Simple Moms, Messy Beautiful Life, Momma In Flip Flops, Thirty Something Fashion, Grace + Beauty, BonBon Rose Girls, That Chic Mom, The Mother Overload, Very Busy Mama, Style In Harmony, and Charmed Valerie.
How did I add fringe to my fall wardrobe? With a scarf!
So, I have a secret about this scarf. It's like six years old. Ha! I can't even tell you where to purchase it because it doesn't even have a tag. But I will point you to some gorgeous fringe scarves in a few minutes. I received this scarf as a gift from a company I worked with many years ago. It just showed up unexpected and I have loved it ever since. It's so different than any scarf I own or any I've seen. This is the closest one like it I've found.
I really like pairing it with a neutral color like this cream sweater because I feel the scarf gets the attention it deserves and steals the show. Just like throwing on a cardigan can change and elevate your entire outfit, so can adding a scarf.
Alright, check out these gorgeous fringe scarves… (P.S. I found one that's over $1,800. Wowzers! As my husband would say, that thing better do dishes or something. Or maybe I say that…)
Have you embraced this trend yet? Are you going to? Next time you're out and about, maybe a fringe purse will accidentally end up in your cart or bag. It could happen. 😉