Welcome to Day 5 of 31 Days of Fashion – Tips, Tricks & Outfit Ideas
I was talking with a friend the other day about jewelry storage. The conversation first started out about how she can never find the right accessory for her outfit, because she can never find her accessories! Jewelry can be the one item that ties your entire outfit together or that changes it from a meh outfit to a totally amazing outfit! But if you can't see or find the jewelry you have, that can make getting dressed in the morning or for a special event kind of tricky.
These 7 awesome jewelry storage ideas will inspire you to get your accessories organized, so you can put together an entire outfit – head to toe – in a snap.
7 Awesome Jewelry Storage Ideas
Most of these are DIY ideas, so for those of you who don't have the desire or the time (I have neither one), here are some jewelry storage product recommendations: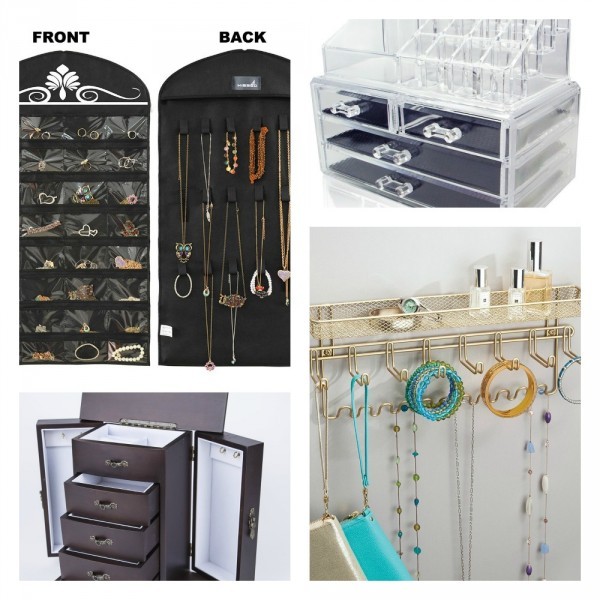 This hanging, non-woven, jewelry organizer features 31 pockets and 18 hook and loop closures. It easily hangs as part of your closet on a rod.
I love acrylic organizers. They have such a clean look to them and this 2-piece set is a best-seller and allows you to organize your jewelry and makeup together, if you'd like.
If you have some wall space in your bathroom, closet or bedroom, this wall hanging jewelry organizer might be perfect for you. It features 8 large and 11 small hooks for hanging necklaces, earrings, watches, bracelets and more. Plus there is a shelf on top for storing larger accessories, or makeup and perfumes.
Don't forget about a jewelry box! This might be all you need and will fit in perfectly with your storage needs. This cherry wooden one is beautiful and holds a lot of jewelry with its dual necklace doors and four drawers.
Do you have any special jewelry storage ideas you use?