Welcome to Day 4 of 31 Days of Fashion: Tips, Tricks & Outfit Ideas
As you may have heard, I love the poncho trend this fall. There are so many different styles and weights to choose from. Ones that are boho inspired, ones that are lightweight and perfect to throw on over a t-shirt and jeans, and ones that are little dressier. Today, I've enlisted the help of a few fashion friends who also love this trend and are styling it well I might add!
Poncho Outfit Ideas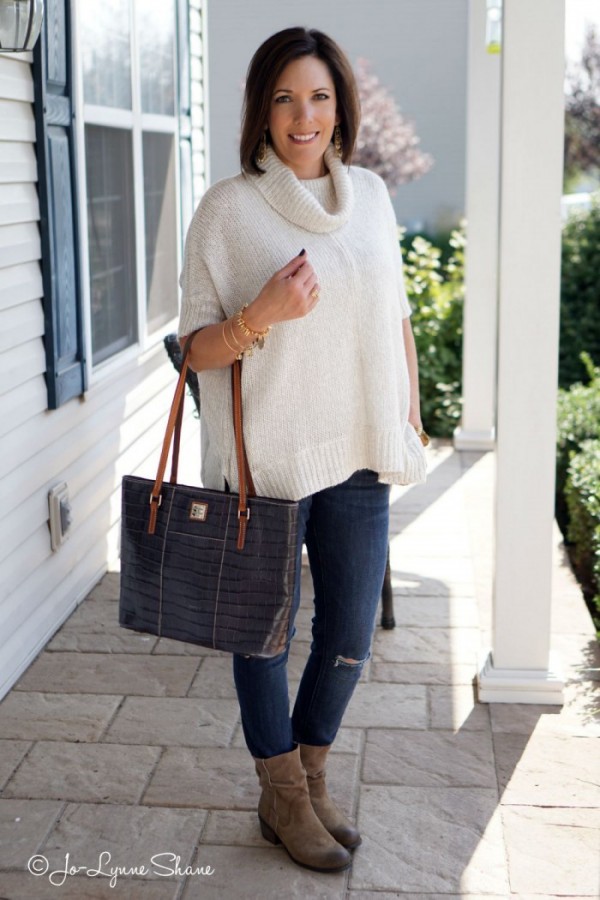 Jo-Lynne from Jo-LynneShane.com featured an ivory cowl neck poncho that arrived in her Stitch Fix box. She says, "This poncho is something I'd have nabbed myself if I'd seen it at the store. It's totally up my alley — cute and chic as well as comfortable and practical. I especially like how it has short sleeves, making it a great transition piece. And also? It's nice and roomy so no one will know if you put on a few extra pounds on vacation."
I agree – ponchos are very forgiving when it comes to a few extra pounds!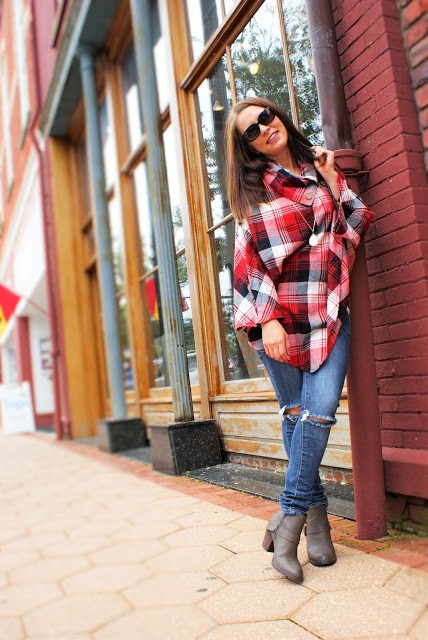 Ashley from MessyBeautifulBlog.com styled a plaid poncho she picked up online. She says, "I have never owned a Poncho but I knew I needed this one. It feels like a soft blanket that you can wear without getting weird looks. Anything cozy and chic is a must for me! "
Such a gorgeous color combination!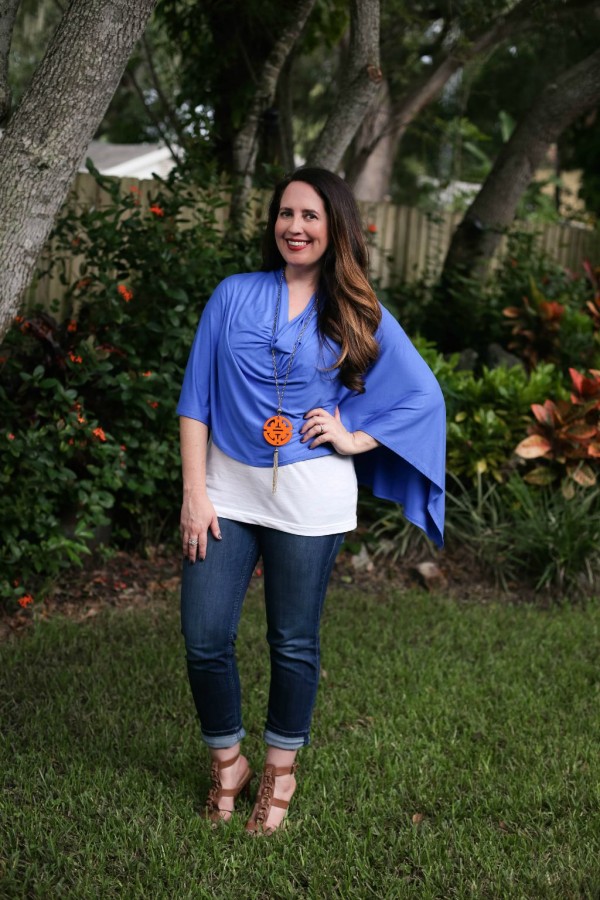 Kristin from BonBonRoseGirls.com styled a gorgeous cobalt poncho, which can be worn all sorts of different ways. She says, "On a recent shopping to one of my favorite local boutiques in Tampa, Creme de la Creme, my mom and I came across a big pile of "scarves" in a wide away of colors. The best thing about this piece is that it can be worn a bunch of ways, so you can expect to see this beauty again sometime soon and it will look completely different! For today, I decided to wear it in a poncho style along with a large and in charge statement necklace, boyfriends and sandals."
I love a piece as versatile as this one. I can't wait to see how else she wears it!

Ellen from ThatChicMom.com featured a poncho that not only has a beautiful pattern, but is reversible as well! She says, "I went back and forth between the Tartan Ruana and the reversible ruana and now they even have the striped ruana. I ended up with the Foxcroft reversible Ruana and it is perfect for my style."
It looks stunning with her leggings and blue blouse.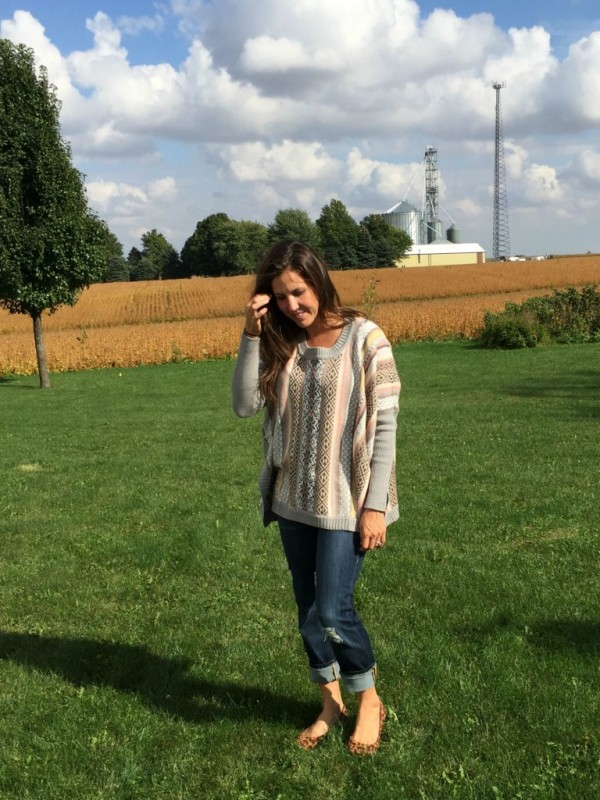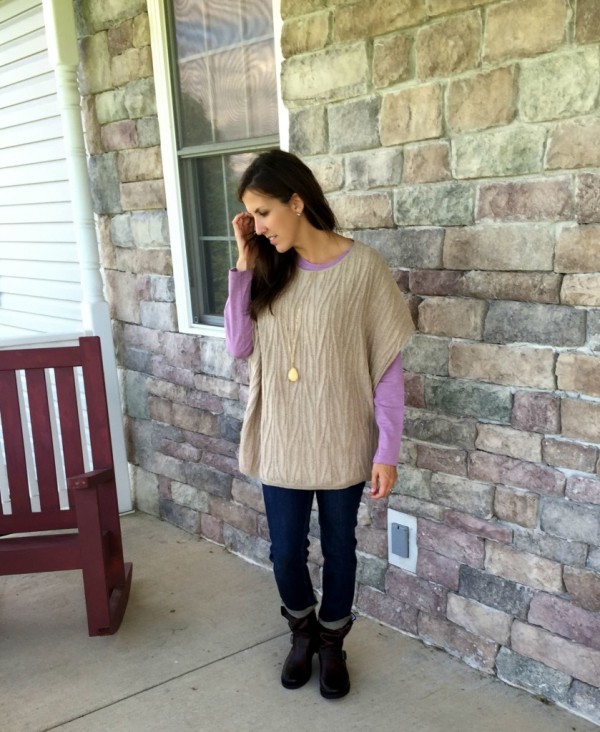 Andrea from MommaInFlipFlops.com styled two ponchos here and here. I have the same poncho as her first one, but in a different color and I love it just as much as she does. She says, "As I mentioned the poncho is SUPER ON TREND this season, J.Jill has many to choose from but I adore the easy slip on feel of this boat-neck one and that it's just like another layering piece but isn't draped on my arms so I can easily tend to the children or other responsibilities I'm taking on. "
Here are a few outfits I put together with various ponchos for fall.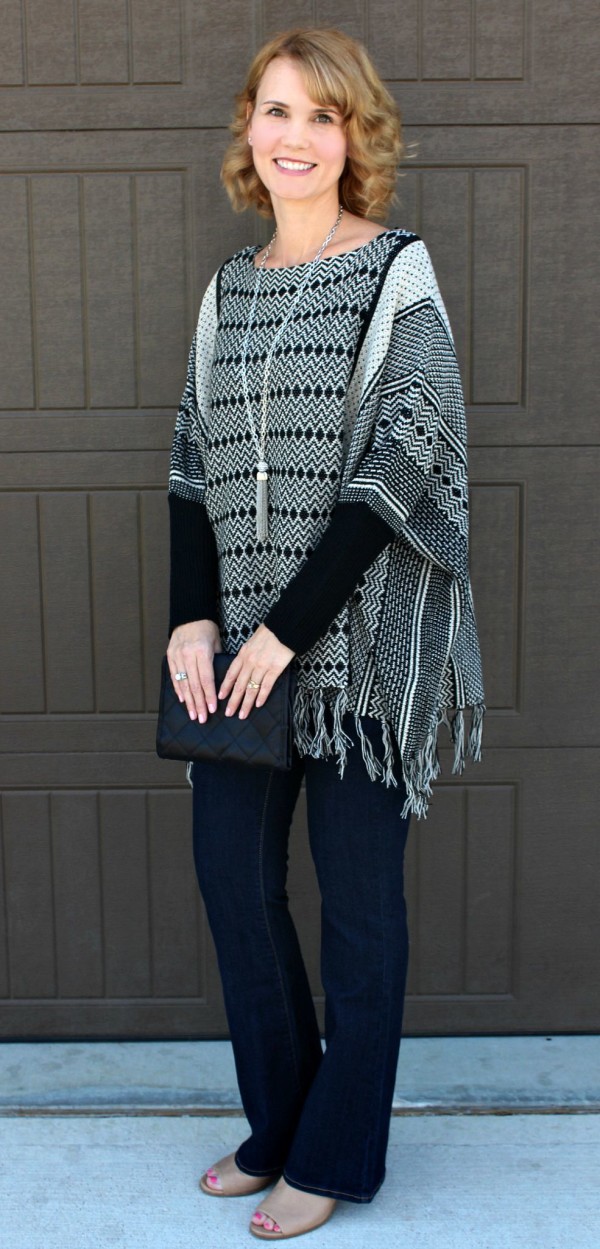 And there you have it – quite a few poncho outfit ideas for you. If you're lucky enough to live where it's cool enough right now to wear one, then please – wear one for me! I think we're getting there…