Welcome to Day 23 of 31 Days of Fashion – Tips, Tricks & Outfit Ideas
I've been using LeTote for quite a while now and this last one I received was the best one yet. I loved everything they sent, especially this wrap dress. I haven't purchased or worn a wrap dress in forever and in fact, don't even own one. But I am definitely keeping this one to add to my wardrobe. I put together 3 different wrap dress outfits and all I did was switch up the shoes. I wanted to show you how versatile this dress is and how it can be worn with different shoe styles.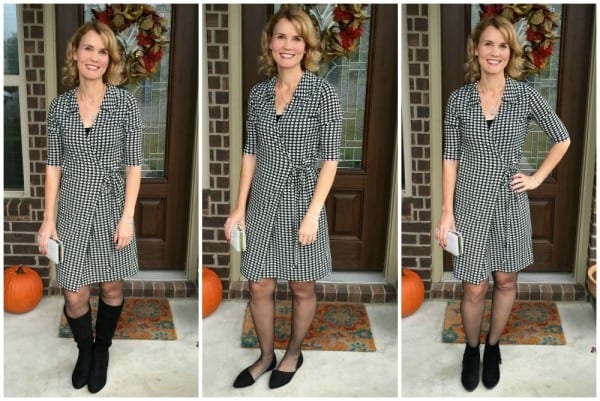 Before I get into the outfit details, let me explain what LeTote is for those of you who are unfamiliar with it. It's a subscription apparel and accessory service that allows you to basically rent new to you clothes each month. You receive 3 apparel items and 2 accessories. You fill out a style survey and either let the LeTote stylist choose for you, or you can customize it yourself.  Because I usually know what I want for the coming month, I've been customizing my totes. It's such a fun service and it helps me expand my wardrobe every month. I can choose to send back all of the items, keep what I like and pay a fraction of retail or purchase the entire box. It's up to you!
Wrap Dress Outfit Ideas
For outfit number one, I wore my new tall black wedge boots that I styled here, two ways. As I've said, these have become my favorite footwear I can dress up or down. They're from Chinese Laundry and can be purchased at Rack Room Shoes.
Next, I styled the dress with my new fringe booties from Burlington. I purchased these while on the hunt for some boho styles and snatched these up as soon as I saw them. I've worn them with jeans, a skirt and now…a dress!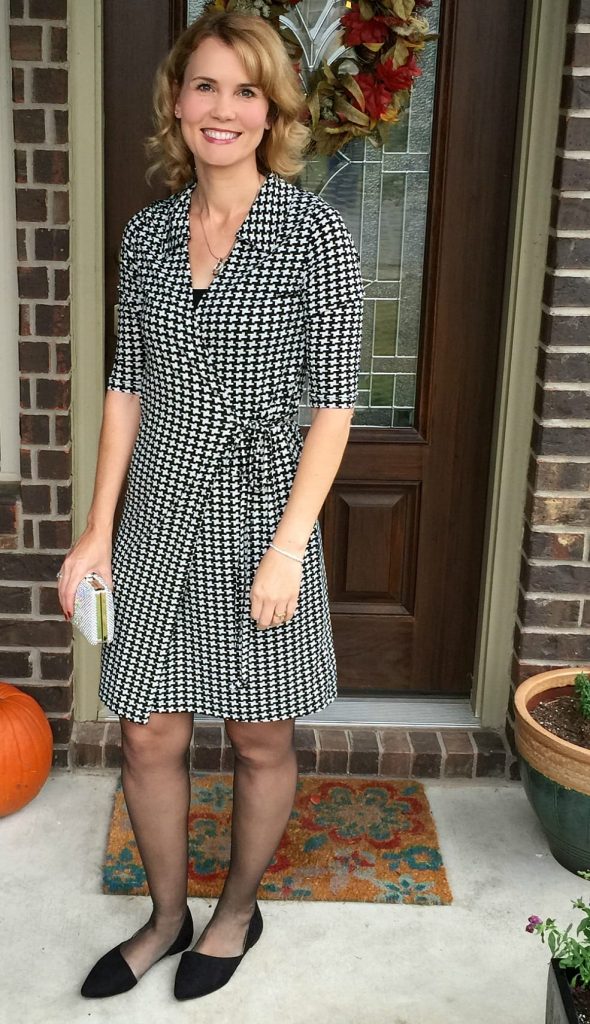 Lastly, I styled the wrap dress with these pointy toe flats, also from Rack Room Shoes. You can see another outfit featuring these shoes here. They are the same brand as my wedge boots, Chinese Laundry.
As you can see in all three pictures I'm wearing L'eggs hose. I've really enjoyed wearing hose lately and like the way they make my legs look. When I'm wearing a dress with black and black shoes, I like the way it helps my outfit flow, without breaking it up with my winter white legs. 😉
I've only been able to find this AVA Easton Wrap Dress on LeTote. It's a faux style wrap dress with the classic houndstooth print and is made from 90% Polyester and 10% Elastane. It's incredibly comfortable and flattering. I had to wear a tank underneath so I didn't flash everyone. but you could possibly pin the top together.
Have you tried LeTote? If not and you would like to add new items to your wardrobe every month, basically renting them – I highly recommend this service. I hope you like these wrap dress outfits!
I linked up with: