Welcome to Day 16 of 31 Days of Fashion – Tips, Tricks & Outfit Ideas
I love it when I find a boot that is comfortable, affordable and I can dress up or down. I partnered with Rack Room Shoes this fall to share with you some fall fashion and shoe trends. Earlier this week, it was all about the versatile pointy toe flat. Today it's all about the versatile tall wedge boot!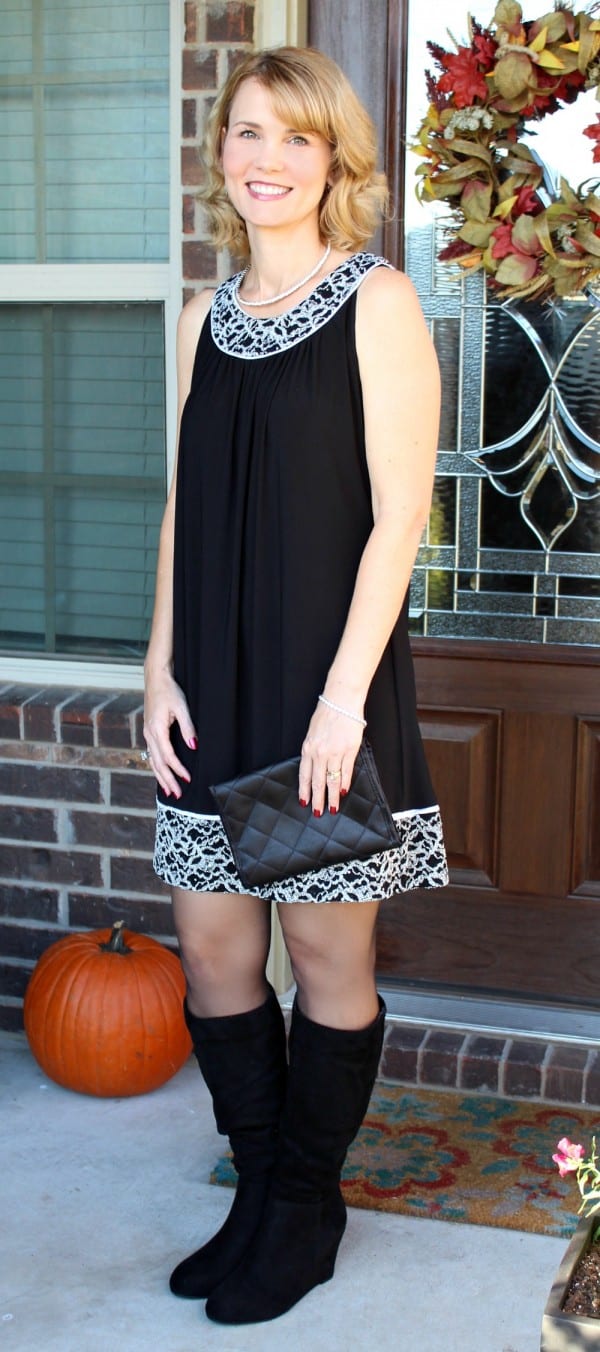 I decided to style these Chinese Laundry Unique Place wedge boots both with a dressy outfit and a more casual one. I wanted to show you how versatile they are and how they'll make the perfect addition to your fall wardrobe.
The Versatile Tall Wedge Boot
First, I styled the boots with a dress I picked up at a thrift store years ago. Since I cleaned out my closet, I've discovered pieces I forgot I had. I'm embarrassed to say I've never worn this dress! My husband loved this outfit and said "wow!" when I walked down the stairs. That's one clue for me when I know I have a great outfit. I think someone needs to take this gal out to a fancy dinner. 😉
As I mentioned, I picked up this dress at a thrift store, but tried to find some similar for you to look at below. The dress is from R&M Richards, a brand you can find at department stores. At first I put the boots on with no tights and it just didn't look right. It needed a better flow from the dress to the boots, so I put on a pair of L'eggs sheer energy tights. I really like how the look turned out.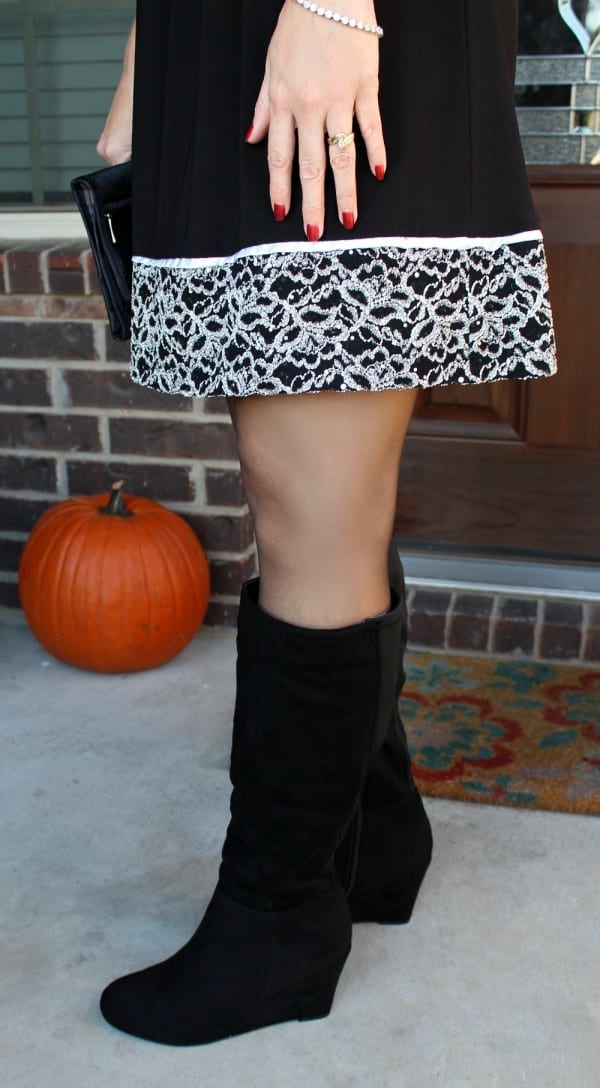 Here are some similar dresses…
Not only are these Chinese Laundry boots perfect for a dress, they are great with jeans!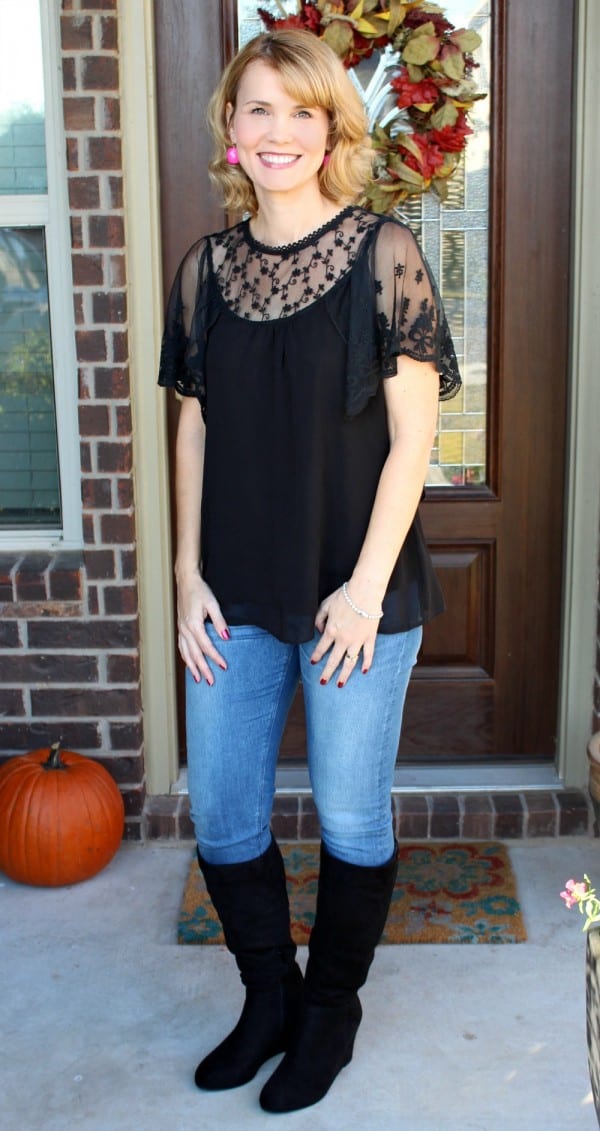 I paired the boots with a shirt I picked up at a boutique in Salado, Texas – a quaint little shopping town; and my favorite Isaac Mizrahi denim I recently received and named as one of my five key pieces for fall. I added a pop of color with some hot pink earrings and have an outfit I love that's perfect for a casual Friday date night. I'm actually wearing this outfit this weekend to my daughter's boyfriend's play. He's one of the leads in Leading Ladies. So proud of that guy!
If you've never tried a tall wedge boot or a wedged heel on any shoe for that matter, I would highly recommend trying them. While I like the look of heeled boots, I can't express enough how comfortable these wedge boots are. I feel like I get the same dressy aspect (and of course height) of the heel, but with more comfort.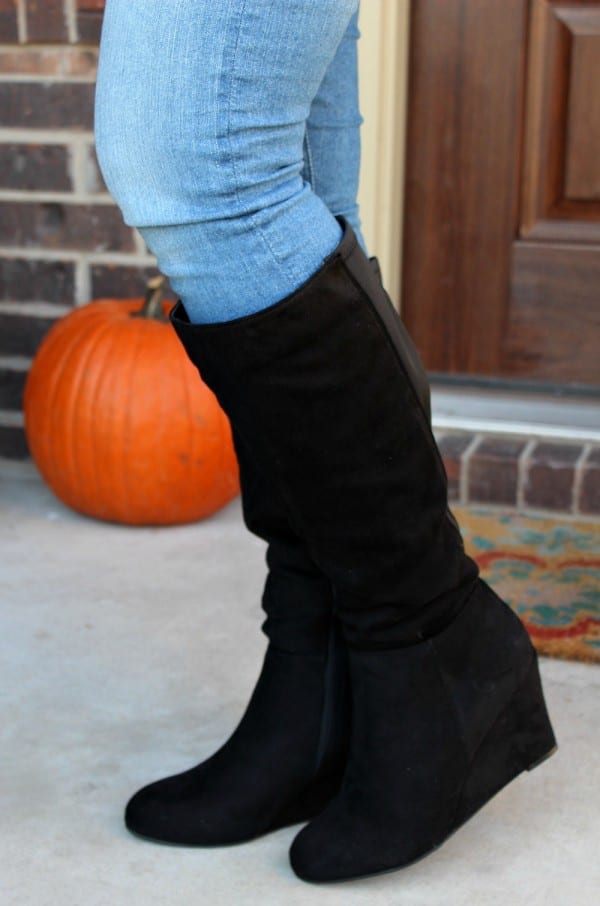 When Alyson Stanley, who is the women's shoe buyer for Rack Room Shoes (what a fun job!), was asked how she identifies the top shoe trends for Rack Room Shoes, she said "Every year, the buying team travels to fashion shoes in Europe and New York to see the styles the designers are showing each season. We also attend different shoe trade shows where all of the major shoe brands show their products. I visit designer showrooms to determine the mix of merchandise we will buy for each season. After I meet with the different designers and after the shows, I have the information I need to review the different trends and evaluate what I want to buy for our stores."
She also wants to make sure we have the selection in stores and online that we, as women, are looking for and seeing as trendy for the season. She says, "One important aspect of my job is to look at the trends and select styles that will resonate with the Rack Room Shoes customer. The Rack Room Shoes customer wants to be on-trend, but she also wants shoes that are practical and a good value."
Be sure to check out a Rack Room Shoes near you, or online. Plus, don't forget about their everyday "Buy One Get One 50% Off" promotion.
Disclosure: Mom Fabulous received samples to facilitate this post. All opinions are my own.