Since I took the day off yesterday for the 4th of July, I didn't post any Cute Outfit Ideas – so, here you go! Since I know how much all of you enjoy these, we'll do it on Friday instead.
Did you have a fun time putting together a July 4th outfit? I went simple with white shorts, a blue and white striped shirt and bright red toes and nails. Plus some white sandals with major bling!
Cute Outfit Ideas – Edition #6
There is no rhyme, reason or theme for this edition of cute outfit ideas. I found some outfits I love and wanted to share them with you. I think this first one is one of my favorites!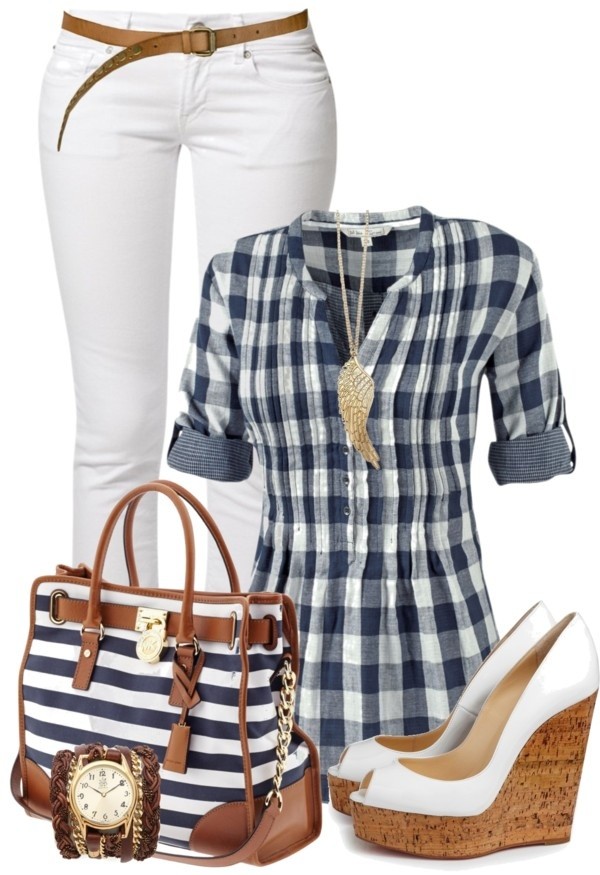 I love the nautical style to this outfit. And of course the fact that the bag is Michael Kors doesn't hurt.  What do you need to put this outfit together:
white jeans
blue and white top
white wedges or sandals
brown leather watch
blue and white striped bag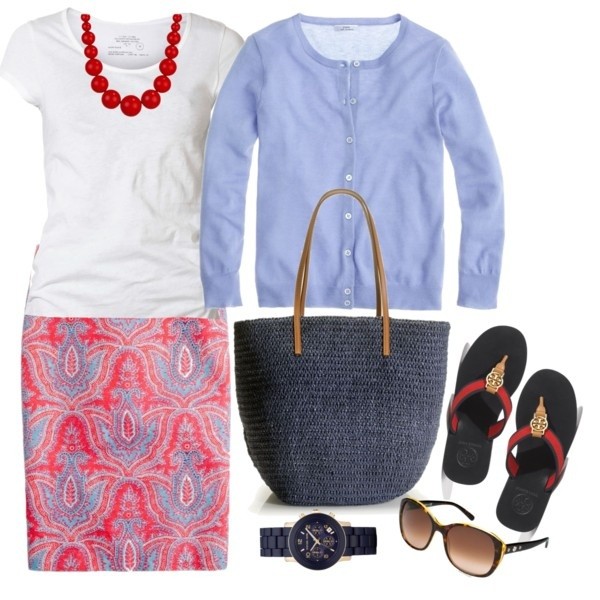 The pattern on this skirt and that red necklace caught my attention. I don't own many pencil skirts, but after seeing many outfits featuring them, I think I might just need to add one or two to my summer wardrobe. I even saw one blogger put together a pencil skirt with white Keds. Um…CUTE. To put this outfit together you need:
colorful pencil skirt
white t-shirt
cardigan in a complimenting color
flip flops
a straw tote
an awesome pair of shades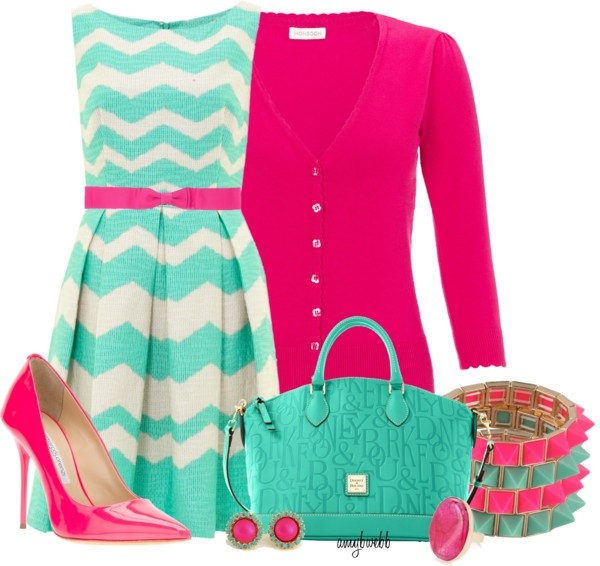 I honestly don't know where I would wear this or if I would wear this, but it caught my eye none-the-less. I picture a modern day Betty Boop wearing this outfit. If she was to dress for 2013, should would definitely wear a chevron print dress in mint with pink everywhere. Don't you think? To put this outfit together you need:
chevron print dress
ribbon belt
Cardigan in a complimenting color
heels
a killer purse
matching jewelry
some major attitude!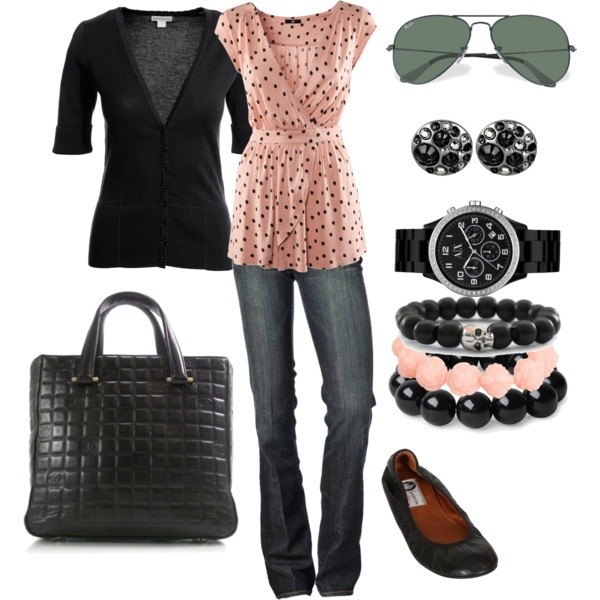 This screams 'Let's go shopping!!' to me. It's the perfect outfit for a Friday evening or Saturday out and about. It's comfortable and very stylish. I really like the polka dots on the top and the stacked bracelets. To put this outfit together you need:
a cute polka dotted top
jeans
flats
a tote
watch
sunglasses
coordinating jewelry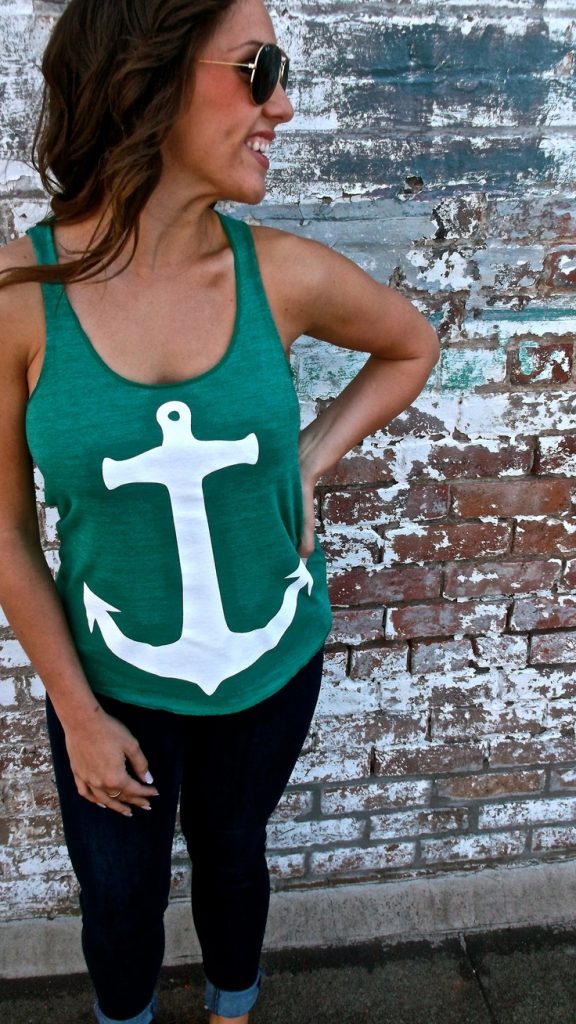 I have two words for you: anchor tank. Oh my goodness someone give me this stat! I love it, love it, love it. And those aviators are a must. To put this outfit together you need:
a tank with an anchor!
skinny jeans
aviators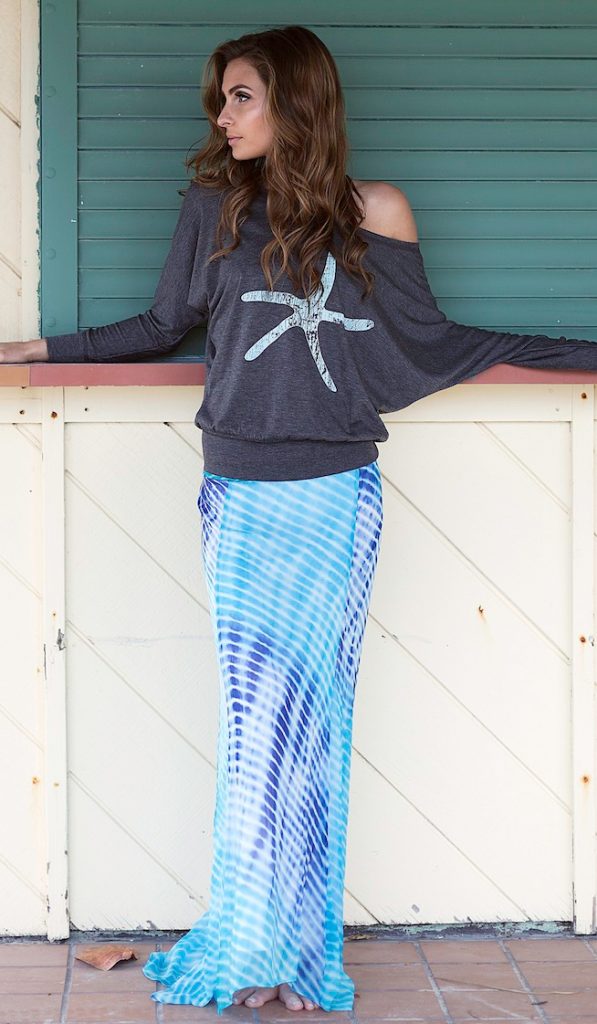 Now this outfit has 'take me on a date at the beach please' written all over it. The off the shoulder shirt with a star fish is absolutely lovely. Pair it with a comfortable  maxi skirt and you are good to go. To put this outfit together you need:
off the shoulder shirt
maxi skirt
bare feet a must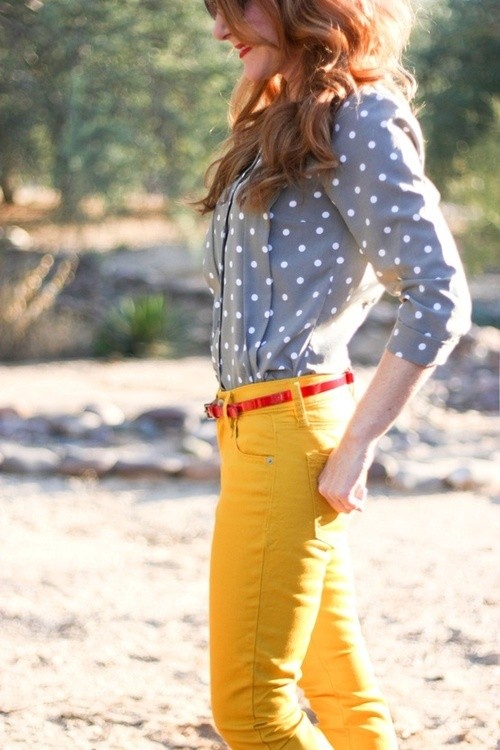 Lastly, I want to encourage you to think outside the blue jean. Imagine yourself in a pair of yellow skinny jeans. Wait, don't picture yourself because then you might freak out. Just put on those yellow skinnies and go for it! You could pair any color skinny jean with a polka dotted shirt. Don't forget the skinny belt! And notice how she did red? Love it. To put this outfit together you need:
a bright pair of skinny jeans
polka dotted shirt
skinny belt
—
Which of these cute outfit ideas were your favorite?  I'm still freaking out over the Michael Kors bag, anchor tank and starfish off the shoulder shirt!
 Looking for more Cute Outfit Ideas?
Be sure to follow my Spring & Summer Fashion Board on Pinterest for some style inspiration!