It's time for another Cute Outfit Ideas of the Week! The fourth of July is coming up this Friday. Do you have your plans set, as well as what you're going to wear?
I'll be spending it in Port Aransas, Texas, so my outfit will consist of this bathing suit (which is blue and perfect for the fourth) and a cute cover up. If we go out to dinner that night, I'll wear a cute dress. I'm loving this ROMWE Print red and white dress and am wishing I had ordered it for the trip!
I recently asked the question 'what would Mom Fabulous readers like to hear more about on here?', and one person responded with 'how to dress festive for July 4th without going over board?' Great question!
Here are my cute outfit ideas for July 4th. One tip that will make your outfit stand out – add a pop of yellow! Yes, I know it's not red, white or blue – but you will still look festive, put together and stunning. Yellow will help pull the outfit together. I promise. 😉
Cute Outfit Ideas for July 4th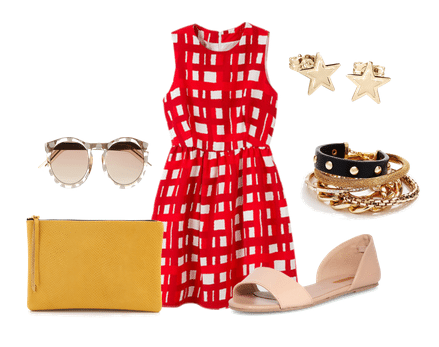 Outfit details: ROMWE dress || Dorothy Perkins Nude Sandal || Oliveve Queenie Clutch || Adina by Adina Star Earrings || Le Specs Sunglasses || GUESS Bracelet
Here's that pop of yellow I was talking about! See how it works and really pulls the outfit together? This is also the ROMWE dress I mentioned. It's only $29.99 and so gorgeous! Start with the red dress and add little touches of July 4th such as the star earrings. If you want to add in blue, switch out the nude Dorothy Perkins sandals for a pair of navy sandals such as these Everlane Slingback.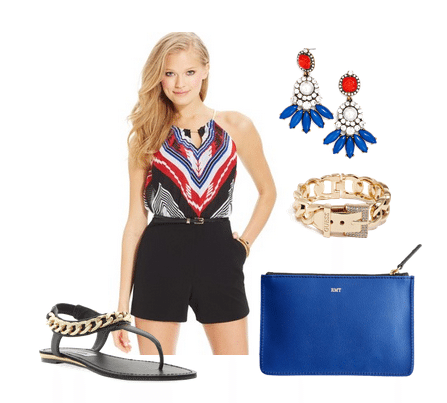 Outfit details: Macy's Romper || Steve Madden Sandals || Mark and Graham Clutch || Bauble Bar Earrings || GUESS Chain Cuff
As you know, I love rompers. I honestly never thought I would say that until this little Peter Som number came into my life and then I was hooked! I wear it any chance I can and have since added another romper to my wardrobe. They are my go-to choice when I either don't have time or the energy to think about what to wear. I do know rompers are not for everyone, but you could easily recreate the look above with a pair or black shorts and cute top.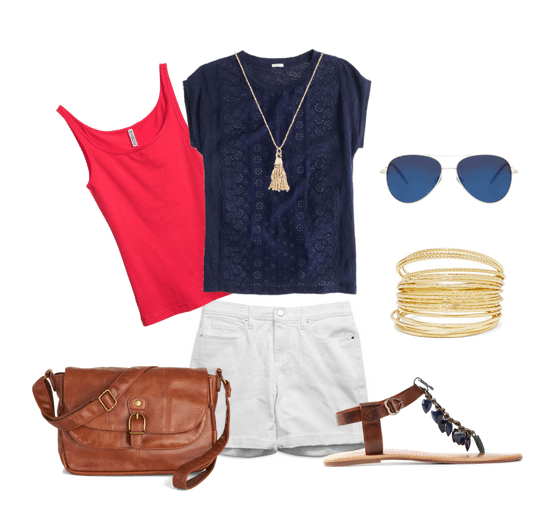 Outfit details: J Crew Eyelet Tee || DKNY Boyfriend Shorts || H&M Red tank (similar) || IOANNIS Flat Sandal || ModCloth Bag || Nasty Gal Bangle Set || Tassel Charm Necklace (similar one from LOFT) || ASOS Aviators
This Eyelet top from J. Crew is slightly see through, which makes it perfect to add a touch of red underneath. This casual outfit would be perfect for a backyard BBQ with friends or family, a parade in your town where you know you'll be gone most of the day or a night out under the fireworks. I've really been embracing white shorts this season and have loved how versatile they are. They are one of my summer essentials after all!
—
Which cute outfit idea for July 4th is your favorite? How will you be spending your July 4th holiday? Here's to a fun, festive and safe holiday for everyone!