It's time for another Cute Outfit Ideas of the Week! Welcome to edition #25 featuring Shirts with Sayings. Because sometimes, you just need to say it with your shirt.
There are days that call for jeans and a t-shirt. Or a t-shirt, a cute skirt and sneakers. I'm not much of a t-shirt kind of gal, but if that t-shirt says something quirky, or sassy or just downright hilarious and it's put together with a great outfit, I'll don that t-shirt proudly.
There are some fantastic t-shirts out there that have great sayings. Sayings that people will stop you in the street for to read your shirt. Sayings that people will laugh at as you walk by. (P.S. they're laughing with you, not at you.)
Here are a couple of cute outfit ideas featuring shirts with sayings for your enjoyment.
Cute Outfit Ideas of the Week #25
World's Okayest Sister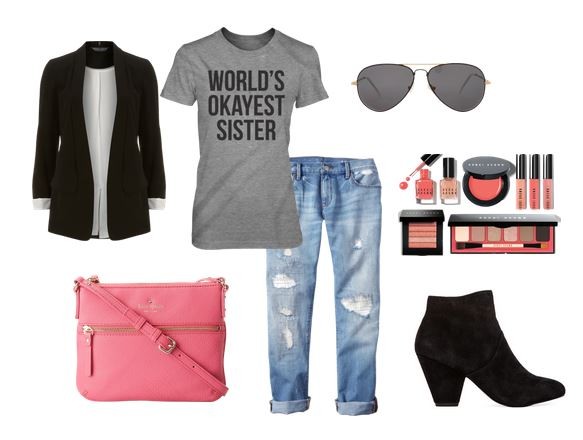 Shop these items: World's Okayest Sister | Dolce Vita Gila Bootie | Dorothy Perkins Boyfriend Blazer | Gap Boyfriend Jeans | Kate Spade Bag | Aviator Sunglasses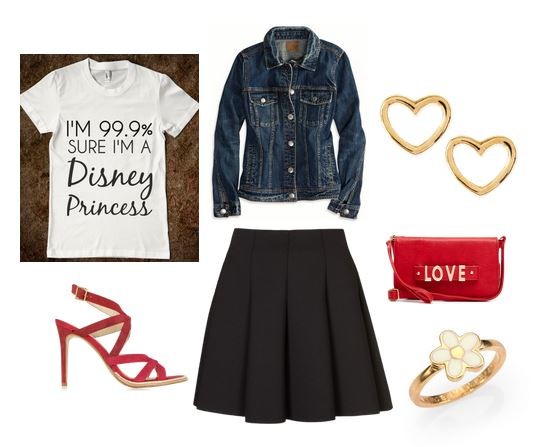 Shop these items: Disney Princess Shirt | AE Boyfriend Jean Jacket (similar) | TOPSHOP Black Scuba Flippy Skirt | See by Chloé Gradient Red Suede High Heel Sandal | Love Clutch (similar)
—
You could easily swap out any shirt with a saying that you wanted for either of these outfits and just about make it work. Do you have a favorite shirt that says exactly what you feel? Would you dare wear one? Let me know! 😉