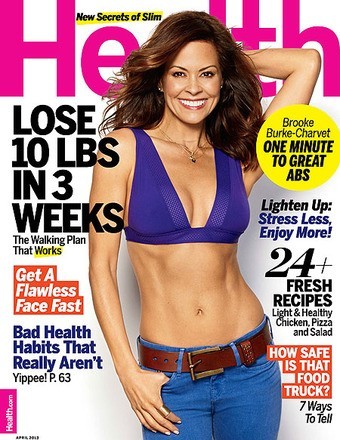 Brooke Burke-Charvet looks amazing in the April 2013 issue of Health magazine, and from the sound of it, she feels amazing too.
Read on about how beating cancer renewed her commitment to living the good life, on her relationship with her husband and aging gracefully.
Pick up your copy of this issue on newsstands April 15th.
Brooke Burke In Health Magazine
On aging gracefully…
"The 40s are a reality check…I would like to slow down my aging process, but I don't want to look like a pumpkin, all swollen!…You have to embrace Mother Nature a little. I'm a woman. I'm a wife. I'm a mother of four. I don't want to look like a 25-year-old anymore. I want to be my best healthy self."
On her favorite Dancing With the Stars contestant…
"I try to remain neutral, but I get emotionally connected to a few contestants. Rob Kardashian was one. When he started he had no confidence, then he learned to dance and became this stud."
On getting a second opinion after her cancer diagnosis…
"I got a second and a third opinion. I want to say this delicately, but doctors are human beings. In the end, I had 10 biopsies."
On prioritizing her relationship with husband David Charvet…
"In our house, with four kids, it's tough to remember we're a couple, not just people's parents! We try to have a regular date night, but sometimes it doesn't happen, so we make sure we connect every week."
On her new shopping rule…
"As a rule, I don't buy much black anymore. I want bright, happy colors. They just feel good."
Read more with Brooke below:
Brooke's Healthy Living Secrets