April's issue of Health magazine is on newsstands now and it features the gorgeous, talented and very busy wife and mom of four Brooke Burke-Charvet. Inside she chats about balancing a family and career, her secrets to a happy marriage, overcoming cancer, crazy fad diets and more.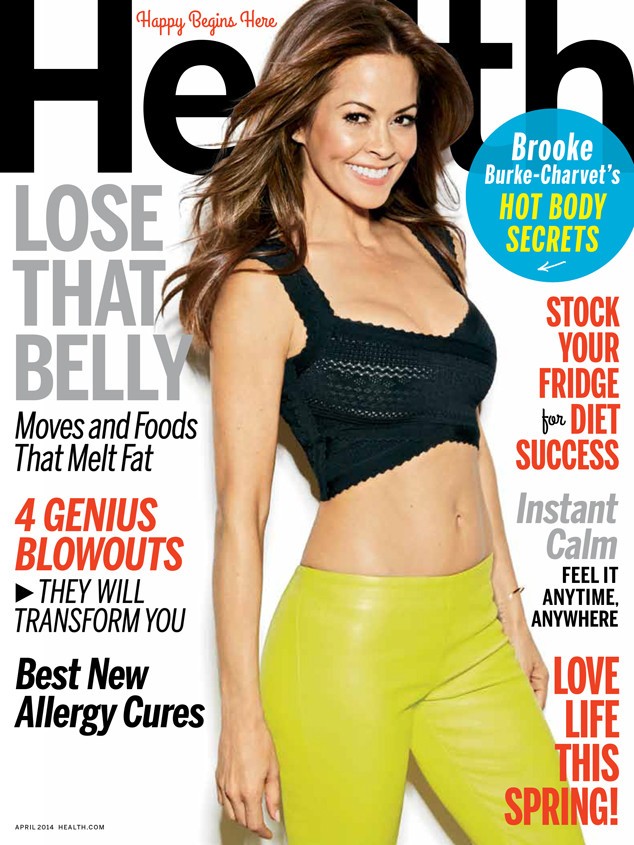 On how her cancer diagnoses changed her perspective on life…
"I didn't get cancer and then survive it and then live differently. I have always lived my life to the fullest. Last year was an extremely difficult year for me. Two people who were close to me passed away, tragically and young…Sometimes s—t happens in your life, and it's not about what's happening. It's about how you deal with it, how you survive it, how you overcome it."
On how she balances family and career…
"My life is very chaotic. I have four children and several different careers, but I really know how to turn it all off. I know how to shut my phone down for family time. I can take a little time to myself to watch a sunset or have a cup of green tea and read a magazine."
On crazy fad diets…
"I did a lot of them. I used to weigh my food. I used to measure my food. I used to work way too hard at eating and spend way too much time at the gym."
On her guilty pleasures…
"Pizza, bagels, carbs. When I crave it, I have it. You can't sacrifice all the time; there has to be joy. I'll eat as much as I want and then get back on the program."
On what inspired her to design her new fitness-wear line Caelum…
"Women need to feel good when they're working out. A lot of performance fabrics are so contouring that they cut you in the wrong places. Caelum – it means chisel in Latin – flatters different body types. For instance, we did a three-way waistline on our pants so you can wear them high, low or folded over."
On keeping her marriage exciting…
"We believe in romance. We hold hands. We cook together. We still make out. We're both very fiery, passionate people, so when we fight, it's like the Fourth of July!"
For the full interview, please visit Health.com.
—
How do you balance family and career? Or family and your tech time? Are you good at "shutting down" completely? That's a tough one. That's something I've been trying to be more aware of lately and get back to enjoying those sunsets or that cup of tea. Also, when my children are talking to me, I try to put the phone down or turn away from the computer and really look at them. I hate that this has all become so hard and something I have to work at, don't you?
Photo courtesy of Health Magazine