Note: This is a book review I did quite awhile ago for another company and wanted to re-post it here on my new blog.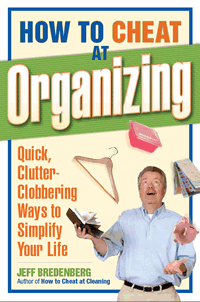 I am reading a great book right now called How to Cheat at Organizing: Quick, Clutter-Clobbering Ways to Simplify Your Life
. I love the cover of the book with Jeff Brendenberg juggling stuff (at least I am assuming that's him). I feel like that's all I do sometimes is juggle. I juggle our schedule, toys, my to-do list and on and on.
The whole basic concept of the book is "Let's Organize Just Enough". Instead of trying to achieve perfection like you see in the magazines, why not organize just enough to where it works for you?
Here's an excerpt from the back of the book:
"Can you really "cheat" at organizing? Of course! How to Cheat at Organizing is about creating enough order for you to be happy in your life – by taking shortcuts every chance you get. With his trademark wit and straightforward advice, Jeff Brendenberg explains exactly how you can de-clutter everything, from closets to finances to cooking, based upon five core concepts:
Keep it simple.
Embrace technology.
Manage the inns and outs.
Declutter with the S4 technique
Get help."
Striving for perfection is something I have always struggled with. I'll admit it, I do wish my house could look like a magazine picture, but the reality of it all is that I live in a family of five. We are very busy and are constantly coming and going. If I wanted perfection, I would be doing a lot of yelling and nagging. And that's no fun and no way to live.
There is a way to have a house that is organized "just enough" to where you can be satisfied with it. I am learning this slowly but surely.
If you would like to learn some shortcuts on organizing, I highly recommend this book. It is chock full of some great organizing ideas for today's busy people. Thanks to Jeff, I am learning how to let go of some of my ideas on what an organized space looks and feels like. Order your copy here.