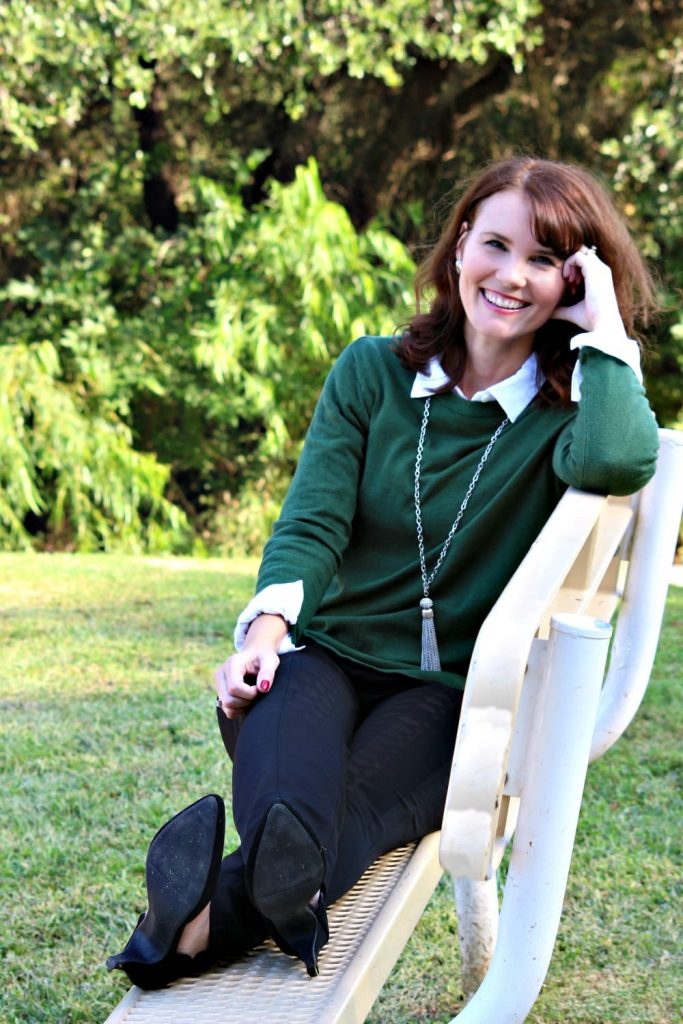 Since I know a lot of you are on a quest to keep your wardrobes simple and your closet filled with pieces that can work together, my goal is to show you several different ways to style your staple pieces this fall and winter. One of those staple pieces is black pants. In particular, today I'm sharing three black pants outfits for work, which all started with the same pants and the same pair of heels.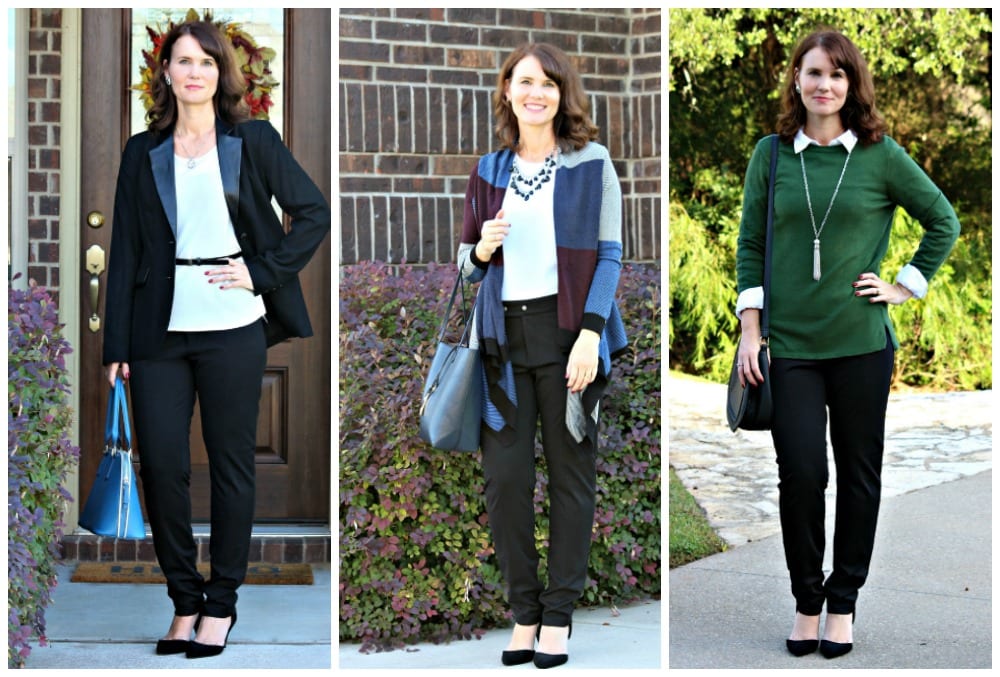 My pants are the Techno pant from Foxcroft. I like the stretch the fabric has and how easy they are to take care of. You can machine wash them, as well as tumble dry on low. Because I have a small waist and bigger thighs and rear end, the waist in these is a tad bit big, so I'll have to have them altered. I also have short legs, so they fit a little looser than shown on their website.
My heels are from last season and have become one of my favorite pairs of dress shoes. I picked them up from Burlington last year when I was working with them on a holiday campaign. Unfortunately, I can't find the exact ones, but found similar ones reasonably priced here and here.
Alright, now on to the details about each outfit.
Outfit #1 – Green Sweater + White Long Sleeve Shirt
Outfit details: Green Sweater | White Button Up Shirt | Black Pants | Tassel Necklace (similar) | Heels (similar here and here)
One of my favorite ways to layer when the weather gets cold is a sweater over a long sleeve shirt. It's a classic look that can be dressed up or down and it's perfect for the office. One thing that has always bothered me about layering, is when the shirt bunches up a bit and makes me look a little frumpy. So, I started wearing a form fitting cami over my button-up shirt and under the sweater. No frump, no button lines showing and it gives my outfit a nice smooth look.
The button up shirt I'm wearing is linen, which means it needs to be ironed after every wash and wear. If you're like me and don't always have the time to iron (or the desire), a simple trick when wearing a collared shirt under something is to just iron the collar and cuffs…but not with an iron. I use my straightening iron and it works marvelously.
Outfit #2 – Black Blazer + White Shirt Belted
Outfit details: Black Blazer | White Blouse | Belt (similar) | Black Pants | Heels (similar here and here)
I have a feeling this black wool blazer I styled last week is going to see a lot of wear. One of my favorite workwear outfits is going classic and simple with black and white. If you are going to go this route, it's good to wear something with a pop of color, like a necklace, shoes, belt or a handbag. I originally had this outfit on with a pair of teal heels, but it felt like a little too much. I do think a pair of animal print, red or blue heels would look really great with this outfit – I just don't own any of those!
One of my favorite looks with a blazer is wearing a skinny belt over my blouse. It adds both definition to my waist and a fun element to the outfit.
Outfit #3 – Cardigan + White Blouse
Outfit details: Colorblock Cardigan | White Blouse | Black Pants | Heels (similar here and here)
This Colorblock Open Cardigan from Foxcroft has become one of my favorite fall pieces. Between the colors, the draped style and how it overalls feels on me, I just love it. You can see how it looks styled with jeans and black ankle boots here.
I'm wearing the same white blouse as in the second outfit, but I took off the belt, tucked my shirt in and added a statement necklace. These black pants have a nice snap feature in the front that'll make you want to tuck your shirt in.
So there you have it, three outfit ideas for work. Which is your favorite? Let me know!