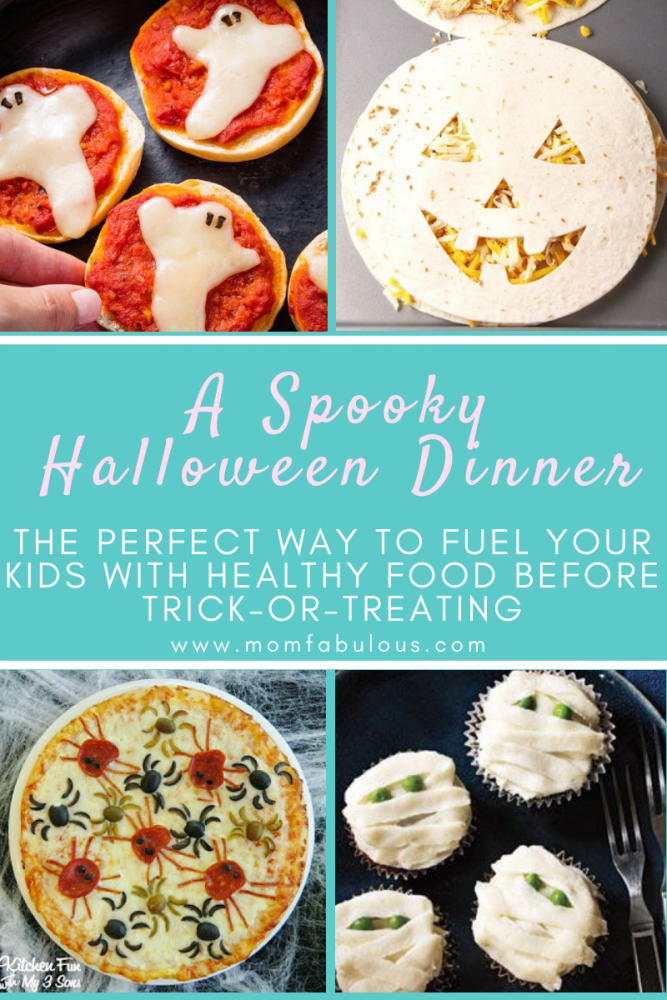 Alas, it's the afternoon of Halloween. No matter how old your children are, they have a one-track mind surrounding trick-or-treating. 
When can I put my costume on?
Where is my bucket for candy?
When will the sun go down?
How many pieces of candy can I eat tonight?
Can we start at that house that gives out giant candy bars?
Is it time to go yet?
Start a new tradition this year of a spooky Halloween dinner! It has multiple purposes:
Your kids will actually eat dinner before trick-or-treating. Thus, their belly will be semi-full and they won't immediately ask to eat candy.

It's something for your children to look forward to (especially if you only tell them you'll be eating "spooky, creepy, slimy Halloween food!").

Halloween dinner will be a time marker. "First we need to eat Halloween dinner. Then you can put on your costume."

Mom Fabulous Hint

: Strategically time your dinner so it's just approaching dark as you finish eating.

Another Mom Fabulous Hint

: Resign to save the dishes for later that night…your kids will take the time to eat dinner, but it's unlikely they will wait for you to clean up before helping them get dressed.

You can begin a new family tradition of joyful holiday memories!
Plan the menu
The point of this Halloween meal is to have fun with your kids and to fuel their little bodies for the intense rounds of walking to and from houses, ringing countless doorbells, and lugging around a rather heavy sack of candy. 
While planning your menu, make sure to prepare food that your kids will eat. Our menu options include all of the kid favorites: spaghetti, pizza, quesadillas, and mac and cheese.
Black Spaghetti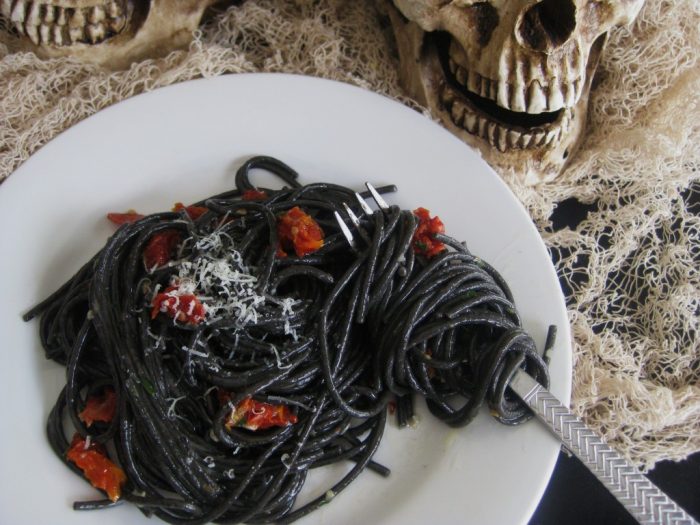 Ewww, noodles aren't supposed to be black! But they are on Halloween!
Black Spaghetti is easy to make – perfect for Halloween dinner. Simply purchase black pasta from the store and boil as usual. It's naturally dyed with squid ink, and a common dish in southern Italy. 
Top it with your kid's favorite sauce, like alfredo, tomato sauce, or pesto. Lay a few meatballs on top as eyeballs. On each meatball, place a round dot of mozzarella cheese for the eyeball and a round dot of olive for the pupil.
Who knew a bowl of pasta could be so creepy?
Spider Pizza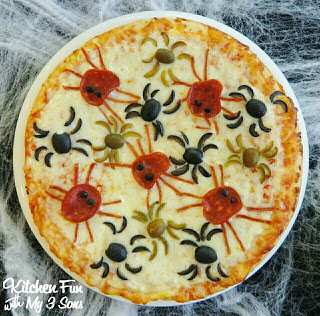 This dish is also easy and sure to be a crowd pleaser! 
Start with a cheese pizza. You can buy a frozen one or purchase one from a pizzeria. 
Place round olives or pepperoni slices across the pizza. These will be the body of the spiders, so leave room around them for the legs.
Slice olives, bell peppers, or pepperoni into tiny lines. Then, arrange 8 of them around the bodies in the shape of spider legs. 
Then, bake the frozen pizza according to its directions. For a hot pizza, place it in the oven for 2 minutes to melt the cheese around the spider bodies.
Spider Pizza is sure to make your kids smile and ask for seconds!
Mini Mummy Meatloaves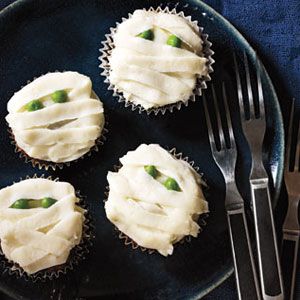 When the weather is cold, comfort food can warm the soul and the body. Thank goodness meatloaf is one of the best comfort foods!
Whip up a batch of homemade meatloaf for your Halloween dinner. "But wait, what's so spooky, creepy, or Halloween-y about meatloaf?" Great question!
First of all, these are going to be mini meatloaves served in cupcake liners.
Then, you're going to pipe the mashed potatoes over the meatloaf to look like a mummy. Pull out two peas or carrots, and place them in a slit as eyes. 
This veggie-loaded Mini Mummy Meatloaves will make your kids giggle and will fill up their tummies.
Jack-o-Lantern Quesadillas
One this I know to be true about most kids: they love quesadillas. The legit ones made in your local Mexican restaurant, and the mushy ones that you quickly prep in the microwave at home.
Hey, if you know your kid loves quesadillas, why not serve them for dinner on Halloween?
These Jack-o-Lantern Quesadillas couldn't be easier to cook. Simply chop out the face of a jack-o-lantern on one of the tortillas. Shapes and designs are limitless: square eyes or superstar eyes, triangle or moon-shaped noses, toothless grins or ones with a few crooked teeth. Your child will say, "I never knew that a jack-o-lantern tasted so good!" 
Want to go a step further? Add green hair using guacamole, or a white bow tie with sour cream.
Guacamole Eyeballs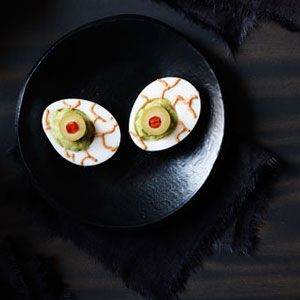 Speaking of guacamole, the green food is perfect for your spooky Halloween dinner. Make a batch of hard-boiled eggs. Remove the yolk and fill the hole with guacamole. Place an olive on top as the pupil.
Using ketchup or food coloring or taco seasoning, draw red lines on the white egg around the guacamole to make it look like a blood shot eye.
Guacamole Eyeballs look fantastic, but I understand you kid may not want to eat it. If that's the case, you can simply dollop spoonfuls of guacamole onto a platter and top with a piece of mozzarella cheese; it will still look like an eyeball, but your children will actually consume it.
Toxic Waste Mac and Cheese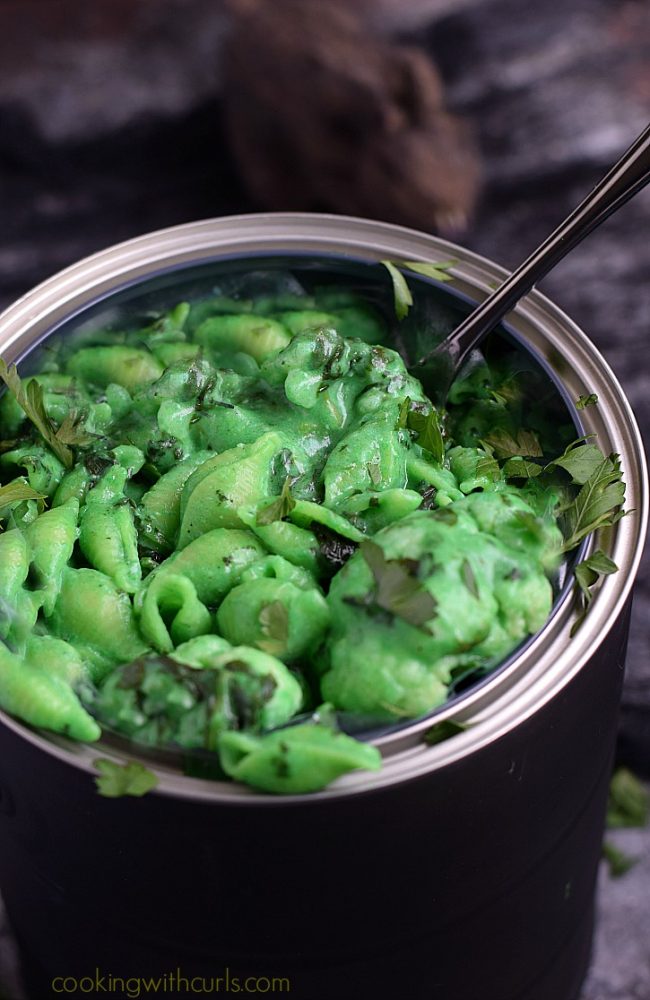 Much like pizza and quesadillas, kids love mac and cheese. Which is why this green-dyed Toxic Waste Mac and Cheese will be a hit at your Halloween table!
A few little drops of green food coloring go a long way to transform your pasta from white to green. 
For an extra dose of spooky, creepy Halloween food, hide a few gummy worms or crocodiles in your child's bowl. Yes, gummy candy probably doesn't taste good with mac and cheese, but those animals will complete the toxic waste feel!
Ghost Pizza Bagels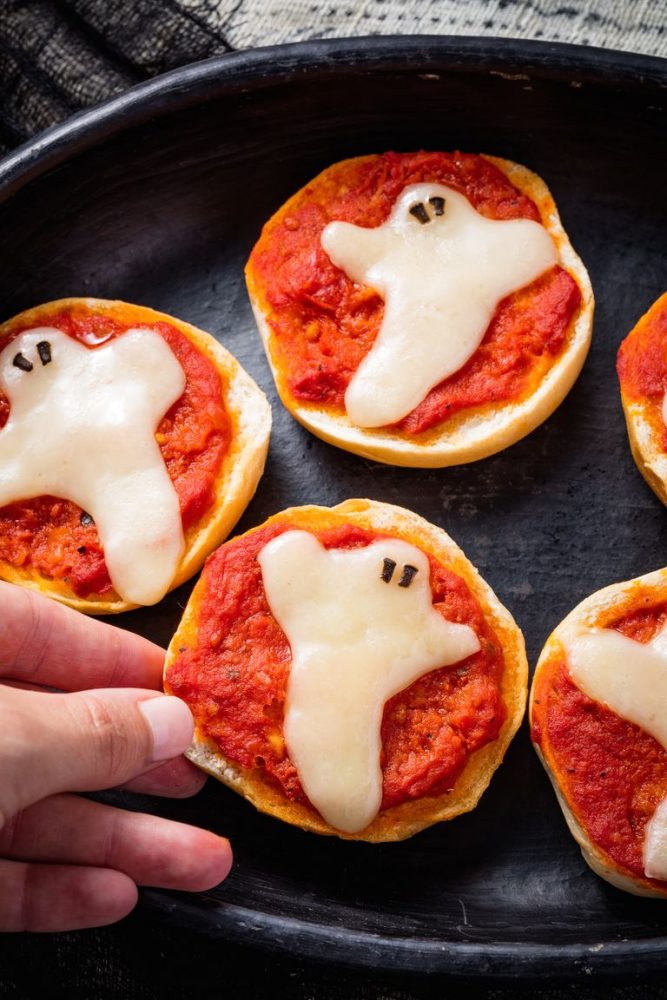 This last option is another form of pizza. Ghost Pizza Bagels are bagels smeared with tomato sauce and topped with mozzarella cheese in the shape of a ghost. Two black sprinkles are added for the eyes. And ta-da, you have a boo-tiful dinner that your children will enjoy!
Fuel your kids before trick-or-treating
Try cooking a spooky Halloween dinner to fuel your kids before trick-or-treating. What kind of fun foods do you cook to celebrate Halloween? 
You may also like to read: