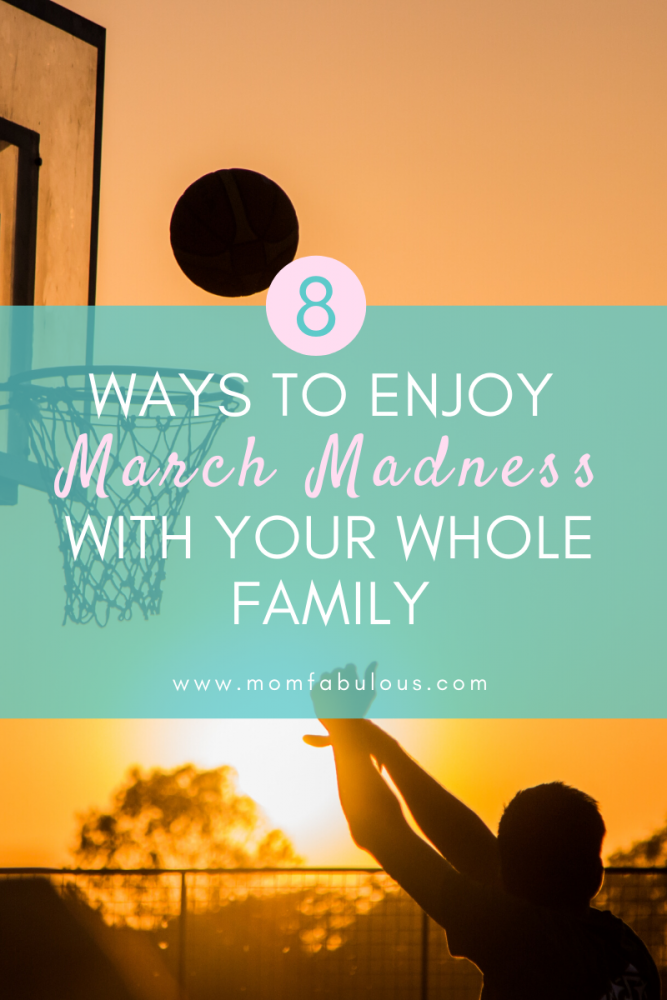 Whether you're a basketball fanatic or have never shot a basketball in your life, you can still incorporate the American tradition of March Madness into your family time. It's a great way to spend time together, talk about physical activity, learn geography, cook in the kitchen, read books, study history, and be active as a family. 
A brief overview of March Madness
In case you're unfamiliar with this all-American sport, here are the basics of March Madness.
March Madness is the NCAA Division I men's basketball tournament which has been hosted every year since 1939.

64 teams are selected. Each team is placed into one of 4 regions, and each region is ranked from 1 to 16 according to their skill level, which is called "seed." You will see these seed numbers denoted on the bracket.

Teams compete through 7 single-elimination rounds until there is a winner of the championship.

For more details, read

What Is March Madness: The NCAA Tournament Explained

 
1 – Learn how to play basketball.
Since March Madness is all about basketball, take the time to actually learn how to play basketball! Head to your local park for free access to a basketball hoop, and borrow a basketball from a neighbor. (Or use a kickball that you already have at home.) 
Teach your kiddos the traditional rules, and play a game like HORSE.
Want to be even more active with your family? Try one of these family workouts.
2 – Have every family member fill out a bracket.
Have each person fill out a bracket. Teach your kids about the seed numbers. Your toddler can pick between the team names or colors. Older children can pick based on the state or the mascot. After each game, highlight the winning team and cross out the losing team. Let the winner of your family bracket (or the person who makes it the farthest) pick a restaurant for dinner. 
3 – Make fan gear.
If your kids are sports fanatics, buy them a new shirt or hat for their favorite team. If you're new to basketball, spend an afternoon making homemade fan gear. Let your kids make a poster, foam finger, mini flag, pom poms, or shirt to represent who they are rooting for. 
4 – Watch the game with friends.
Host friends and family at your house to watch the games together. You'll get extra family time and you can model a healthy balance between relationships and television. Remember, your kids are always observing you!
5 – Bake basketball treats.
Speaking of having friends over, bake some basketball treats with your kids. Try decorating cookies, cupcakes, or rice crispy treats like basketballs. You can even decorate a round cake like a basketball or mini pretzel candies!
6 – Find each team's home state.
Print a map of the United States for a basketball geography lesson. Before a team plays, help your child locate each team's home state on the map. Talk about visitor attractions, climate, and fun activities available in each state. You could also have your child write the team name inside of their home state. By the end of the Sweet Sixteen, you'll see where each team is located across the country, and which states have more than one team.
7 – Host a book bracket.
March Madness uses a bracket method to determine the final winners. You can host a book bracket to pick your family's favorite books. First, select the top 16 most-read books in your home. Every night, read 2 books and pick a "winner." Create a bracket and continue your nightly book competitions until you have a winner! 
Inspired by this Tournament of Kids Books.
8 – Learn the team's history.
Every team in the bracket has a story. How was the team created? How long has that University been in existence? Who is their star player? Why do they have that particular coach? Read a biography or short history about the teams, their star player, or coaches. Want to learn more? Head to your local library and read about the history of basketball.
March Madness combined with family time
Who said that sports need to be all-consuming? Allow this year's March Madness to be a time when your entire family gathers around the television – not to be glued to the game, but to make it a family activity about geography, biographies, history, relationships, baking, and reading.
How do you celebrate March Madness? What other family ideas can you share with our readers?
You may also like to read: