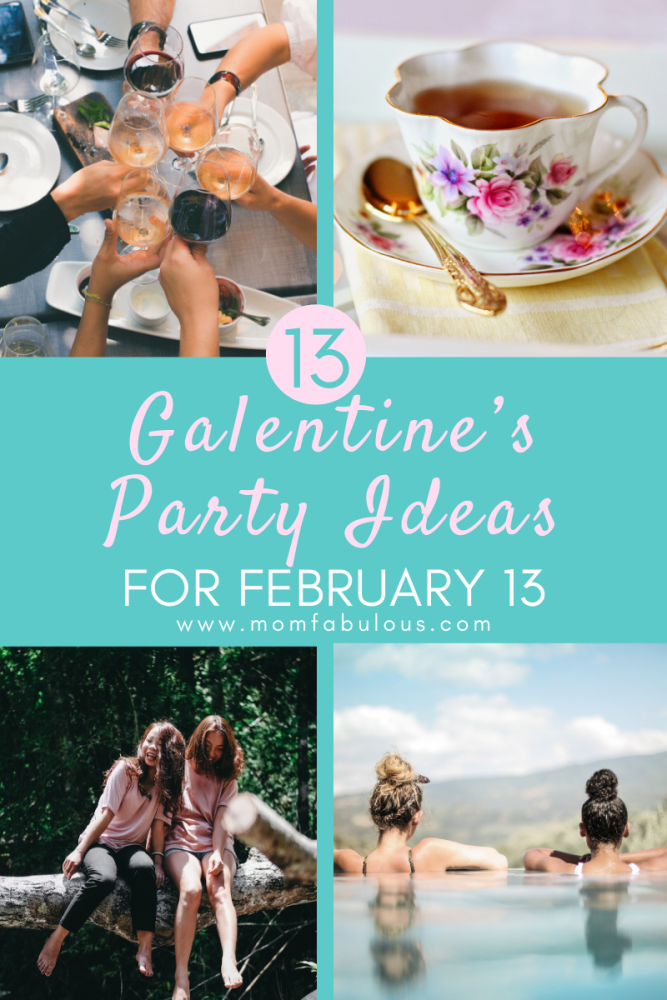 Galentine's Day first debuted as a fictional holiday for women to celebrate their female friendships in the popular comedy show "Parks and Rec." Although it was inaugurated in 2010 (season 2, episode 16), it took a few years for this fake holiday to become a real trend. Now it's officially a thing.
If you're new to this modern holiday, here's a few things you should know:
It occurs on Valentine's Day Eve, February 13.

It's only for girls. No boys allowed. 

It's a special day for you to connect with your lady friends, just like Valentine's Day is reserved for you and your special man.
If you haven't celebrated Galentine's Day before, you're missing out! Good thing 2020 is all about vision and clarity, because this is the perfect year to begin a new tradition.
To help jumpstart your Galentine's Day festivities, here are 13 Galentine's Party ideas! All you need to do is invite you lady friends along! Send them a text or create a digital invitation.
1 – Wine and Chocolate Party
What says girlfriend more than wine and chocolate? Host a Galentine's Wine and Chocolate party at your house. Every lady brings a bottle of her favorite wine and her favorite kind of chocolate. Get creative with the chocolate: bars, muffins, cake, ice cream, fondue, etc.
Not up for hosting everyone at your house. No worries. Visit a winery instead. You can still bring your chocolate treats along!
(As always, do not drink and drive! Plan to have someone pick you up or schedule a ride with Uber or Lyft. Better yet, plan a grown-up sleepover!)
2 – Tea Party with Cake
You're never too old for tea parties. Fancy dresses and petite cakes are encouraged too. Host at your house and bring out your fine china dishes. Bake cupcakes together, or have each lady bring her favorite sweet treat. 
If your friends are not fans of tea, find a tea room that offers tastings so you can try different varieties and introduce your friends to new flavors. 
3 – Clothing swap
Mama, would you like a new outfit? Tired of your "mom clothes?" Need something that actually fits? Combine your Galentine's Day celebration with new clothes. 
Have each friend bring a shirt, a dress, a pair of shorts/pants, and a pair of shoes. Lay out the clothes during the party so that every lady goes home with a new shirt, dress, a pair of bottoms, and a pair of shoes. 
Hint: worried that everyone isn't the same size? Ask friends if they have extras that they would be willing to donate. Most Mamas have a continual bag of clothes to donate! Or pick up a few pieces from your local thrift store that will fit everybody size.
4 – Dinner and Dancing
Galentine's Day is like a date night for girlfriends. Pick your favorite restaurant and make reservations for your group. Afterward, go dancing! Try a country music bar for line dancing, a jazz club for swing dancing, a studio for ballroom dancing, or a hopping club for pop music. 
If your friends are shy or you don't want to go clubbin', jam in the car as you drive around town, or have a dance party in your living room just like you do with your kids…except this is much cooler!
5 – Dessert and a Movie
Friends and sugar go together so well. Pick a place to meet for dessert. Try ice cream, cupcakes, pie, or cookies. Then head to the movies to see a classic chick flick. 
6 – S'mores and a Campfire
Outdoor enthusiasts will appreciate the laid-back atmosphere of a campfire in your backyard. Pick up the ingredients for s'mores (including candy bars in lieu of a plain ol' chocolate bar), grab a few chairs, and relax by the warmth of the fire. 
7 – Potluck Picnic at the Park
Life with little ones can be busy. And maybe your evenings are reserved for family activities. If that's the case, take advantage of an afternoon with your fellow Mamas. Have everyone bring a potluck item for a picnic in the park. Remind them that fancy food isn't a requirement. Rotisserie chicken, guacamole, hummus, and fruit are always tasty options!
8 – Fitness Adventures
Take things up a notch in your friendships by doing something adventurous together. Go bowling, ice skating, roller skating, or rock climbing. Play paintball or laser tag. Try out a high ropes course or go kart track. Take a hot yoga or belly dancing class.
9 – Escape Room
If you haven't done an escape room with your girlfriends yet, Galentine's Day is the best time to try it out! Being stuck in a room together for an hour will induce fits of laughter, plenty of screams, and memories to last a lifetime. Who knows, you may even start a new friendship tradition.
10 – Painting Class
If you're looking for a fun and practical idea for Galentine's Day, take a painting class with your creative girlfriends. Some places teach you how to design a picture on a canvas, write fancy words on wood, or paint pottery. 
11 – Spa Night
If you poll your friends and ask for Galentine's Day ideas, a spa night is sure to be on the list. If you have the budget, book a couple's massage, facial, or manicure/pedicure with your best friend. Or gather your girlfriends to your house for a massage circle, face masks, and mani/pedis. Have each of them bring their favorite face mask and nail polish. Don't forget how well mimosas pair with spa activities!
12 – Makeup Makeovers
Do you have that friend who loves makeup yet doesn't wear it often? Or how about that girlfriend who truly has an artistic gift when it comes to applying makeup? Invite her along for a makeup makeover night. You can do your makeup, style your hair, and put on fancy dresses like it's prom night all over again. Take group photos together, or make reservations at a nice restaurant.
13 – Favorite Things Party
This is a holiday reserved just for your favorite lady friends. Make it a time to share your favorites! Have each lady bring her favorite makeup product, piece of clothing, piece of jewelry, kitchen gadget, and any other fun categories you come up with. Take turns sharing your favorite stuff, and why.
If you really want Galentine's Day to be extra special, have each lady bring a duplicate of her favorite item. Place them all in a pile, and every lady gets to take home a new favorite item at the end of the night.
Get planning for Galentine's Day!
February 13 is not far away. Remind your girlfriends how much they are loved by planning an extra special Galentine's Day party!
Have you celebrated Galentine's Day before? What did you do with your girlfriends? We'd love to hear about your fun adventures and gain ideas for next year. Please leave a comment below about how you celebrated with your lady friends!
Recipes you and your gals will love: