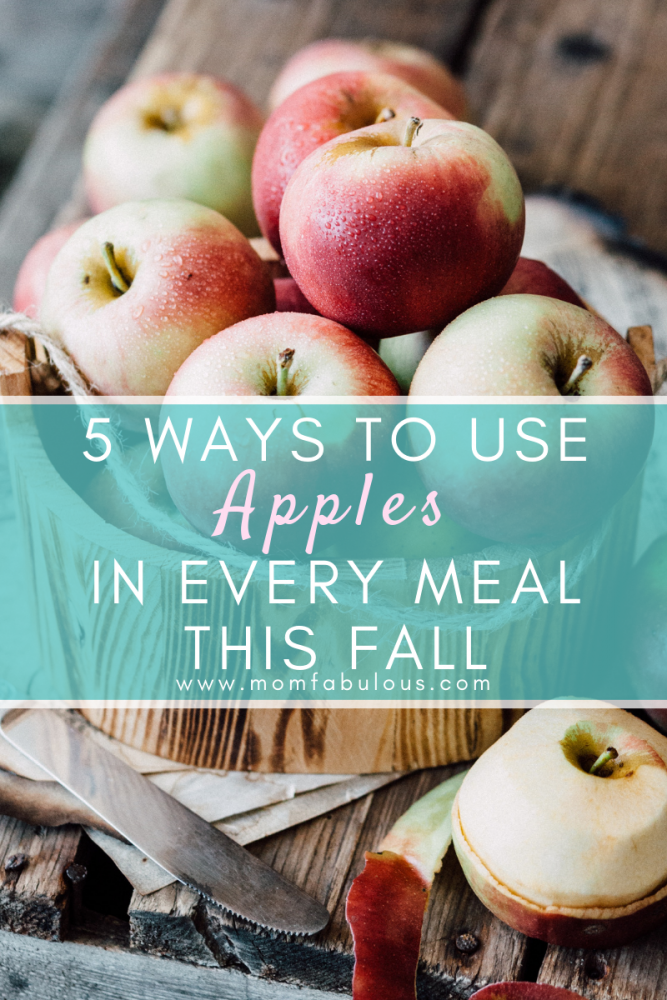 Does your family try to eat seasonally? Which means watermelon in the Summer and apples in the Fall? If your crew is ga-ga for fresh apples, take a trip to a local orchard to pick baskets full of apples. 
Wait, then what do you do with all of those apples? Make an apple day! Find ways to serve those fresh apples with breakfast, lunch, and dinner, plus an afternoon snack and evening dessert.
We've outlined an entire day of apple-rich meals and recipes so you can enjoy all of the goodness that Autumn apples provide!
Breakfast: Toast with Apple Butter 
The best way to start a Fall day is with a fresh smear of apple butter on a crunchy piece of toast. Don't forget about the cool breeze blowing through the open windows too! 
Why not purchase a bushel of apples and make a jumbo batch of homemade apple butter this Autumn. It's tasty all year round and makes excellent gifts. Plus, it douses your home with a heavenly aroma of apples!
Try the Pioneer Woman's easy recipe for Apple Butter
Ingredients:
3 lbs granny smith apples
¾ cups apple cider vinegar
½ tsp salt
1 cup water
1 cup brown sugar, packed
1 Tbsp cinnamon or apple/pumpkin pie spice
1 tsp vanilla 
Directions:
Peel, core, and dice the apples. Place them in a medium saucepan with the apple cider vinegar, salt, and water.

Simmer while covered over medium heat for 20–30 minutes, stirring occasionally. Turn off the stove when apples are tender and nearly all of the liquid has evaporated.

Puree the apples with an immersion blender or potato masher.

Turn the stove on to medium heat. Add the sugar, spices, and vanilla. Simmer until sauce thickens and darkens, about 15 minutes.

Cool, then store in a jar in the refrigerator for up to 3 weeks, or can for long-term storage. This recipe makes approximately 4 to 5 cups.
Lunch: Cinnamon Applesauce
Homemade applesauce may sound like an intense side dish to make for lunch, but it's actually quite simple. Plus, you can use any variety of apple that you have. Did you pick multiple varieties from the apple orchard? Try mixing different kind together for extra depth of flavor in your homemade applesauce!
Ingredients: Apples, cinnamon, water
Directions:
Wash, peel, core and dice your apples. Assume that one apple equals one serving of applesauce.

Fill a saucepan with ½ inch of water on the bottom and a teaspoon of cinnamon. Dump in your apples and simmer with the lid on for 15-20 minutes, until the apples are soft.

Mash the apples with a potato peeler, or blend with an immersion blender. 

Ta-da! Homemade cinnamon applesauce as a side dish with lunch.
Snack: Apple Muffins 
When the afternoon lull hits, snag an apple muffin. Muffins are an excellent snack because the whole grains fill up your tummy. And these particular muffins also offer a serving of fruit! Like most recipes, these are quick to make (and quick to be eaten)!
Try the 100 Days of Real Food Apple Walnut Muffin recipe.
Ingredients:
1½ cups whole-wheat flour
2 tsp cinnamon
1 tsp baking soda
½ tsp salt
¼ tsp baking powder
¼ tsp nutmeg
2 eggs
? cup maple syrup
? cup water
5 Tbsp butter, melted
1 cup apple, shredded
¾ cup walnuts, chopped
Directions:
Preheat the oven to 350F. Line a muffin tin with liners.

In a stand mixer, whisk together the flour, cinnamon, baking soda, salt, baking powder, and nutmeg. Drop the eggs, syrup, water, and melted butter into the center of the dry mixture. Stir with the paddle attachment until well combined.

Shred the apple with a cheese grater. You don't need to remove any excess liquid. Gently fold the apple shreds and chopped walnuts into the batter.

Spoon into the muffin cups, until each are ? full. Bake for 18-20 minutes. 
Dinner: Sweet Potatoes with Apples
Finally, dinner time is here! You're going to love this side dish – also known as "Fall in a side dish!" The flavors of Autumn are so outstanding that this dish only require four ingredients. Caution: Your home will smell like Fall, and your family will gobble this up like a turkey.
Ingredients: 
3 medium sweet potatoes
6 apples
3 Tbsp melted butter
1 tsp cinnamon
Directions:
Preheat oven to 375F. Line a baking sheet with foil or a silicone liner.

Peel and dice the sweet potatoes and apples. Hint: Dice the apples larger and the sweet potatoes smaller to even out the cooking time.

Toss the sweet potatoes and apples in the melted butter. Sprinkle with cinnamon.

Bake at 375F for 30 minutes, or until the sweet potatoes are fork tender.
Dessert: Apple Crisp
What Fall day is complete without a tasty dessert? End this apple-centered day with a yummy pan of apple crisp. The key is the use at least 2 different kinds of apples. Include at least one granny smith and one extra sweet variety, like jazz or honeycrisp. The more types of apples, the better the flavor of your apple crisp! Also, restrain yourself from eating the raw topping like cookie dough, because it's truly wonderful.
Ingredients:
For the apples:
9 apples or mixed varieties, peeled, cored, and diced
¾ cup orange juice
1 tsp cinnamon
For the topping:
1½ sticks salted butter, softened
1 cup sugar
2 cups all purpose flour
1 tsp cinnamon
¼ tsp nutmeg
Directions:
Preheat oven to 375F.

In a 9×13 pan, combine the apples, orange juice, and cinnamon.

In a separate bowl, combine all of the topping ingredients with a fork. Sprinkle over the apples.

Bake for 1 hour. Enjoy by itself or with a scoop of vanilla ice cream.
Happy Fall Ya'll!
How do you enjoy the seasonal tastes of apple during Autumn? Share your recipes below – we'd love to try out your favorites! And try these 10 Fall cocktails too!