Do you ever make things harder on yourself than they need to be? I'm so very good at this. For example, I used to have this idea that I needed to prepare a big meal every.single.night. I didn't want anyone to have to help me with prep or clean up – because a good mom would have this all under control, right? Wrong. As my kids have gotten older, I've realized that while a good meal is important, what outshines all of that is the time you spend around the dinner table together. Now, instead of me sitting down to dinner stressed out, I'm sitting down ready to hear about my family's day and enjoy the time I have with them.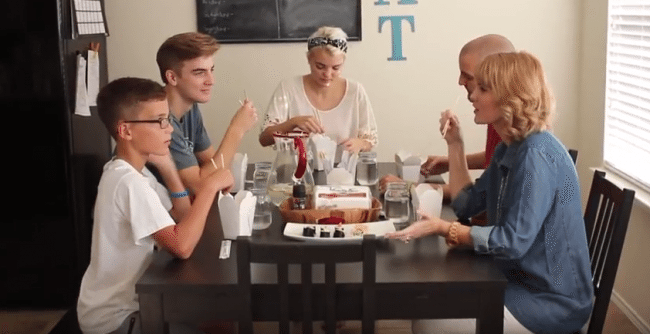 My family and I recently took the Vanity Fair® Napkins pledge to "Take Back the Table". They are on a mission to help make your family stronger, by encouraging us all to eat together more often. Whether we like it or not, life is busy, which can leave little time to sit down as a family to talk, eat and share life.
Why did we take the pledge? I have a senior, junior and sixth-grader. You know what that means?  I have one year left with my daughter in the house and two with my oldest son. And I'm watching my sixth-grader grow into a young man before my very eyes, making me realize my time with him is short as well.
Between school, their social lives and extracurricular activities, families can sometimes go an entire week (or more) without sitting down for a meal and talking together. My kids laugh at me (okay, roll their eyes at me) because I'll often tell them that "tonight we're enjoying our meal like the Italians do!". What do I mean by that? I mean we're going to slowly eat our meal and not rush through things. We're going to eat, talk, relax and take in the moment slowly. We're going to ask each other about our day. We're going to savor our meal and be thankful for its blessings.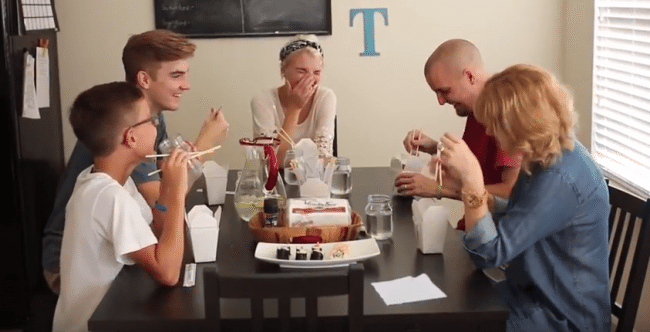 Since taking the pledge, I've tried to make an effort to slow down life's pace at dinner. To ask my family how their day is going. To be more specific with my questions, not just a "how was your day", but a "tell me one good thing about your day" kind of question. I've also made an effort to realize that no matter if we're sitting down to a homemade meal, takeout or bowls of cereal – that what's more important is the people around the table.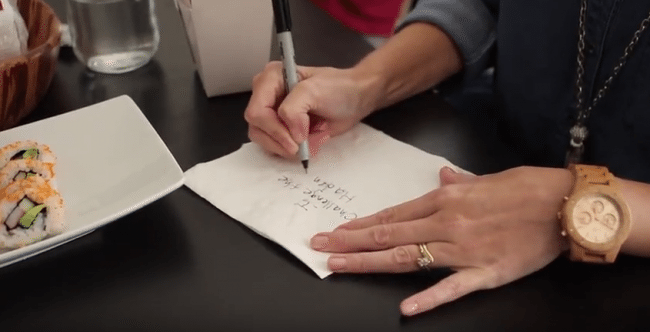 Since making and posting the video below, I've had several conversations with friends about meal time and what it's like in their home. Everyone seems to be in agreement that meal time together isn't as often as it should be. They too are making an effort to slow down, enjoy a meal together more than just occasionally and enjoy the moment.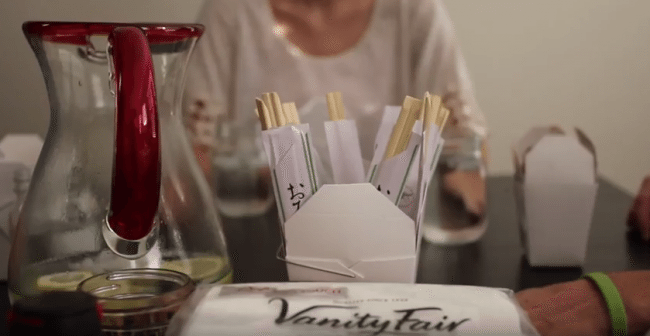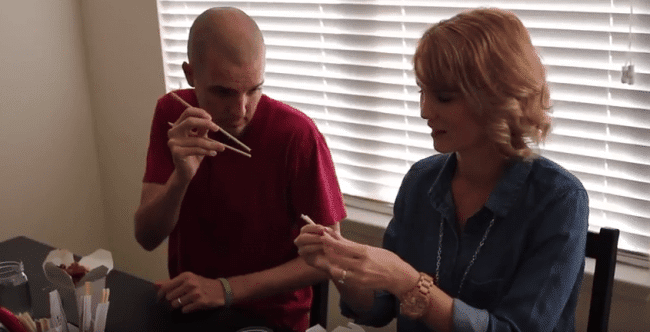 Here are a few ideas to make meal time in your home more enjoyable:
Don't just ask, 'how was your day'. Be specific with your questions. Ask them to tell you something funny that happened during the day. My kids usually have some sort of comical situation from school to tell us about.
Have a theme night. For example, we had No Fork Friday where we all used chopsticks. Talk about a lot of laughs! Plus, it took us all way longer to eat this way – meaning more time together as a family.
Tell a joke. This may sound ridiculous, but it's actually pretty funny. We've gone around and had each family member tell their favorite joke, or a new one they've heard.
Talk in an accent. This isn't one we've tried yet, but some friends of mine went through an entire dinner at a restaurant pretending to be a British couple. They said it was one of the most fun dates they've ever gone on.
Have your kids help you with the meal. You know how we've heard a million times that kids are more likely to eat what's in front of them if they helped to prepare it? It's true! I know many meal times for families are spent trying to get their kids to eat what's on their plate. That makes meal time stressful. Believe me, I've been there. But there is something magical that happens at the table when the kids sit down to something they helped make. Either they're more willing to at least try it or they find out they actually like it. Who knew?!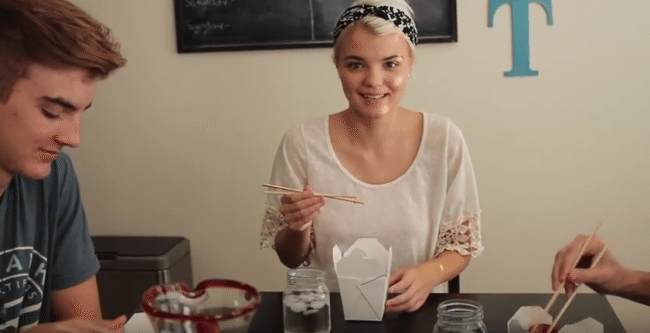 Do you have some tips for making dinner time fun and for getting your family together for meals more? Please share! For more tips and ideas, be sure to check out Vanity Fair® Napkin's Take Back the Table website. You can also follow them on Facebook and Instagram to interact with the brand.
I took the pledge to #takebackthetable to show how important it is to spend more time with family at meal time.
This is a sponsored conversation written by me on behalf of Vanity Fair® Napkins. The opinions and text are all mine.