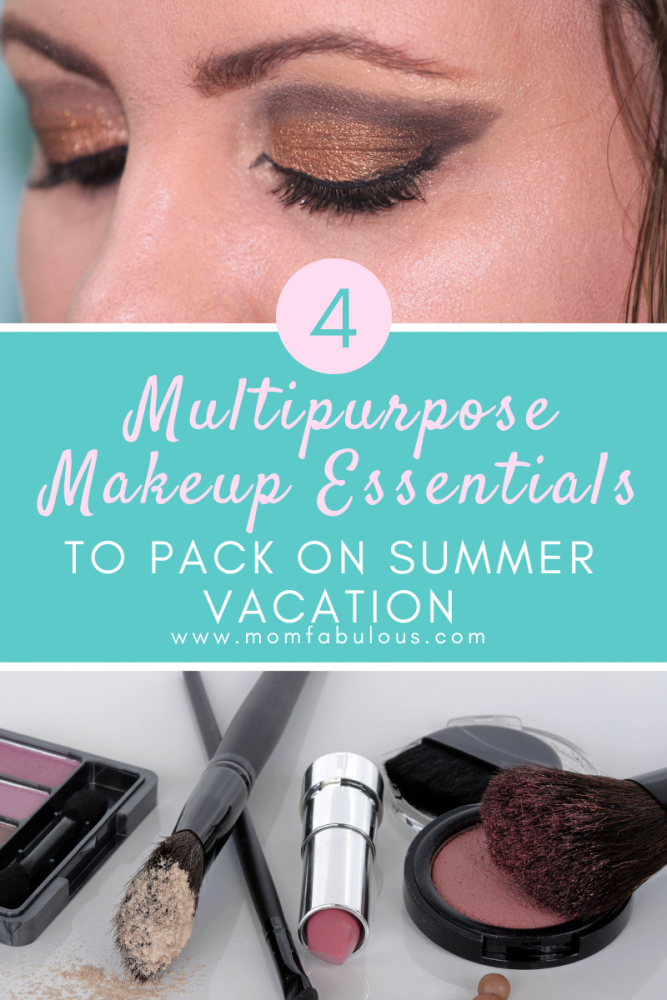 Summer time is often equated with vacation! Whether your family heads to the beach or takes a trip to the mountains, whether you spend hours in the car or zip through airports, whether you over pack or under pack, you need to bring these 5 makeup essentials with your wherever your summer takes you.
The best thing about these 5 products? All of them are multifunctional. Each product can be used for at least two purposes. That means more simplicity while you travel, plus a smaller makeup bag (and more room to pack shoes!).
Essential #1: Powdered foundation
First of all, it's always easier to travel with a powder than a liquid (especially if you're flying so you don't have to concern yourself with the liquids rule). Score for traveling with a powdered foundation.
Secondly, powder is better at absorbing moisture (aka sweat) than a liquid. And let's be honest Mama, you're probably going to get a little warm this summer. Soak up the extra oils and dab away the perspiration with a powdered foundation.
Lastly, a powdered foundation can be used for more that just foundation. It functions as as a concealer or a finishing powder as well. If you find one that contains SPF, you can also use it as a form of sun protection!
Don't forget to pack a foundation brush. Find one that is retractable so limit the mess inside of your makeup bag, or purchase a brush that can be filled with the powder.
Mama tip: Bring a snack sized zippered bag to contain your powdered foundation and brush. That way you can catch the powder if it happens to spill, and you can avoid getting your entire bag speckled with remnants of powder from your brush.
Essential #2: Eyeliner
A basic eyeliner, like powdered foundation, is also multifunctional! Obviously it works as an eyeliner, but it can also be smudged and blended like a dark eye shadow color.
While traveling, there is no need to bring a separate eyebrow pencil. Instead, bring an eyeliner color that coordinates with your brows and use it for both areas. For most Mamas, you'll want to bring along your brown eyeliner.
Essential #3: Combo Eye and Cheek Stain
Most skin types can wear a brown eye shadow shade, and many women prefer bronzed cheeks in the summer. Bring along an eye and cheek stain in your travel bag!
Not sure if your existing product will do the trick? Here's how to find out:
If you have a cheek color and are wondering if it will work as eye shadow…dip your finger or an eye shadow brush in water and shake dry. Then dip it into your cheek color and swirl around; apply as eye shadow.
If you have an eye shadow color and are wondering if it will work as a cheek color as well…apply the color to a blush brush and swipe along your cheek bones. It will probably be more sheer than your used to, but it could be perfect for sun-kissed skin or for a minimalist travel look!
Did that do the trick? If not, see if your lip color can be smudged into a cheek stain! (Ask me how I know…)
Essential #4: Chapstick
Wait a minute, how can chapstick be multifunctional? It's required to apply this after a windy day on the beach or time spent at high altitudes in the dry mountain air. (Actually, it's so healthful to swipe a nourishing lip product on your lips each night before bed.)
Most of the time a chapstick is made with thick ingredients that resemble a body butter. While traveling the in summer, you probably don't need to bring a body lotion with you (unless you're going somewhere cold). But if your hands and cuticles become chapped from the airplane ride or digging in the sand, a light application of chapstick will do the trick!
Makeup Minimalist and Multipurpose Pro!
No matter where this summer takes you around the world, pack light and pack efficiently. Minimize your makeup bag with these four multipurpose products!
How do you slim down your makeup bag for summer travels? Which multifunctional products do you love? We'd love for you to share your tips in the comments below!