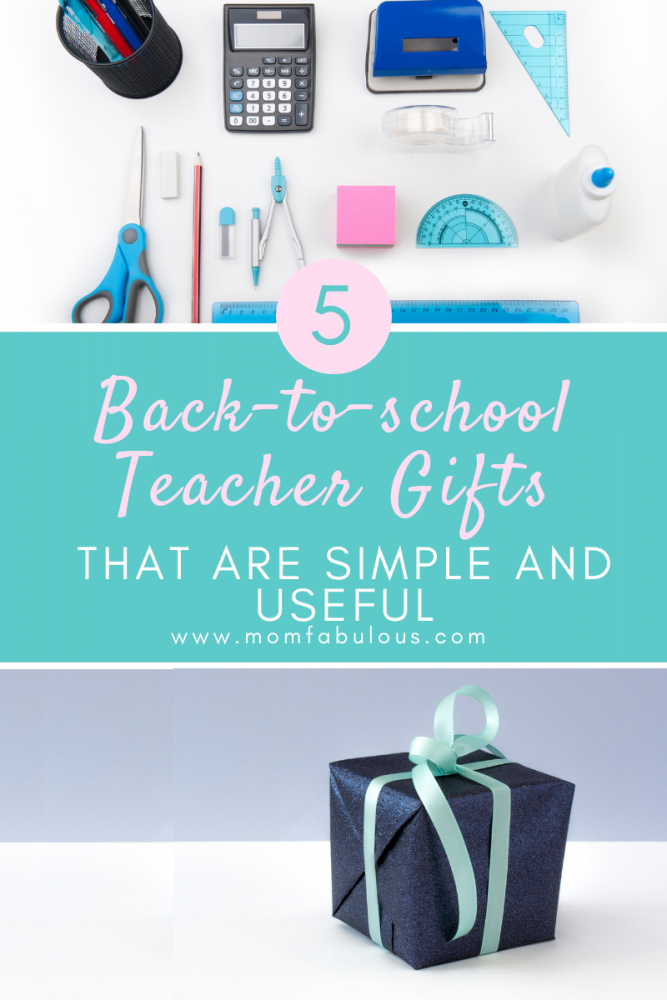 Back-to-school season is nearly here! Have you started shopping for school supplies, new outfits, and shoes that your kids won't outgrow in just a few months? 
Teachers are going through similar motions. They may joyfully anticipate meeting their new students, but they may also feel unprepared. 
Share some encouragement and appreciation with your new teachers by surprising them with a simple and useful back-to-school gift. Here are 5 fool-proof ideas that every single teacher would love and use!
1 – Baskets, bins, buckets, and trays
Organization and functionality are always needed within a classroom, whether it's a toddler classroom or one for college students and all the other ages in between. Which is why baskets, bins, buckets, and trays are one of the best and most useful teacher gifts. 
Have you already visited your teacher's classroom? Notice the color scheme or theme, then purchase baskets, bins, buckets, or trays to match. They can literally be any shape, size, material, or brand. 
For example, 
Baskets can hold toys, hands-on or interactive materials, or books.

Bins are perfect for coloring utensils or craft supplies.

Buckets work well for bottles of glue, collecting cell phones (when necessary), passing around candy, or stashing an abundance of pencils.

Trays are essential for loose papers, extra folders, notebooks, or notes.
Don't worry if the teacher will appreciate this gift. Trust me, your teacher will certainly find a practical use for that basket, bin, bucket, or tray in their classroom!
2 – Writing supplies, tissues, and hand sanitizer
If you polled teachers "What items do you always seem to run out of?" I bet the answer would include: pens, pencils, dry erase markers, colored pencils, crayons, markers, sharpies, tissues, or hand sanitizer. 
If you're at a loss for a teacher gift, please give your child's teacher pens, pencils, dry erase markers, colored pencils, crayons, markers, sharpies, tissues, or hand sanitizer! Often teachers purchase these items with money from their paycheck because the school does not offer a classroom supplies stipend. If you provide this as a gift, your teacher will save money!
Mom tip: Head to your local Dollar Store for old fashioned no. 2 pencils, packs of pens in varying colors, boxes of tissues, and bottles of hand sanitizer. 
Stick with name brand for markers, Sharpes, crayons, and colored pencils.
3 – Personalized gifts, or a label maker
Who doesn't appreciate personalized notepads, a door hanger, a name plaque, tote bag, or name stamp?
Teachers often write notes to students, parents, or other administrators. Having a notepad with their name on it is practical and useful. 

A door hanger is a nice touch to any sterile classroom. It warmly invites new students into the room where they will spend their school year. It also lets strangers know their name (since many parents have to remember multiple names of numerous teachers for each of their kids.)

A name plaque is more professional for high school or college educators. But it serves the same purpose as a door hanger, especially because these can be playful and fun rather than a piece of wood with a metal sticker. Try a hand-lettered canvas or writing with a permanent marker on a neat piece of wood.

Tote bags are similar to the baskets, bins, buckets and trays listed above. Teachers have to take papers home to grade, carry supplies to the library or computer lab during a project, and sometimes are unsure of where to place things. A tote bag is an organizational help to every single teacher.

If you've never used a name stamp, buy one for your child's teacher and for yourself. You purchase the stamp tool and ink, and the teacher can select which design them want for their stamp. A teacher could have one as their signature, "from the classroom of Mrs. Smith," "Mrs. Smith," "Annie Smith," "Mrs. Smith is proud of you," etc. 
Still looking for another idea? A label maker allows your teacher to customize anything they like! From trays to cubbies, from drawers to buckets, from coffee mugs to wall hooks. Any teacher looking to get organized, or one who thrives with order, will greatly appreciate this back-to-school gift. Don't forget to include an extra roll of label-making tape!
4 – A teacher survival kit
Teachers are educators, mentors, guardians, friends, and cheerleaders for our kids. Holding multiple roles is exhausting. And kids can bring joy and stress (at the same time!). Thank the teacher of your children by starting off the school year with a Teacher's Survival Kit.
Purchase a cute box or pencil case, and stash these items inside:
Headache medicine

Cough drops

Mini hand sanitizer

Feminine products

Nail file

Hand lotion

Lip balm

Sports drink powder

Tea bags

Instant coffee packets

Mints/gum

Lint roller

Tide-to-go pen
5 – Gift Cards
Treat you teacher to a back-to-school treat at their favorite coffee shop or restaurant, or a pampering session at a salon or spa. 
But don't forget about the practical places your teacher may be shopping, like Amazon, Walmart, Target, or office supply stores. 
Feel like the gift card is a bit too impersonal? Attach a friendly, hand-written note explaining how grateful you are for that teacher's hard work, and that you want the educator to understand that you support their work!
Time to start shopping!
Before you know it, the kids will be back in school. Don't let the first day sneak up on you – purchase one of these gifts for your children's teachers so they feel valued and appreciated as they launch into this upcoming school year.
Start the first day of school off right with healthy lunchbox ideas or lunches your kids won't hate, and end the first day of school by asking your kids better questions than "How was your day?"