Are you starting your journey to total health and food freedom? Me too. Here are 30 Whole30 recipes I think you'll enjoy and some I plan to try myself. (And don't let my pretty little image here fool you and make you think you'll be eating salads all month. I think there are only two salads on this list of 30 recipes, plus the Whole30 Cookbook is chock full of incredible hearty recipes you'll love.)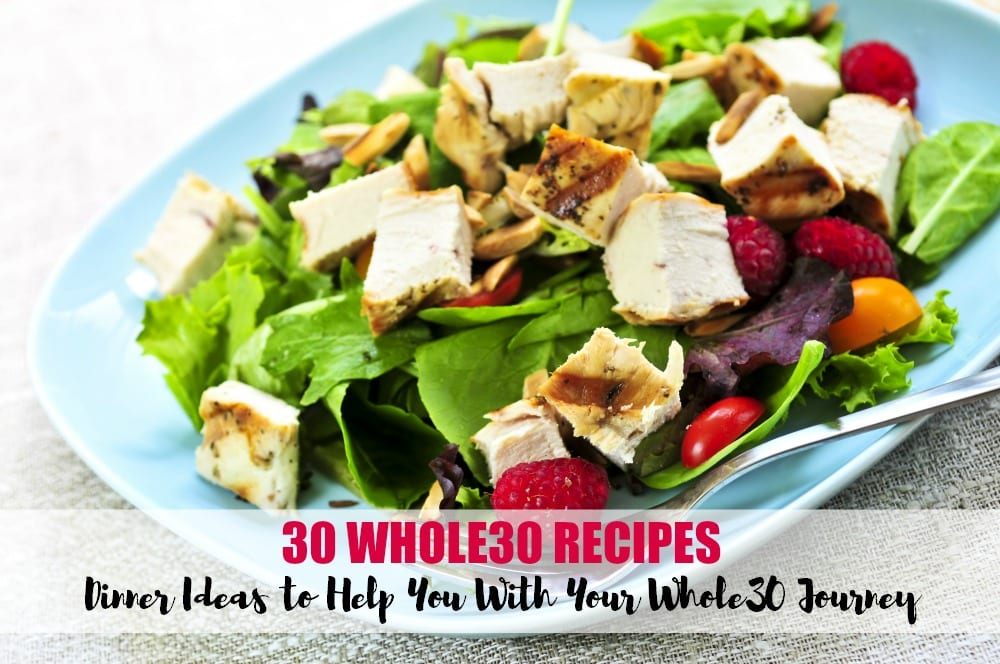 Sometime about six months ago I started doing The Whole30. I teamed up with a friend as an accountability partner and I lasted, wait for it, one week. She lasted all month. What threw me off my groove you ask? Eating out. I was at a restaurant with the family and I literally said 'I'll just cheat this one time'. That one time turned into a downward spiral of bad eating habits. I didn't have a good solid plan for not eating out for one month or what I would order if we did eat out. I was just kind of winging it. Like I do with a lot of thing in my life.
Fast forward to today and I still have an unhealthy relationship with food. And my body can feel it.
It's hard for me to balance my love of food and cooking with eating well. I do believe you can find balance in everything, food and healthy eating included. But in order for me to find that balance, I have to start off with something drastic. I have to let my body feel what it's like to not be bloated, and for my brain and body to feel what it's like to have true energy.
I remember that one week I was on The Whole30 feeling energetic and like I could conquer anything. (Day four was AWFUL, though. Like, I wanted to curl up in the pantry with a package of Oreos while singing the blues, awful.) I could feel my body cleansing itself and that was just one week. I'm looking forward (albeit a little scared) to see what the next 30 days (beginning January 4th) hold for me.
My goals are to lose 5 pounds, to see what it feels like to not be bloated, to train my brain on the right foods for gaining energy, and to prove to myself I can stick with something for 30 days. If you're going on this journey as well, I recommend purchasing The Whole30 cookbook and actually reading it.
There's a wealth of information and it will set the stage for success. They have some amazing recipes in the book, but I also like to find some outside resources for variety and meals I know I'll enjoy. Plus, during this whole ordeal – I also have a family to cook for: two vegetarians, one gluten-free and a daughter who loves chicken nuggets, french fries, and burgers. (She gets that from me.)
Now, about those recipes…Here are 30 Whole30 recipes, all of them dinner ideas.
30 Whole30 Recipes (Dinner)
Mason Jar Taco Salad | Food Faith Fitness
Grilled Veggie & Grilled Chicken Salad with Tomato Vinaigrette | Lexi's Clean Kitchen
Greek Meatballs with Avocado Tzatziki Sauce | Primally Inspired
Slow Cooker Chicken in Chili Verde | Slender Kitchen
Buffalo Chicken Sliders | Planks Love & Guacamole
Grilled Salmon with Avocado | The Cookie Rookie
Mexican Chicken Soup | I Heart Naptime
Paleo Creole Ham and Cauliflower Rice | Well Fed
One Pan Chicken with Fennel, Tomatoes, Olives & Spinach | BuzzFeed Life
Damn Fine Chicken | Nom Nom Paleo
Surf and Turf Lettuce Tacos | Nom Nom Paleo
Zucchini Noodles with Scallops and Bacon | Meatified
Bacon Arugula Burgers | Popular Paleo
Oven Fried Salmon Cakes | Well Fed
Chicken Thighs with Peppery Pesto | Paleo Comfort Foods
Crock Pot Mocha Rubbed Pot Roast | Stupid Easy Paleo
Lemon and Spice Grilled Shrimp | Paleo Cupboard
Tasty Taco Salad with Cilantro Lime Dressing | Stupid Easy Paleo
Chicken Zucchini Poppers | One Lovely Life
Salted Mocha Burgers | Popular Paleo
Coconut Crusted Chicken Patties | Cherry Blossom Kitchen
Sweet Potato, Apple and Pancetta Hash | Gutsy by Nature
Slow Cooker Kalua Pork | Nom Nom Paleo
Tuesday Night Chicken | Popular Paleo
Grilled Shrimp Citrus and Fennel Salad | Three Beans on a String
Slow Cooker Beef Stew | One Lovely Life
Paleo Jalapeno Chicken Burgers | Once a Month Meals
Healthy Chicken and Charred Broccoli Saute | Food and Wine
Paleo Spaghetti and Meatballs | Against All Grain
Baked Paleo Chicken Fingers | Eating Bird Food
Do you have any favorite Whole30 Recipes? If so, I would love it if you shared them with me. So share on. Go ahead. Pretty please?