With back to school time quickly approaching, moms and dads are on the hunt for quick breakfast ideas for both themselves and the kiddos. If your family is anything like mine, everyone likes to eat different things when they first wake up. My daughter and youngest son are not big breakfast eaters, so they need something light. My oldest son eats something when he first wakes up and has a second breakfast (usually consisting of 2 fried eggs) right before he leaves for school. I like to have my coffee first (no food) and then try to pack in the protein. My husband is all about that oatmeal.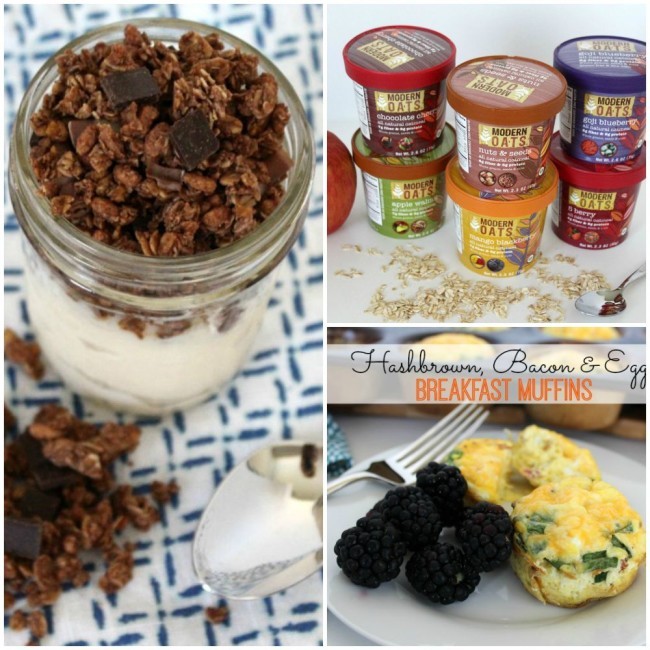 3 Quick Breakfast Ideas
These three quick breakfast ideas range from grab and go to make ahead, but they're all super easy and do not take a lot of time in the morning. Plus, your tummies will be full & happy, and your brain ready to tackle what the day throws at you.
Modern Oats — Super food, Super Fast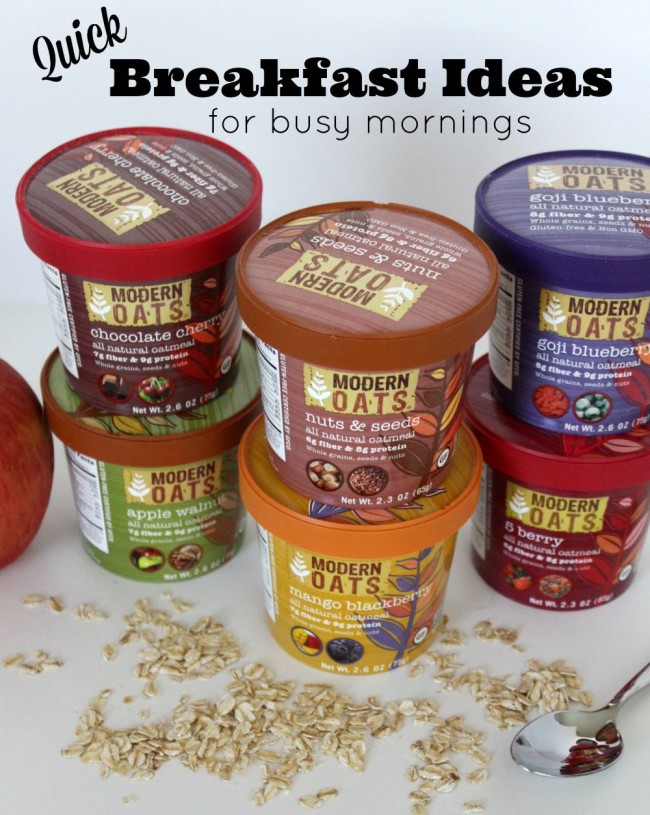 Modern Oats is an all-natural, portable oatmeal with six fiber and protein rich flavors that makes the perfect breakfast or snack-on-the-go. You have to really watch the ingredients when it comes to the packets of oatmeal you see at the grocery store. Some are packed with ingredients you wouldn't want to put in your body. Modern Oats not only tastes really good (look at those amazing flavors!) but they are packed with all natural ingredients (whole rolled oats, antioxidant-rich superfruits, omega-3 rich nuts and seeds) and are an excellent source of dietary fiber and protein.
Just add hot water. Wait 3 minutes. Stir and enjoy!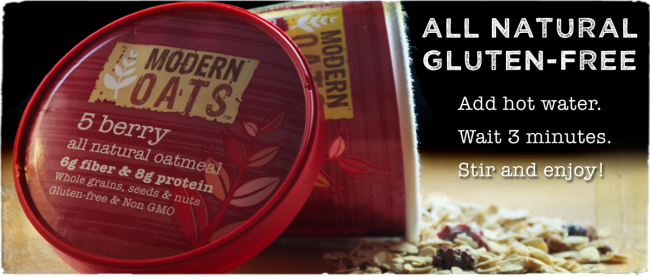 Modern Oats is "Oatmeal 2.0": an all-natural, non-GMO certified, gluten-free, sodium-free, cholesterol-free oatmeal featuring 6 superfood flavors: Apple Walnut; 5 Berry; Goji Blueberry; Mango Blackberry; Chocolate Cherry, and Nuts + Seeds.
YUM.
Granola + Yogurt – Easy and satisfies that sweet tooth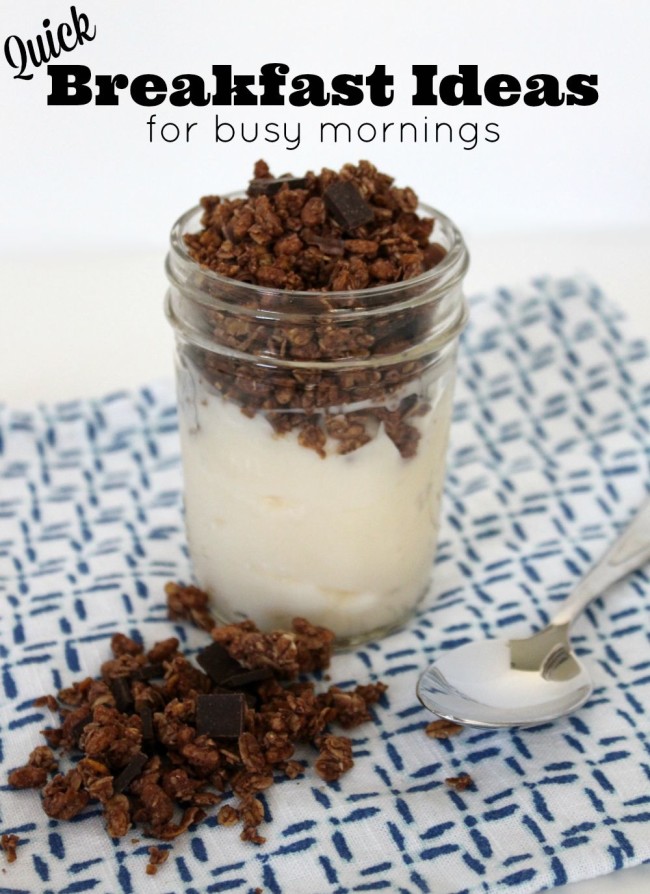 Do you wake up with a sweet tooth? If so, granola and some vanilla or plain greek yogurt might be just what you're looking for. You might even look so forward to this delicious and quick breakfast, you'll fly out of bed when your alarm goes off. Or is that just me? Seriously, granola and yogurt (okay and coffee) have helped me look forward to my mornings before. I love food. I just really love food.
Be careful when shopping for both your granola and yogurt. You want it to be sweet, but you don't want the sugar content so high that next thing you know it's 8:00 a.m. and you've had 40 grams of sugar already.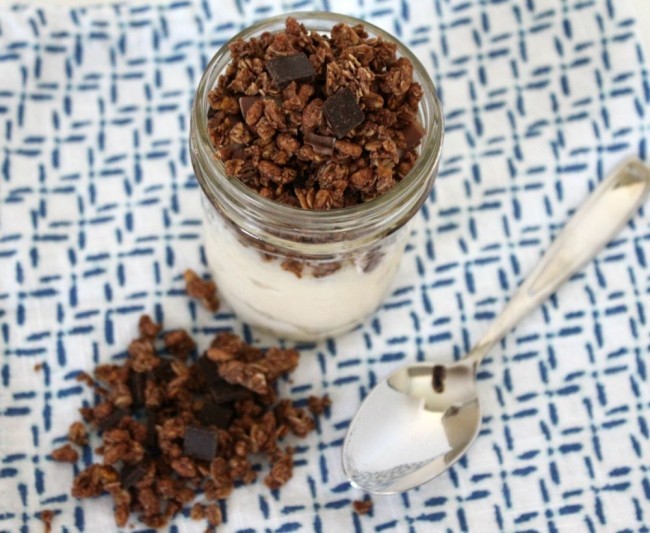 Hash Brown, Bacon & Egg Breakfast Muffins – prepare ahead and enjoy later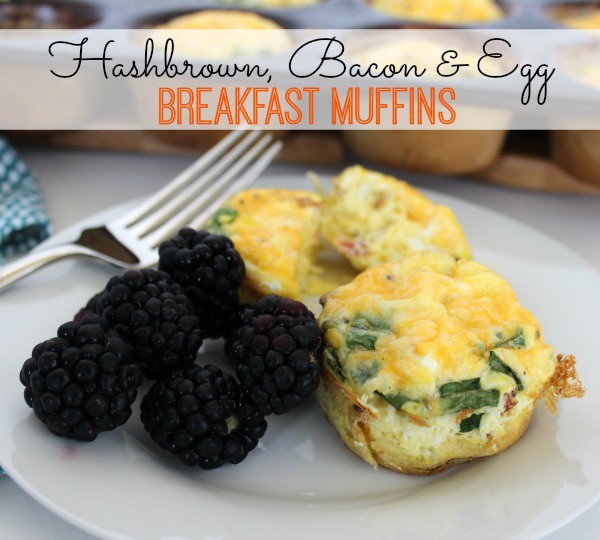 Here's a breakfast idea I've featured on Mom Fabulous before. These are something you'll want to make ahead of time, so on those busy mornings you just pull it out of the refrigerator and warm it up to eat. I adapted this recipe from our favorite loaded backed potato frittata. These are really easy to make and really yummy to eat. It's a great way to get that protein in first thing in the morning.
Speaking of protein first thing in the morning, I was reading an article about this and Tim Ferris recommends starting your morning off with, I believe, 30 grams of protein. I read that his father started doing this and loss 19 pounds in one month. I'm not sure if he added anything else to his lifestyle to achieve this, but I have transitioned over to eggs in the morning (again) and I definitely feel fuller longer and more alert.
Do you have any quick breakfast ideas your family loves?