Ahhh, gorgeous glowing skin. Isn't that what we all want? Sometimes we have all the ingredients we need to give our skin a boost right in our own kitchens. Seriously! My daughter is the DIY face masks queen. You'll often hear one of her brothers ask what is on your face?!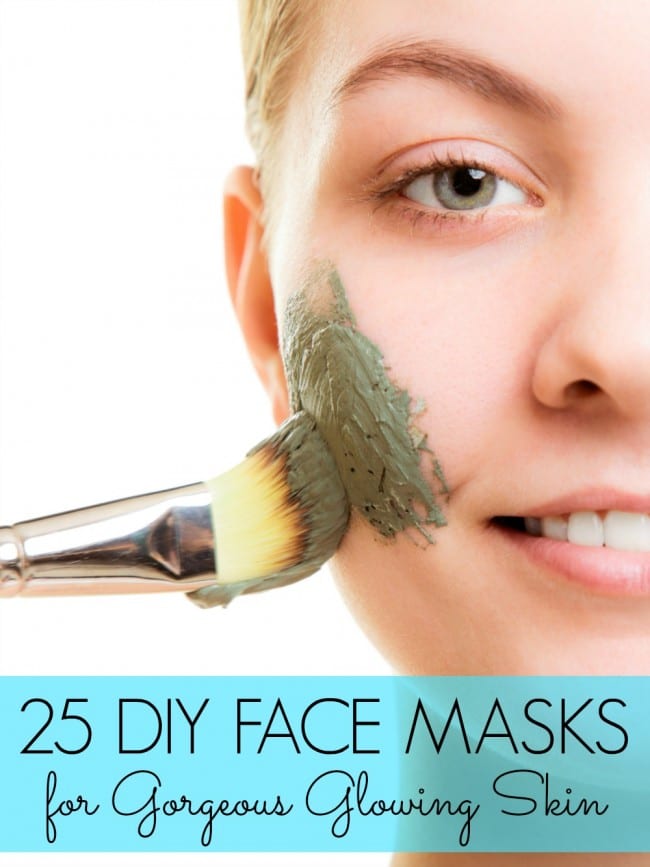 I'll admit it right here and right now…I have a really hard time putting food on my face. Bananas? Gag me. Avocado? Ugh. Coffee? Okay, now we're talking. But if we're talking about DIY face masks that give me glowing skin free of acne and large pores, I'm in. I'll put on my big girl pants and spread some food on my face.
I've rounded up 25 DIY face masks for you and me to try. You ready? Let's do this.
**Be sure to scroll to the bottom of the post for a few "done for you" mask recommendations from Mom Fabulous as well!**
25 DIY Face Masks
Coconut Oil & Honey – for brightening and tightening skin | Mother's Niche
DIY Acne Mask – for unclogging pores and drawing impurities out of skin | Dear Crissy
Cucumber Face Mask – for oily skin | Glam Check
Pumpkin Mask – for natural exfoliation, soothing irritation and making skin brighter | Petit Elefant
Blackheads Removing Mask | All Day Chic
Simple Coffee Mud Face Mask – works on common skin issues like dullness and eczema | Be.Daze.Live
Homemade Yogurt Face Mask – helps dissolve dead skin cells, help prevent breakouts and much more | Freebie Finding Mom
DIY Edible Mud Mask – loosens dead skin cells, fights acne, rejuvenates skin and so much more | Essentially Eclectic
Tumeric Face Mask – for glowing, bright skin | Crunchy Betty
5 DIY Face Mask – for moisturizing, exfoliating, invigorating, softening or protecting your skin | But First Coffee
Mayo Mask – for balancing oil production, brightening and exfoliating | Byrdie
Coconut + Tea Tree Oil – for reducing redness and acne | Free People Blog
DIY Brightening and Tightening Face Mask | The Kitchen McCabe
Cinnamon and Raw Honey – for rejuvenating the skin | Health Ambition
Strawberry Mask – for dull, damaged or acne-prone skin | Beautylish
Honey and Lemon – for removing dead skin cells and clearing up blackheads | The Every Girl
Banana Face Mask – to rejuvenate your skin | Freebie Finding Mom
Honey, Cinnamon, Nutmeg Face Mask – for brightening, clearing breakouts and evening out skin tone | Liz Marie Blog
Avocado Face Mask – has nourishing properties | Living Chic on the Cheap
Banana, Yogurt and Almond Oil – for dry skin | Tips for Her
Oatmeal and Honey – for managing breakouts and keeping skin moisturized | Somewhat Simple
Orange Face Mask – for moisturizing | Food + Words
Soothing Oatmeal Mask – for healing eczema and controlling breakouts | inhabitat
Coconut Oil and Cocoa Mask – for smoothing out the skin | Delighted Momma
Berry Yogurt Mask – for radiant skin | Whole Living
This post contains some affiliate links for your convenience. Click here to read my full disclosure policy.
If you've gotten this far in the post and are just feeling like, "Yeah, but this whole DIY thing just seems too messy…and hassly", take a minute to peek at some "done for you" options that can ship right to your door as well:

I hope you enjoyed this round-up of 25 DIY Face Masks. If you try any of these, have tried any of these or know of more great recipes, please let me know in the comments below!