I love it when the tables are turned on people who interview others for a living. It's so much fun to see inside their lives and hear what they have to say. That's exactly what we get to see in the September 2014 issue of Better Homes & Gardens magazine. An interview with the gorgeous and talented TODAY Show anchor Natalie Morales!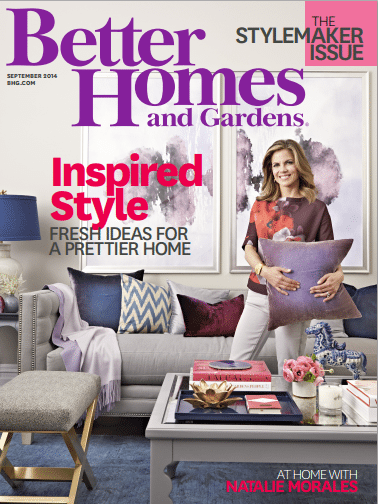 The Better Homes & Garden Fourth Annual September Stylemakers issue hits newsstands tomorrow, August 19th and we get to see inside Natalie's New Jersey brownstone. BHG partnered with OneKingsLane.com to give Natalie's living room a makeover. They turned her neutral space into a modern and colorful space the whole family can enjoy.
If you like what you see in her newly decorated living room, you can shop the look from August 21st through September 18th on a special page dedicated to her room re-do at OneKingsLane.com.
Here are a few snippets from Natalie's interview where she talks about her hero, her design personality and creating a space with two boys in the house.
How Natalie defines her personal decorating style: "Easy and comfortable. I like warm neutrals with pops of color."
On her New Jersey home, and creating the ideal living space with two boys: "This house is an old, historic house – a brownstone in Hoboken, New Jersey. You kind of want to keep that sense of character, but at the same time, add a little bit more flair and pop. I have two boys that are very active. They like to play soccer in my living room! I need a place that kind of allows them to do that, but at the same time, I also want a place for myself that feels like a grown up living room."
Natalie's ultimate style hero: "I think people who get it right are people who are casual, but elegant at the same time. Audrey Hepburn, for me, was the end-all, be-all style icon…generations, decades later, we're all still copying her sense of style."
The person she considers her hero: "My mom. She grew up poor in Brazil, raised by her grandmother along with 13 other kids. She's the most incredible and strong person, spiritually and emotionally, I know."
How thrifting helped Natalie developed her own sense of style: "I think as a little kid, I got a certain sense of style by shopping thrift shops – cause that's all my parents could really afford. I could put an outfit together with just about anything."
On how she starts her (very early!) day: "By drinking lots of coffee and wishing I could go back to bed!"
Natalie on the best part of her job: "I love it when I get to talk to the stars – I got to interview Clint Eastwood the other day. But my favorite is when I get to meet people who have done incredible things, often in the worst possible circumstances."
On her guilty pleasure: "I love to shop. But I always look for sales, and I never pay full price if I don't have to. I like Gilt Groupe and The Outnet for clothing and One Kings Lane for home accessories."
What she's reading these days: "I have stacks by my bed. Right now, I'm finishing the last Divergent book. My husband and son are reading them, too. Next up is Unbroken. I want to read it before the movie opens."
On what she does for fun: "When I'm off duty, my favorite thing to do is go for a run…or just relax and cook – I love being in the kitchen."
Natalie's best beauty tip: "If you have an hour, and I highly recommend just giving yourself an hour every couple of days, just get away and exercise. Even if it's just 5 or 10 minutes of walking, you need that – your body needs it, you need it for your health, and ultimately you're going to be a better person and a happier person around your family."
On her favorite escape: "I love to go to the movies. I'm very happy to be sitting in a theatre by myself, crying my eyes out. My all-time favorites are Casablanca – so exotic and romantic – and Cinema Paradiso."
See more from the interview at BHG.com and in the BHG September Style Makers issue on newsstands tomorrow!
Image credit: Better Homes and Gardens/David A. Land