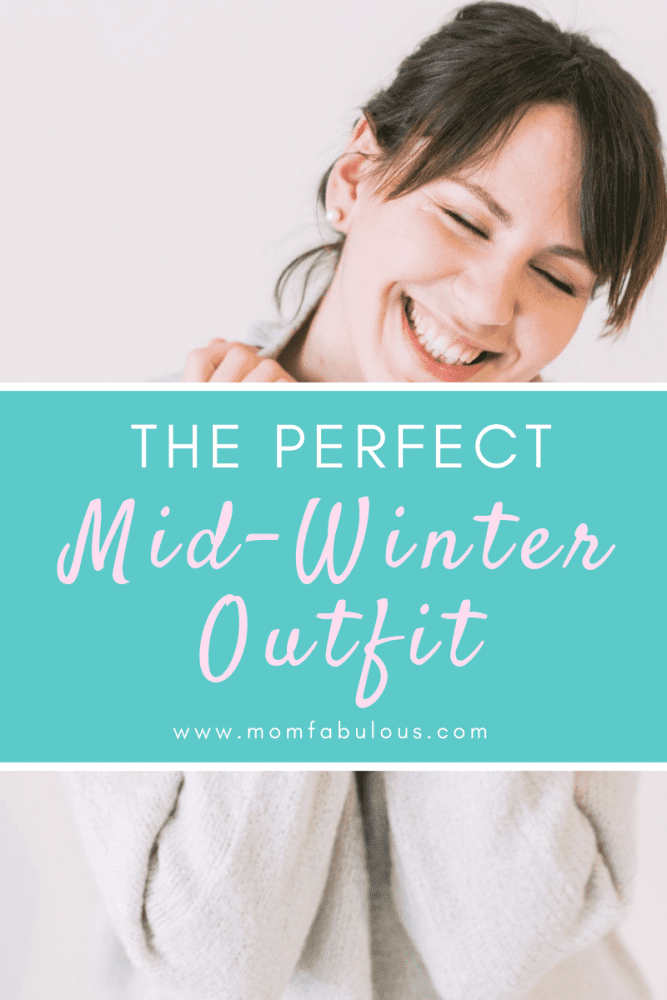 I have the perfect mid-winter outfit! One that you pull out when the weather is crummy or when your house can't stay warm enough against the crisp winter cold. It can be paired with pearls, and boots for a fancy affair, or it can be mixed with a blanket on the couch for a cuddly evening at home. You can rock this outfit too!
But before I tell you about this outfit, I have to tell you the story behind the outfit…
The Story Behind The Outfit
Every Sunday evening I gather with a group of teen girls. We meet for a bible study, which inevitably includes discussing friendships, hair, boys, makeup, school, shopping, family, and fashion. P.S. Most of my fashion trends should be credited to these ladies!
This week I sat down on the floor among these young ladies, and our group began with an unusual twist. "I don't usually see you wear your hair up, but I like it!" the girl sitting next to me said. I kindly replied, "Thanks, it's second day hair. I usually try to wash my hair for church, which is why I often wear it down, but that didn't happen today so I put my hair in a bun." (Hey, I'm trying to model authenticity to these teens!)
Overhearing our conversation, another girl mentions that she loves my sweater. Before she finishes her sentence, another girl chimes in, "Oh my gosh me too, I wanted to tell you that too!" Again, I kindly thank them and tell them that it's my below-freezing sweater.
While I'm still responding, yet another girl mentions my gray ankle boots. And, this is not a lie, before she ends her compliment, another girl states, "I just really like you entire outfit today. I noticed it immediately when I walked in. So cute!"
Well, it's quite obvious that I felt flattered because every teen girl in that room just complimented me! You know it's not rare for women to compliment other women on their fashion, hair, makeup, or accessories. But for a whole room to anxiously chime in their compliments, that's a sweet moment!
After the compliment-my-entire-outfit escapades, we jumped into our discussion. This past week we were in the book of Exodus, where Moses had just led the Israelites out of slavery in Egypt. Then God made a way for them to cross the parted Red Sea in order to flee from the Egyptians who were pursuing them. After they were safe on the other side (and the Egyptians were dead at the bottom of the Red Sea), the Israelites began to think God had deserted them to be left hungry and thirsty (and unhappy) in the middle of the desert.
Obviously God had a plan. He delivered them from their enemies and provided a daily portion of food and water. But that didn't prevent further grumbling.
Don't we all complain? No matter what we have, even if we just got something that we've wanted for so long, there is still something amiss. Even though I had just received multiple compliments about my hair and shoes and sweater, I still felt like I could complain. "But what about this zit on my chin? These aren't the earrings I wanted to wear today, but I couldn't find the right pair. I actually think I should have worn my other shoes. And hopefully my hair isn't starting to stick out of my bun, because I look like Alfalfa when that happens…." Catch my drift?
Ladies, aren't we that way when it comes to our physical appearance? No matter what other people say, there is always an "if only… " statement.
If only I was a little thinner.
If only I didn't have this acne.
If only my hair looked better today.
If only my teeth were whiter.
If only I had more money to buy that cute new pair of shoes.
If only… (fill in the blank with your personal answer).
Mama, you're not alone. But contentment is rooted beyond your outward adornments. It comes from within.
Next time you are complimented, graciously accept it! Reply with a kind, heartfelt "thank you" and actually allow that generous compliment to take root in your heart. Believe those truths about yourself!
Thanks for listening to my motivational minute! I planned to share this cute outfit with you (the same one that accrued compliments from every teen girl on Sunday), but I simply couldn't post about the outfit without telling you the story behind it.
The Perfect Mid-Winter Outfit
The moment you've been waiting for: my perfect mid-winter outfit!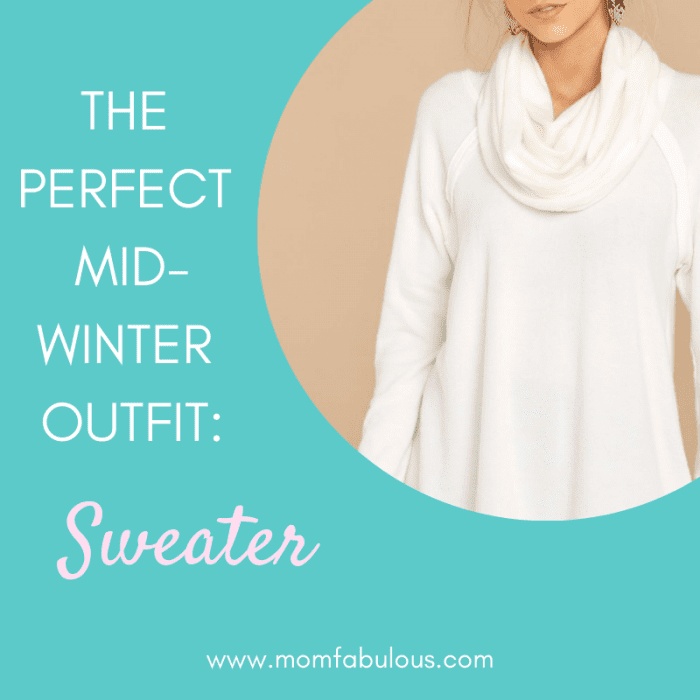 A thick-knit cream sweater with a huge cowl neck and long hem. Sweaters scream comfort. The light color exudes confidence and is a refreshing shade to wear on a dreary winter day. Opt for off-white or cream instead of a color. Try a thick-knit instead of a tight-knit. Make sure to keep the length below your belt, which keeps you warmer and also helps your upper body look thinner. (Sweaters with a higher hem make your hips and butt look wider.)
Get the look from Red Dress Boutique or Kohls.
Dark jeans contrast the cream sweater. Tightly-fitting jeans are attractive, slimming, and hold your body shape since a sweater tends to make you appear bulkier. Darker washes are also slimming, and juxtapose the cream sweater. Pair with skinny or bootcut jeans for the best look.
Buy from Old Navy or American Eagle.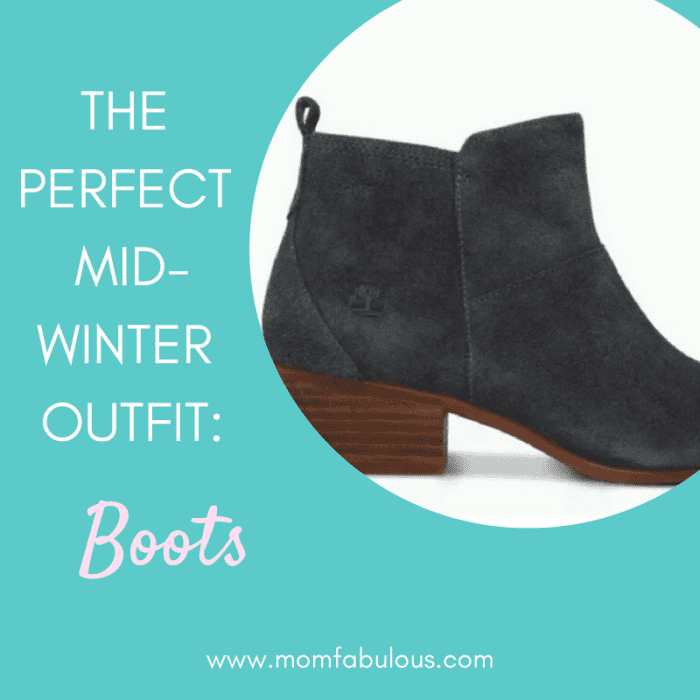 Ankle booties in a neutral color. Ankle boots are boots, therefore you toes will stay as warm as your belly. Booties also accentuate your long legs and won't detract from your smashing sweater. Stick with army green, light gray, or a comparable earth tone; this complements the dark wash jeans while still offering a slight pop of color.
Find my favorite Timberlands here, or get a similar pair here.
Hair up in a ponytail or bun. With a bulky neckline on your sweater, your hair will be in knots before the day's end. Trust me, I know from experience! Bonus: when your hair is up, eyes are more likely to be drawn toward your collar bones; most women have curvy collar bones which make you appear slimmer. Make a tight bun for a classic vibe, or a messy one if you're aiming for comfort. A ponytail can be both classy and comfy.
Find the best bun-maker here.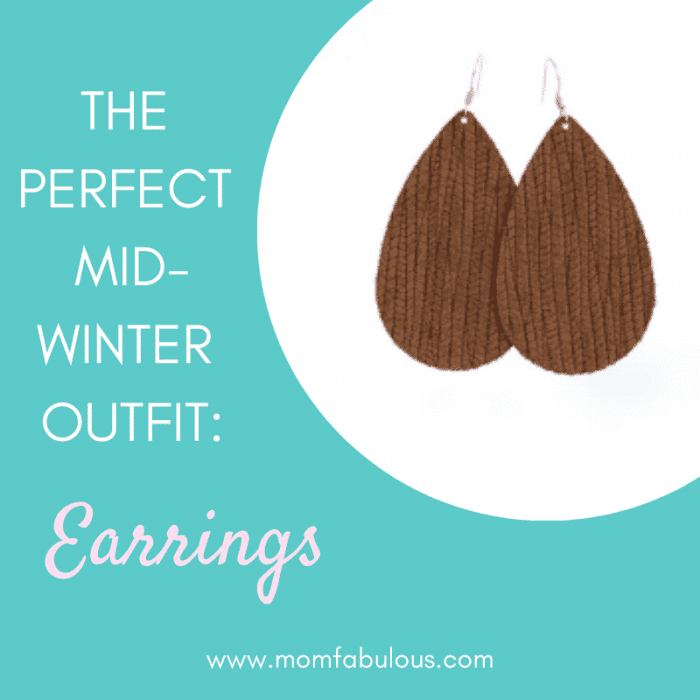 Pearl earrings for a classic look; leather earrings for a casual feel. Pearls are one of my favorite accessories. I wear them weekly, especially to church or a nice dinner. Opt for leather earrings if you want to dress it down a bit. Don't be afraid of a chunky pair since your hair is up and your sweater is snatching all of the attention.
I recommend Honora Pearls (the only pearls I wear) or these awesome leather earrings.
Happy Winter and cheers to the perfect mid-winter outfit! P.S. Don't forget to be content within, to accept compliments from others, and to generously compliment the other women in your life!