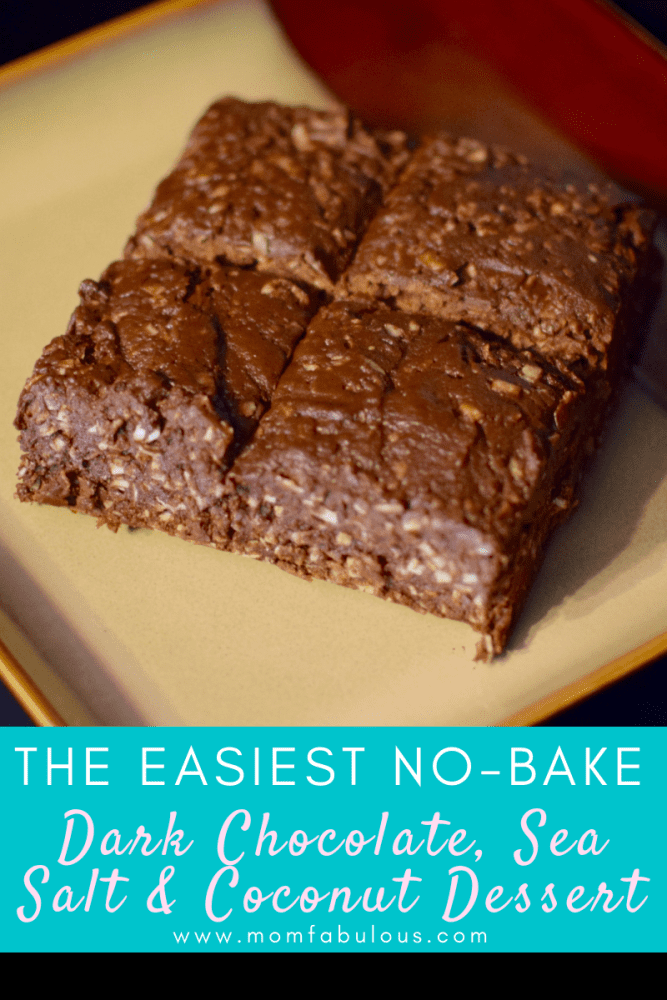 To all my Mama's out there – who needs a chocolate break? (Let me see you raise your hands!)
I wish I could invite you and your kids over for the afternoon. Can you picture your kids running around in my wide open backyard, drawing with chalk on my driveway or playing a board game on my living room floor, while we sit and chat and enjoy chocolate? I can totally imagine that, and wish it were true!
But since I can't invite you over today (perhaps tomorrow?), I'll just have to share my secret chocolate recipe with you.
This chocolate dessert is a winner because it's:
All-natural

Rich in superfoods

No-bake

Made with ingredients you probably already have in your pantry

Takes only 5 minutes to prepare

Absolutely delicious and you won't want to share!
It's Convincing!
Have I convinced you yet? Truthfully, I swayed my husband – who thinks healthy desserts can't taste good. He also doesn't like coconut, but he adores these (and I have to limit him to only 1 or 2 pieces per day!) I bet one of your kids doesn't care for coconut, but will munch on these nutritious bites.
I also convinced my mother-in-law when I made these for a family dinner. She didn't believe me when I told her that they were all-natural. After I told her that they were no-bakes, she immediately asked me for the recipe.
And when my nieces were begging for another piece, my sister realized that this is another natural alternative to sugary treats.
Every time I make these dark chocolate, sea salt, and coconut bars, I'm amazed at how little time it takes! I pull out the ingredients, mix together, pat into a dish and it's only been 5 minutes.
Can you spare 5 minutes?
Busy Mama, can you spare 5 minutes of your day to prepare yourself a refreshing reward? I promise that it won't take long. I also promise that you'll be so satisfied afterwards! And I promise you'll have enough leftovers for another serving tomorrow.
Bonus is that you have permission to not share! You are a loving mother and adoring wife. You take care of your family, so it's time to take care of yourself. I encourage you to label your container: FOR MOM ONLY. DO NOT EAT.
If your family is extra silly, why not write: WITCHES POOP. DO NOT EAT OR YOU WILL TURN INTO A TOAD.
The Easiest No-Bake Dark Chocolate, Sea Salt, and Coconut Dessert
Mama, these sweet treats have your name written all over them! Chocolate and sea salt are the perfect combination. Plus the coconut is nutritious and adds a little crunch. Note: You have permission to keep these all to yourself…just tell your family that they are Mama Fuel!
2/3 cup cocoa powder
½ cup all-purpose flour
1 tsp salt (pink Himalayan has the best flavor)
3 cups unsweetened coconut flakes
2 Tbs coconut oil
2/3 cup honey/agave nectar
½ tsp vanilla extract
1 cup peanut butter (or another nut butter)
Using a hefty wooden spoon, mix together the cocoa powder, flour, salt and coconut flakes.

Mix in the coconut oil, honey and vanilla.

Stir in the peanut butter and mix mix until thoroughly combined. Scrape the sides of the bowl as needed.

Press into an 8×8 glass dish. Refrigerate for at least 1 hour, or until ready to serve.
Notes:
If your mixture is too dry and crumbly, add an extra tablespoon of coconut oil or nut butter.

To make your bars darker, add an extra Tablespoon of cocoa powder.

To make your bars sweeter, us ¾ cup agave or honey.