This is a sponsored post written by me on behalf of Iams. All opinions are 100% mine.
I'd like you to meet D'Artagnan, or Dart for short, our 10 year old Papillon. His full name is D'Artagnan Maxwell Bonner, but we only use that after he's been mischievous. (You know what you did little guy.)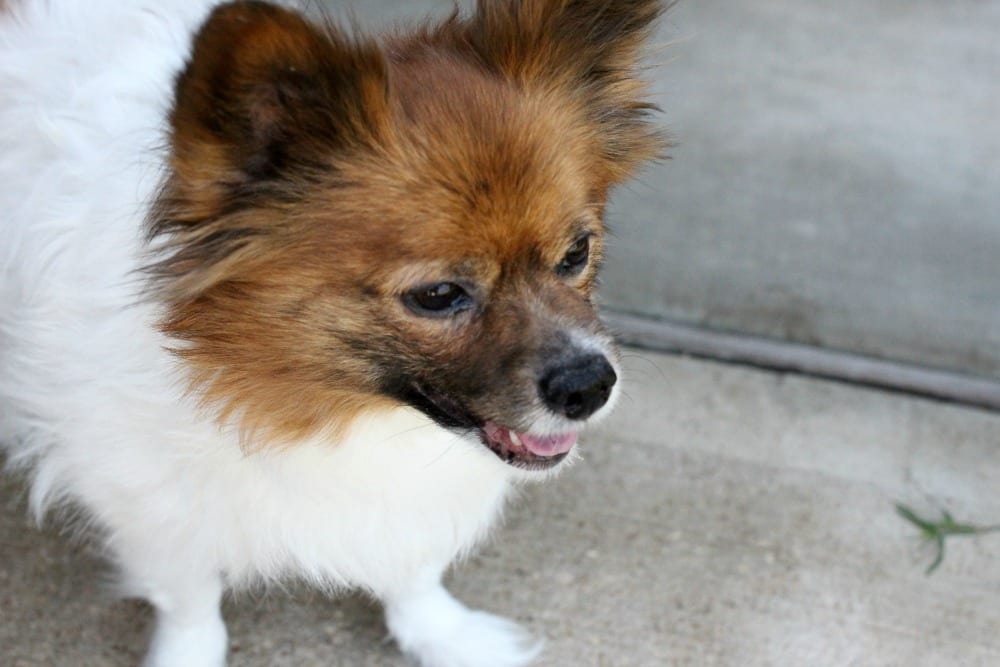 Ever since we brought this little pup into our lives he's been one of the easiest dogs to take care of that you could ever meet. He's been about as low maintenance as a dog gets, which was great over the years when we had three young kids to take care of.
But over the last year, things have started to change quite a bit. He's requiring more vet visits, more snuggle time on days he's not feeling too hot and overall just more attention. He's getting older and along with that usually comes more involvement, responsibility and expenses for the pet owner.
He used to get his exercise by playing with the kids in the backyard or chasing after them in circles around the house. But now that the kids are older, backyard adventures and playtime don't happen like they used to. Since he still needs his exercise, my husband and daughter have started taking him on walks in the evenings. Unfortunately, the walks have to be very short because he's having some issues keeping up. His energy level is just not where it used to be.
We call this his 'stink eye' look.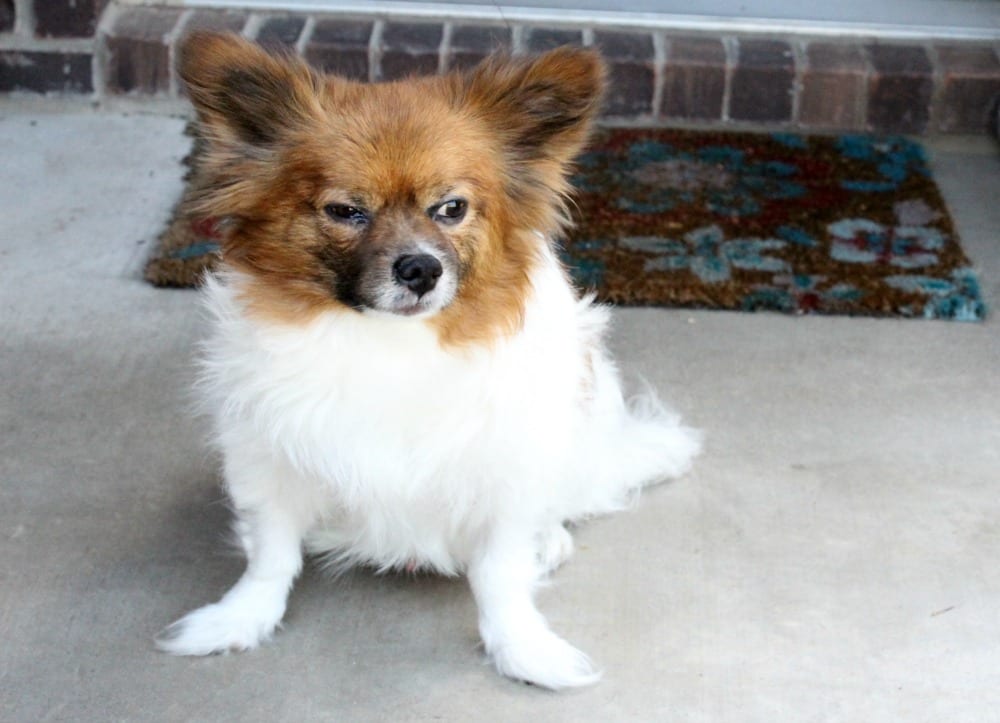 Along with Dart getting regular exercise, we're also focusing on what he's eating and making sure he's getting the proper nutrition with a high quality diet. We've partnered with Iams on a series of posts sharing with you the dog food switch we're making. The Iams Visible Differences guarantee caught my attention and I'm excited to make the switch!
Dart is excited too. 🙂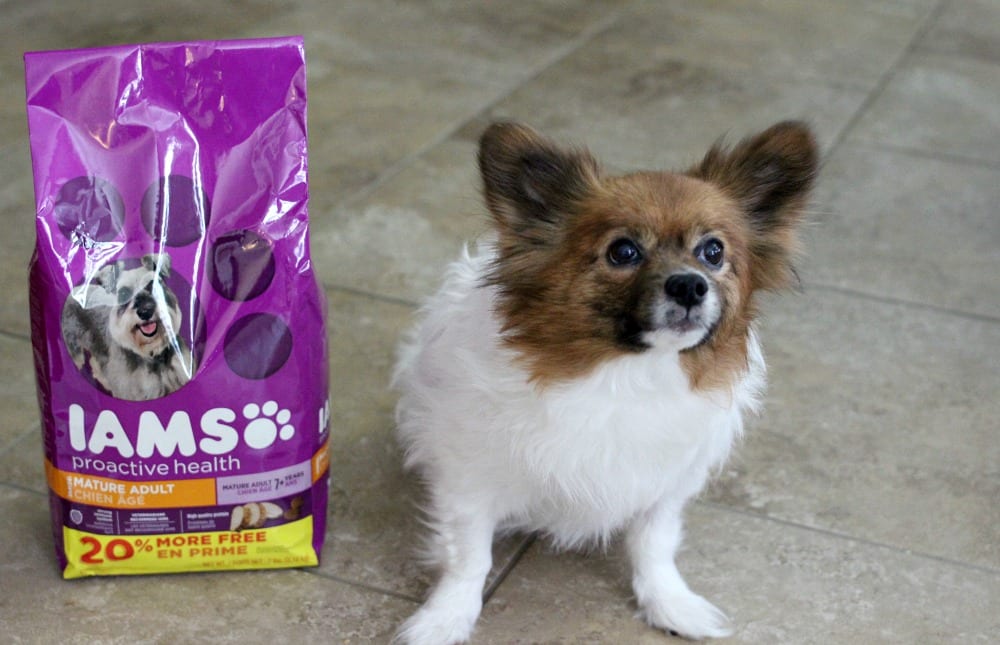 Here are some tips we plan to follow in taking care of our aging dog. He's a big part of the family, even for such a small dog, and we want to do everything in our power to make sure he's as healthy as possible.
Tips on Taking Care of an Aging Dog
Feed your dog a high quality diet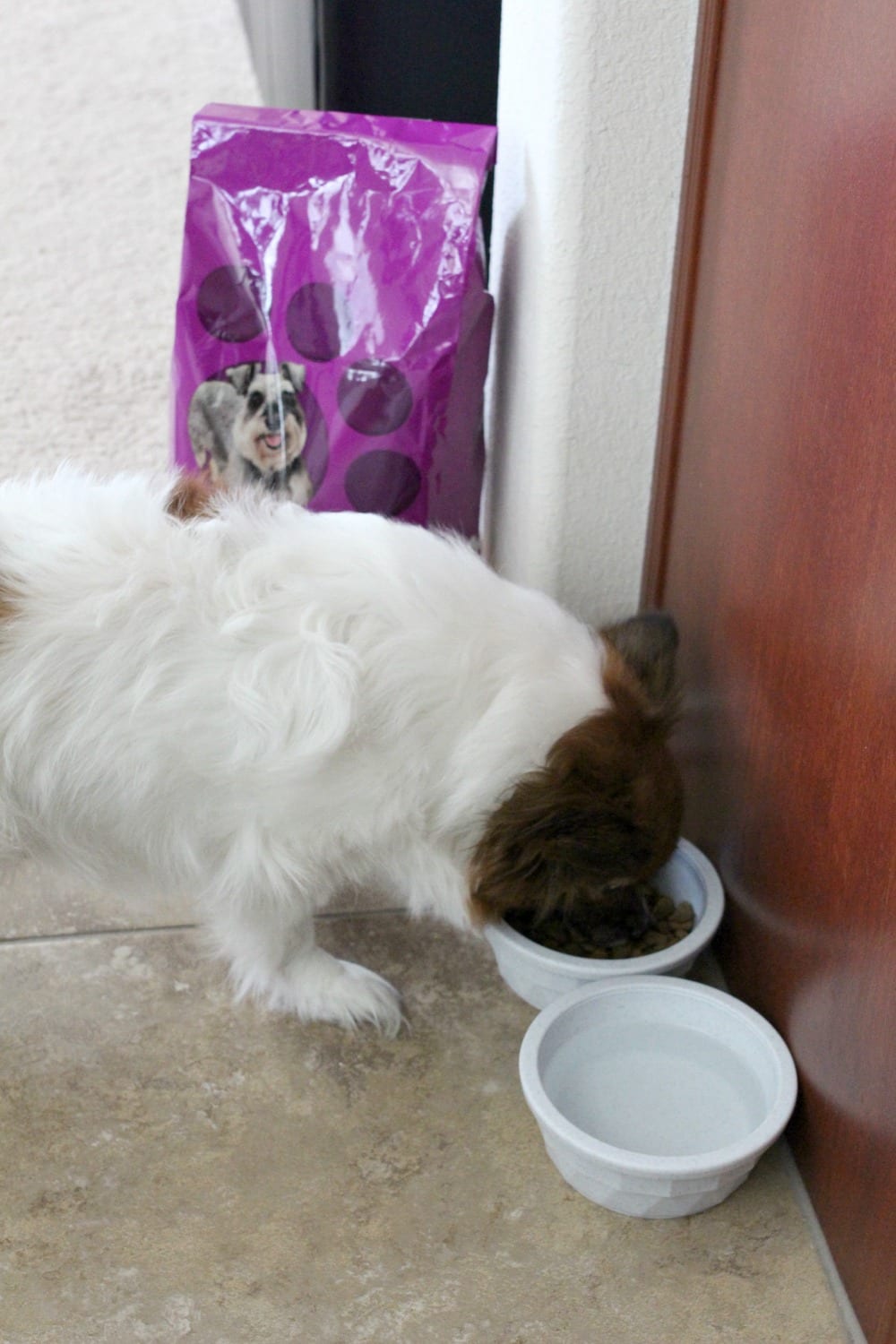 We've decided to switch Dart to Iams quality dog food. We chose the food right for Dart's age and will slowly introduce him to his new food, adding a little more of the new food to his old food every day. I've read this is the best way to wean your dog off of a dog food he's used to. So far he's taken to it quite well and I am so excited to see what a difference this makes for him in the coming weeks.
Why Iams?
Their food includes fatty acids from fish oils for a healthier coat
Their food includes beet pulp for healthy digestion
Their food includes a customized mix of protein and carbs which can contribute to a healthy energy level
As I mentioned, we've partnered with Iams and I'll be updating you over the next couple of months on Dart's progress. I'm extremely excited for the potential changes we'll see in him and can't wait to share those with all of you!
Schedule regular vet visits
As a dog ages, it's more important than ever to make sure he/she has regular examinations. They can monitor your dog for health issues, helping to prevent serious problems. Many health problems can be hidden from an owner's view, but with regular check-ups, indications of a health issue can be detected before they get too serious.
Exercise your dog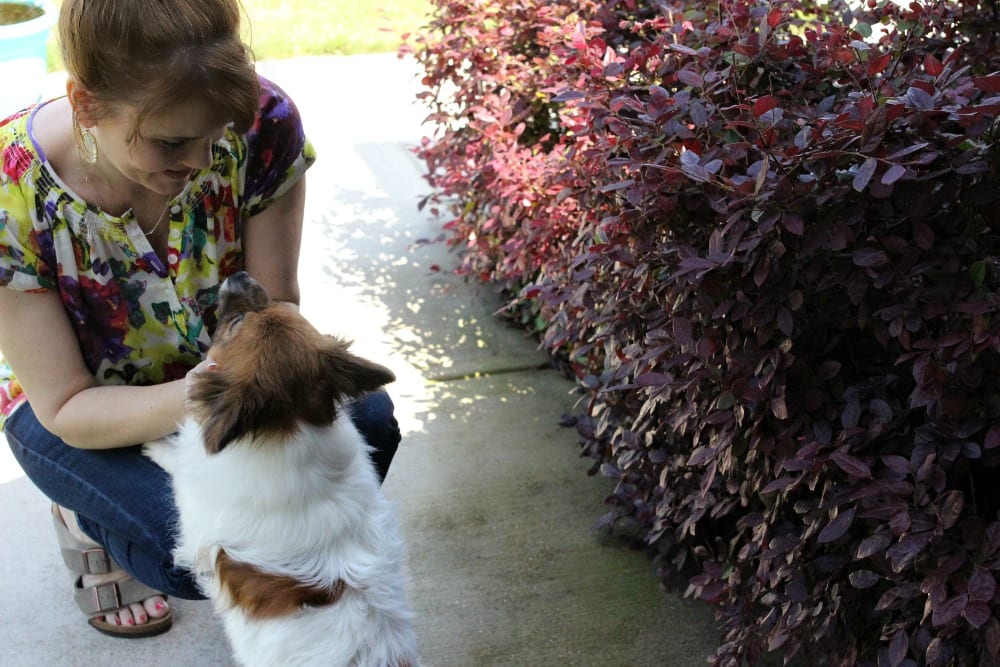 An older dog still needs their exercise to help maintain healthy joints, muscles, weight and even their personality. Does your dog get excited when you grab their leash? Our dog goes nuts and is instantly excited about life! This is an important part of his day for so many reasons.
Be sure you're tailoring your dog's exercise to fit their needs. For our smaller dog, a walk around the block once a day is plenty. He also heads outdoors a few times a day to bark and run along the fence line to say hello to his neighborhood friends.
Pay attention to your dog's teeth and mouth
Regular dental care for your older dog is more important than ever. Just like humans, tartar build-up in a dog's mouth can lead to all kinds of health issues. Your vet will monitor the health of your dog's mouth and it's a good idea to schedule cleanings. As far as at home, giving your dog treats and toys that aid in teeth cleaning is something to consider.
Are you caring for an aging dog? Tell me what your dog means to your family and what you're doing to make sure they live a long and healthy life.
Dart says bye and that he hopes you have a terrific day. 🙂